Sponsor: CBTS
CBTS brings in-building wireless connectivity to aviation manufacturer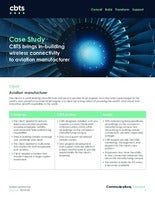 The client is a world-leading manufacturer and service provider for jet engines. From the turbo supercharger to the world's most powerful commercial jet engine, our client has a long history of powering the world's most robust and innovative aircraft capabilities in the world.
CBTS designed and installed a custom Distributed Antenna System (DAS) on the company's manufacturing campus utilizing an industry-leading managed service model that is billed monthly at a predetermined rate. The DAS solution is a neutral host network designed to support two national cellular carriers, with the ability to add additional carriers in the future. The solution requires a "head-end" location, housing the DAS front-end components that connect via fiber optic cable to the low powered remote hardware and associated antennas throughout each building.

The solution is also 5G ready, meaning it will continue to provide outstanding in-building cellular connectivity with little modification as 5G becomes more and more available.