Sponsor: Logicalis & IBM
Hybrid cloud: The best of all worlds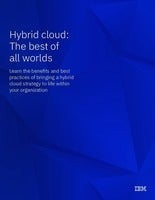 A hybrid cloud strategy is a huge advantage for any data-driven enterprise up to the challenge. Yet, a project of this scale demands more than a will to lead on digital transformation. It requires the tools to support your every move. With the right team, goals and solutions in place, your data-driven enterprise can benefit from the following:
Cost reductions
Added reliability
Simpler data management
More rapid provisioning
Faster time to market for your products and services
Learn the benefits and best practices of bringing a hybrid cloud strategy to life within your organization.