Deep Dive
Deep Dive how-to: Office 365 document sharing
Office 2016, OneDrive, and Office 365 together offer powerful document collaboration capabilities across Windows, MacOS, iOS, Android, and the web -- but only if you set them up and manage them properly. This how-to guide walks you through the setup, configuration, and usage of Microsoft's document collaboration tools step by step for each supported platform.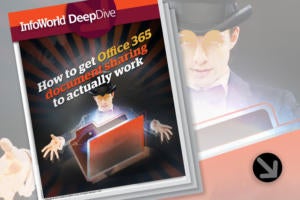 Office 2016 makes it very easy to share documents, whether for collaboration or library purposes, such as making a manual available to your team. Office 2016 also makes it easy for individuals to access documents stored in their OneDrive cloud storage accounts from multiple computers, tablets, and even smartphones.
If you install Microsoft's OneDrive app, you can access your documents -- any files, in fact -- from any application, not only Office 2016 ones, from any of your devices. You can also share those files with anyone using the OneDrive Online Web app -- again, whether or not they are Office 2016 documents.
No doubt, Office 365 offers a lot of collaboration and work-from-anywhere potential. But it's not always clear how to tap it.
Welcome to InfoWorld's comprehensive Office 365 sharing how-to. The following guide will help you and your employees take full advantage of the Office 365 plan you've paid for. Here, for Windows, MacOS, iOS, and Android, we break down how to use the sharing tools available in Office 365, Office 2016, and OneDrive.