The world of cloud computing is dominated by Tyrannosaurus Rex-sized corporations like Google, Amazon, and Microsoft, big companies that have used their prowess and might to build giant data centers full of racks and racks of machines. Then there's Joyent, a small but nimble competitor that might be called mammal-sized, if only for the sake of a metaphor. It deserves notice for shaking up the cloud marketplace with clever mods of the operating system layer that are producing great results.
The metaphor isn't perfect because the technology here isn't entirely new. Joyent might be called one of the last vestiges of Sun Microsystems. While Oracle ended up with control over Java and the Sun hardware, Joyent embraced OpenSolaris and welcomed some of the experts who knew what made the OS special. The company leveraged this talent to update Solaris and build a cloud that delivers great performance for Java, Node.js, and Docker containers.
Joyent's version of Solaris is called SmartOS. It forms the foundation for Triton, a container hosting service, and for many of Joyent's raw compute instances. Joyent will also load up images with Ubuntu, CentOS, Debian, and a few other operating systems, but SmartOS is the main attraction.
There aren't as many options as you'll find in the other clouds, but there are plenty of images that are preconfigured to run many standard services -- Nginx, MongoDB, Hadoop, and so on -- on SmartOS. You can start up a cluster fairly quickly without spending too much time remembering what's different about Solaris.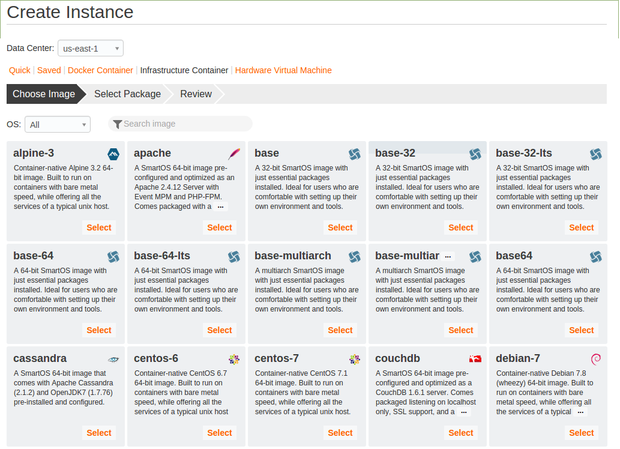 Docker meets Solaris Zones