10 hot IT job skills for 2016
Opportunities abound for IT pros. Here are the top 10 IT skills that will be in high demand for 2016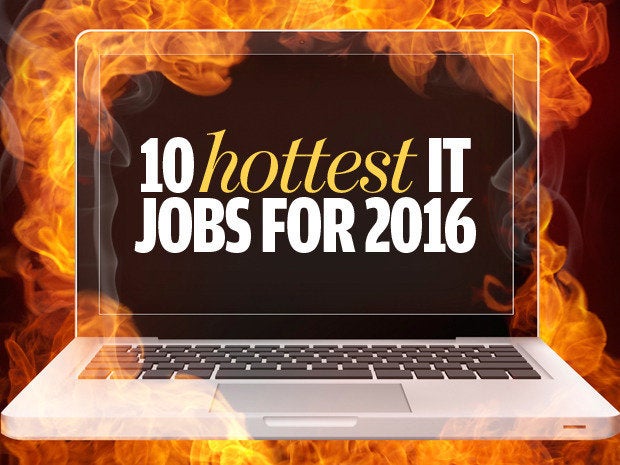 10 hot IT job skills for 2016
It's a great time to be in IT. Unemployment rates in the IT industry are hovering near historic lows and some roles - such as network and security engineers and software developers -- are showing unemployment rates at around 1 percent. Given those numbers, it's no surprise that 81 percent of IT leaders say they have difficulty finding IT talent, according to a recent TEKsystems survey.
But even if you're not a security pro or a software developer, there's plenty of opportunity out there. Here are 10 hot IT skills that will be in high demand for 2016, reported by experts at IT staffing and consulting firm Mondo, freelance and contract marketplace Upwork, and IT education and training company Cybrary, based on client demand.
UI/UX designers/developers
Consumers won't settle for anything less than a quick, seamless, and painless user experience, whether they're using enterprise software, shopping, or gaming. User experience and user interface (UX/UI) designers are going to be in high demand to help make software interfaces as intuitive as possible, says Anthony Gilbert, a technical recruiter at IT staffing firm Mondo.
"Design can be a competitive advantage. If you've got a company that has a great look-and-feel to their site, they're easy to use and make things extremely simple for users, then they're going to win out over a competitor who doesn't have that same usability," says Mateo Bueno, category director for Web and mobile development at freelance and contract marketplace Upwork.
Full-stack Web & product developers
Of course, a gorgeous user interface is meaningless without robust software behind it. Full-stack Web developers, especially those skilled in languages like Java, JavaScript, PHP, and Python, will be in high demand in 2016 to ensure that backend software is secure and stable for users, says Robert Dickey, group president of technology and engineering for IT consulting firm Randstad Technologies.
"Software developers are our second-highest request from clients who are looking to continue innovating with their Web-based software and applications, especially with Web-enabled languages like JavaScript and Python," Dickey says.
Network engineers
The Web, collaboration, streaming video, security -- networking is the foundation on which all these technologies and skills are built. Competent networking professionals will continue to be hot in 2016 to make sure that digital businesses can continue to thrive and grow, says Mondo's Gilbert. "Our clients are still relying heavily on skilled networking professionals across all verticals to make sure they're stable, always on, and secure -- we don't see that going away," Gilbert says.
"It's about having cleaner pipelines. You can't afford to have complicated, slow backend systems that will slow down video and other forms of interactive content. This isn't as 'sexy' as a skill as those pros who are making sites beautiful, but it's one of the largest subcategories we are seeing," says Upwork's Bueno.
Security/cybersecurity professionals
According to a 2015 Global Cybersecurity Status report published by Information Systems Audit and Control Association (ISACA), 86 percent of the 3,436 business professionals that responded to the survey believe there is a shortage of skilled cybersecurity professionals. Compare that to the over 300,000 unfilled cybersecurity jobs in the US -- estimated to reach 1 million to 1.5 million by 2020, and it is safe to say we have a talent crisis. Security will remain a hot, highly in-demand skill well into 2016 and beyond.
"We are in a situation where the sector of technology with the greatest potential negative impact on our lives, businesses, governments, peace, safety and security happens to have a severe deficiency of qualified people to fill its jobs," says Trevor Halstead, product specialist, Talent Services, with online education and training provider Cybrary.
That shortage, coupled with high-profile security breaches like those at Target, Sony and others, are sending organizations scrambling to find security talent, notes Bueno. "We're seeing an uptick in clients hiring vulnerability testers and hackers to try and breach their systems, and to tell them how to improve their security posture," he says.
Mobile engineers
Though iOS and Android may soon become obsolete, it won't happen overnight, and there's still a major market for mobile application developers. Mobile has now surpassed the desktop computer as the most-used digital platform, and 2016 should also see demand for cross-platform mobile development professionals, says Upwork's Bueno.
"If the development stack works really well across devices and across platforms, that's going to be much more critical; we're seeing greater demand for [full-stack Web development framework] MEAN: MongoDB, Ember, AngularJS and Node.js for developing Web applications that allows for device agnosticism," says Bueno.
Business analysts
Business analysts will play a huge role in IT hiring in 2016, as companies find they need a liaison between the IT department and the executive suite to ensure IT projects are meeting business needs and meeting strategic goals, says Mondo's Gilbert.
"Companies are going to need someone who speaks both the language of business and the language of IT, and be able to translate between the two so that business requirements result in features and so that everyone understand what constraints IT is working against," Gilbert says.
IT project managers (vertical specific)
With an increase in IT spending and freer budgets to pursue new innovation, IT project managers are going to be in demand in 2016, says Randstad's Dickey.
"Project managers are critical for our clients to see success with their IT projects. But a project manager who specializes in one industry -- healthcare, for example -- is going to have the best chance of getting a new job in the same vertical. Our clients, at least, want IT PMs to have experience in the same industry; healthcare to healthcare, finance to finance, so they are aware of the unique issues each vertical faces," Dickey says.
Cloud architects/integration
With the continued shift toward public cloud infrastructure and hybrid cloud adoption, IT pros skilled at setting up, performing integration and securing cloud deployments will remain hot in 2016.
"So many of our clients are looking to continue cloud adoption, but with all the high-profile security breaches, they want to make sure it's done correctly with skilled, experienced professionals," Dickey says.
Data scientists
Companies are currently struggling to handle the overflow of data they're receiving -- everything from user data, customer behavior data, purchasing data as well as sales leads, marketing data and the like, says Upwork's Bueno. Professionals who can develop solutions to capture, process, analyze, and interpret data will continue to be necessary for an organization's success in 2016.
"So many organizations are struggling to find the resources right now to capture, analyze, build data models, do regression analysis on all the data they've got streaming in. On top of that, they really need professionals who can take that data and interpret it into action items for the business," he says.
CMS
Content management systems are another hot ticket for 2016, as companies look to customize their existing WordPress and Drupal sites and integrate them with ecommerce products, says Bueno.
"Until now, we were watching the competition between WordPress and Drupal, but it seems WordPress has come out as the dominant platform. That means developers with customization and integration skills on that platform are going to be in great demand," he says, especially as businesses look to integrate WordPress sites with WooCommerce, WordPress's free ecommerce toolkit.
"Even with turnkey solutions like WooCommerce, businesses are looking for a higher, more technical integration so they can do more complex, customized solutions that, for example, work with specific third-party APIs," Bueno says.
Next Up: Check out these related slideshows