Dell Inspiron 15 5000 Series review: One of the most attractive budget laptops on the market
A gorgeous case and above-average performance make this laptop a solid contender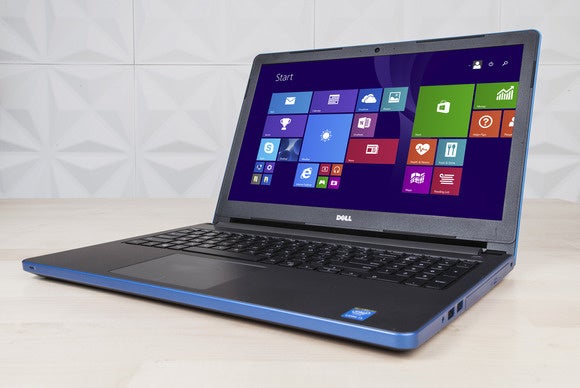 I have to hand it to Dell: In the category of "$500 laptops," the veteran manufacturer came pretty close to nailing a well-rounded machine with few major compromises.
That's more impressive than it sounds. If there's anything I've learned in reviewing low-end laptops, it's that compromise is key. Thus, there are laptops in this review round-up that are more portable than the 15.6-inch Dell. There are laptops with touchscreens. There are laptops with faster drives and faster processors.
But the problem with this (if you'll allow me to borrow a gaming term) min-max approach to laptop specs is that inevitably you're going to want to use your laptop for a pretty broad range of activities. Thus a laptop with a faster drive might be great—unless you need lots of storage. Or an ultra-portable laptop is great—until you need to watch Netflix on its tiny screen.
What Dell has in the Inspiron 15 5000 Series is an across-the-board contender, with above-average specs packed into a sleek case.
The design
The Dell Inspiron 15 5000 Series doesn't look like a $500 laptop. It's that simple.
The model Dell sent us has a brilliant blue diamondback lid that looks like it belongs on a much higher-end machine. And you know what? In the $500 range, you can't undersell attractiveness. There are a lot of laptops on the market that look and feel as cheap as their sticker price would indicate. Not so with the Inspiron 15 5000. This is one of the most attractive machines we looked at for this set of reviews, tied with the HP 15t Touch.
It's not all upsides, though. The screen is a cheap 1366x768 TN panel, the same as pretty much every single low-end laptop—and at 15.6 inches, that resolution starts looking a bit chintzy. The viewing angles aren't great either, so even sitting straight-on you'll start to see some color washout at the top and bottom of the screen. On the other hand, Dell boasts about its TrueColor calibration, a.k.a. "Hey, we know the display is pretty lackluster, but it's maybe slightly less lackluster than our competitors. Maybe." My one major worry is that the screen flexes and distorts if you push it on too hard from the back, especially at the bottom of the screen. So…don't do that.
The keyboard is a bit more cramped than other 15-inch laptops, and for no real reason. It seems like the likely culprit is a millimeter or two of extra space between each key pairing—over the course of the entire board, those extra millimeters add up to quite a lot of wasted space, with smaller keys the ultimate result. I found myself missing occasional keystrokes, though the switches themselves are satisfyingly clicky—satisfying enough for a $500 keyboard, at the very least.
I wish I could say the same about the trackpad. Quite a few manufacturers nowadays are moving to eliminate separate physical buttons from the laptop mouse, Apple-style. Instead, it's just a trackpad that "clicks" if you need it, but which you'll typically just tap on to select things.
What these manufacturers miss is that Apple's trackpads are good. They are extremely sensitive, accurate, and well-tuned. The trackpad on this Inspiron 15 5000 is none of those things, resulting in missed swipes and (even more annoying) phantom-clicks. This also makes it damn near impossible to click-and-drag, because the trackpad is determined not to register your finger when you want it to and then spuriously click things you had no desire to click. Hook up a mouse, if you have the luxury of a surface to set it on. (Though as a side note, the Inspiron 15 5000's trackpad is nowhere near the worst in this set of reviews. Stay tuned.)
As for ports, the Inspiron 15 5000 has power, SD card, a single USB, Ethernet, and HDMI slots on the left, plus two more USB ports and a headphone jack on the right. Oh, and it has an optical drive for whatever reason. Why? Despite "everyone saying" they don't use them, every PC maker has told PCWorld they get complaints when it's not there.
The specs
The interior of the Dell Inspiron 15 5000 isn't quite as glitzy as the exterior, but it'll get the job done. Under the blue hood we're packing an Intel Core i3-5005U clocked at 2GHz, Intel HD 5500 integrated graphics, 6GB of DDR3 RAM, and a 1TB 5,400 RPM hard drive.
That hard drive won't set any speed records, but it ties the Toshiba Satellite C55-C for the most storage space in this set of reviews. If you plan to keep a ton of files on your computer, this here's your best shot.
And 6GB of RAM isn't shabby either. Most of these low-end machines have 4GB if you're lucky, 2GB if you aren't. That 6GB helps make up for the slower CPU and hard drive…a little. The Core i3-5005U is still very middle-of-the-pack, but hey—at least it's a real Core i3 and you're not stuck with an Atom processor.
So how'd it perform? Not too bad, honestly. Only the Toshiba Satellite C55-C consistently outperformed the Inspiron 15 5000, and I'd still say the design of the Dell is polished enough to potentially edge it out on top. The HP 15t Touch is nipping at its heels, though.
In PCMark's Home Conventional test, the Inspiron 15 5000 scored 2,210, as compared to Toshiba's 2,527 and HP's 2,159.
And Dell actually fell to the similarly specced HP machine in both the Creative Conventional and Work Conventional tests—albeit by such a small margin as to be imperceptible. Here, Dell scored 1,933 and 2,436 respectively, with the HP 15t Touch posting scores of 2,000 and 2,485. (Though Toshiba blew past both with scores of 2,198 and 2,771.)
It's not a bad showing from Dell though. What you have in the Inspiron 15 5000 Series is an excellent balance between design and power. The only question, in my mind, is whether you prefer Dell's design or HP's.
The bloat
The bad news: The Inspiron 15 5000 is packed full of garbage software. The good news: It's (for the most part) Dell's own garbage software, so at least it's probably safe.
"Not a security risk" isn't synonymous with "not annoying" though—particularly the pop-up prompt to register your laptop with Dell. It always chose the worst times to manifest its presence.
You also get a McAfee which, let's just say, isn't the most loved antivirus app out there. And then there's Dropbox. Listen, Dropbox: I love your service. I use it literally every day. But the way you've infiltrated laptops with garish pop-ups begging me to set up an account and get "20 GB FREE STORAGE" makes me want to uninstall you from every single device I own and never use you again. Please, I beg of you: Find a less obnoxious way to recruit new customers.
The full list of third-party/Dell bloat reads as follows: Amazon, Kindle, McAfee, Dell Shop, Dell Backup and Recovery, Dropbox, Dell Learning Center, Cyberlink Media Suite, and Dell SupportAssist.
The verdict
The Dell Inspiron 15 5000 Series is perfect for our review purposes in that it's almost perfectly average. It's ever so slightly better than the by-the-books 15-inch laptop you'd expect to see at a circa-$500 price point, with a marginally better case design and performance than others in this set of reviews.
Does it excel in any one way? Not really. But it also won't let you down very often—provided you go in expecting the performance of a $500 laptop. It's a solid all-around machine and thus a solid choice for pretty much anyone in this budget, although it lacks some of the more specialized features found in certain competitors.
This story, "Dell Inspiron 15 5000 Series review: One of the most attractive budget laptops on the market" was originally published by PCWorld.
At a Glance
Dell Inspiron 15 5000

Dell combines a gorgeous case with decent performance for one of the best all-around laptops under $500.

Pros

Above-average performance
Case looks like it belongs on a much more expensive laptop

Cons

Chintzy screen
Trackpad precision is subpar
Copyright © 2015 IDG Communications, Inc.