Review: Dell's slim FC830 server packs a heavyweight punch
The latest Dell FX2 server module stuffs a massive amount of computing power into a 1U space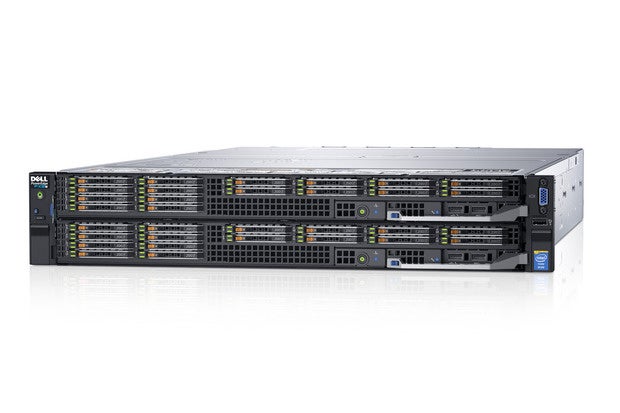 Dell introduced the PowerEdge FX2 platform late in 2014 as its flagship entry into the converged infrastructure hardware market. With slots for up to four half-wide 1U server modules or two full-width modules, you could use the 2U FX2 enclosure to implement a heavy-duty virtualization cluster and/or software-defined storage solutions such as VMware Virtual SAN and Windows Server Storage Spaces. The PowerEdge FC830 FX server block is the latest addition to the FX2 family, packing four sockets of computing power and up to 1.5TB of memory into a full-width 1U module.
The FC830 module I received for review came with four Intel Xeon E5-4650 v3 processors and 192GB of memory. With a total of 48 memory slots, you could go up to 1.5TB using 32GB DIMMs. The FX2 chassis that houses the FC830 provides eight shared PCIe slots. Chassis network connectivity consists of two 10GB SFP modules, each with a total of eight ports. The FC830 came with four internal 10GB ports for a total bandwidth capacity of 40GB.
Price for my FC830 system as configured is $34,755. This includes the price of Windows Server 2012 R2 Datacenter edition to cover the four sockets. It's not cheap, but it offers a remarkable combination of high horsepower and high density.
FC830 configuration options
The beauty of the FX2 platform lies in the versatility and flexibility provided by the wide range of configuration options. About the only downside is deciding which components to choose in order to best accommodate specific workloads. The PowerEdge FC830 is a compute building block that allows you to start with two CPUs and later upgrade to four if needed. Processor options start with the Xeon E5-4650 v3, which I tested, and go up to the E5-4669 v3. Expect to pay premium prices for these brand-new Intel processors.
On the memory front, the options include ECC, ECC plus sparing, and performance optimized plus sparing. (Sparing sets aside some memory to protect against memory failure.) Dell also offers fault-resilient memory for VMware and memory mirroring. (Memory mirroring provides even greater protection against memory errors than ECC and sparing, but at the cost of a reduced amount of usable memory.) Choosing the right memory configuration could require quite a bit of time and effort to consider the trade-offs between the different options versus cost.
Storage options abound from low-end SATA disks up to a 1.6TB 12Gbps SSD. You could also mix and match SSDs for read-intensive or write-intensive workloads. NVMe is another option for really fast disk requirements. Each FC830 module will accept as many as 16 1.8-inch SSDs or as many as eight 2.5-inch disks. I/O speeds up to 12Gbps are supported with the PERC H730 controllers.
Networking choices are more limited than those for storage, but they require some thought. Vendors include Broadcom, Emulex, Intel, and QLogic, with multiple offerings from each. Individual network interface modules give you the choice of RJ-45 or SFP-type connections. The FX2 chassis lets you add up to eight more PCIe cards to expand networking in unique ways. Power options include 1100W, 1600W, or 2000W individual units with the ability to configure them either in redundant or nonredundant modes.
FX2 management tools
The FX2 uses the same management system, the Chassis Management Controller (CMC), found in larger Dell blade systems such as the M1000e. Individual modules in the FX2 use Dell's iDRAC version 8 management interface found in all of the 12G server products. This makes managing multiple systems much easier and presents a consistent interface across the server product line. Through the CMC an administrator has access to the status of all modules within a single chassis or multiple chassis. Because the FX2 supports cascading of the network management ports, you can link multiple FX2 boxes together without taking up additional ports on your network switch.
Once you're connected to the CMC, opening the iDRAC Web interface for any installed module is as quick and easy as a few mouse clicks. A built-in single-sign-on feature means you can launch the iDRAC interfaces for multiple modules in turn without having to retype your credentials for each individual host; it's blissfully easy to move among multiple hosts from the top-level CMC window.
The FX2 front panel contains a VGA connector and a single USB port, should you have the need to directly connect to any modules in the FX2 chassis. A selector switch steps through each of the modules and connects the attached keyboard and monitor like any commercial KVM (keyboard, video and mouse) switch.
FC830 performance
I used the PassMark CPU benchmark tool to compare the PowerEdge FC830 and its four Intel E5-4650 v3 CPUs to a PowerEdge FC630 with two Intel E5-2650 v3 processors. The FC630, a half-wide two-socket module, is the other high-performance option for the FX2. The FC630 offers the same compute and memory density as the FC830, but it's based on the lower-end E5-2600 v3 processor family. With four FC630 modules, you can have the same number of physical CPUs (eight) and DIMM slots (96) as you get in two FC830 blocks, but you won't get the same performance.
The difference is significant. The PassMark results show roughly a 20 percent performance advantage per processor for the E5-4650 v3 over the E5-2650 v3. What's more, the FC830 accommodates many more SSDs or disk drives in the same 2U space.
The PowerEdge FC830 is definitely the right choice if you're looking for the maximum amount of compute power in a 1U space. You'll also have to fork out a maximum amount of cash to make the purchase. While the FC830 might not deliver the most bang for your buck, it certainly qualifies for the most bang for the space.
| InfoWorld Scorecard | Performance (20%) | Availability (20%) | Scalability (20%) | Management (20%) | Serviceability (10%) | Value (10%) | Interoperability (20%) | Setup (10%) | Overall Score |
| --- | --- | --- | --- | --- | --- | --- | --- | --- | --- |
| PowerEdge FC830 | 10 | 9 | 9 | 9 | 9 | 7 | 0 | 0 | |
At a Glance
Dell PowerEdge FC830

The PowerEdge FC830 brings a new level of performance to Dell's flexible, high-density FX2 platform.

Pros

Packs four Xeon sockets, 1.5TB of memory, and 16 drives into a 1U server block
Full range of storage options, including SATA and SAS SSDs and HDDs, NVMe, and companion FX2 storage modules
Plenty of NIC and HBA options
First-rate management tools
Copyright © 2015 IDG Communications, Inc.