Four-year-old Pure Storage, originally noted for making flash arrays aimed at budget-conscious enterprises, has an ambition: Provide a flash array that's more like a service than a fixed piece of hardware. The plan involves delivering a new kind of storage array and a new procurement/upgrade model where as few customers as possible are left behind because of the ever-evolving progress of flash storage.
Planned un-obsolescence
Matt Kixmoeller, vice president of products at Pure Storage, described in a phone call how the company's trio of new offerings -- hardware, upgrade/maintenance service, and cloud management service -- will provide this. The idea, he said, is to "build something that never has to be replaced."
Evergreen Storage, as Pure Storage calls it, provides constant upgrades to not only the software used to drive the controller, but the controller itself and the media that goes into it. The storage array that introduces this new system, the Flasharray//m, can hold from 15TB to 120TB in a 3RU chassis.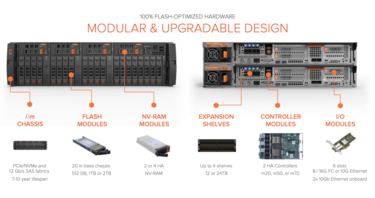 Controllers are upgraded every three years to keep pace with hardware developments, and Pure Storage claims the upgrades can take place without downtime, thanks to hot-pluggable components. The company also provides trade-in credit when a customer purchases more capacity.
Hooked on upgrades
A key part of Pure Storage's strategy is to intercept customers -- whatever their level of need -- when they are in the middle of a transition to the next generation of media, and to make that process as painless as possible.
"Storage is on a three to five year replacement cycle," Kixmoeller said. Despite modern flash's good longevity, he added, "what improves over time is the density; every year flash gets denser and denser, which drives down its cost."
This kind of interception is a clever business strategy, in terms of the behavior of both the market and the customer. By keeping the customer's underlying hardware as fresh as possible against changes in the market, the company's less likely to lose business to newly minted competition sporting the latest generation of controller technology.
Not only for the big boys
Services like this would seem to be aimed at the highest of high-end customers, the cloud and service providers. But Kixmoeller doesn't see Pure Storage's appeal confined to so narrow a class.
"To be honest, we don't really see that much of a difference between enterprises and cloud providers," Kixmoeller said, "because the trend as we see it is that the enterprise architecture is evolving to that of delivering an internal cloud." The company's claimed existing customer base ranges from large telcos and banks to service providers, SaaS companies, and governments.