13 Chromebook tools for getting down to business
From collaboration apps to developer extensions, powerful add-ons open up Chromebooks for business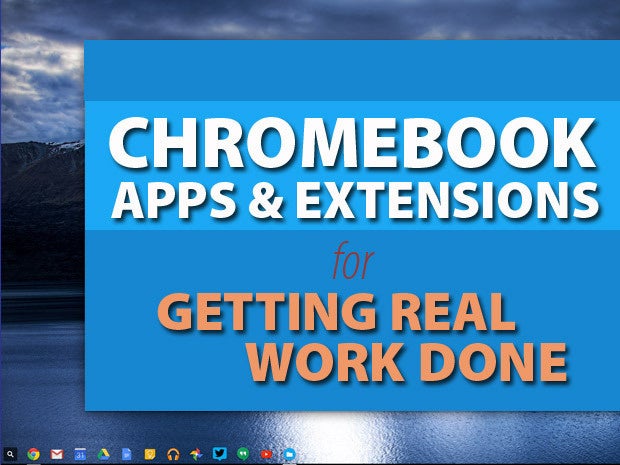 Get your Chromebook ready for work
Chromebooks are becoming less of an anomaly in the workplace these days. Their easy administration, quick setup, improved hardware specs, and growing feature sets are lending greater credibility to the idea that Chromebooks can be meaningful replacements for traditional laptops in business settings.
If Chromebooks still have one knock, it's that their cloud-based ecosystem means they're reliant on Web apps to do all the heavy lifting for which you'd typically rely on desktop software.
Fortunately, developers have taken notice and brought many business-ready tools to the world of Chrome OS. While some are found on their respective websites, others offer Chrome apps or extensions that give you quicker access with the keyboard's search key.
We've rounded up some of the best tools for devs, admins, and business users to make sure that your Chromebook is a productivity machine that won't underperform when compared to colleagues using a Mac or PC.
Crouton
Hard-core Chromebook enthusiasts have long touted the ability to run Linux side by side with Chrome OS, giving them a full-fledged desktop OS on a cheaper machine.
Now, thanks to a tool called Crouton, users no longer need to leave Chrome to access their favorite Linux software. With Crouton, you're able to run a Linux build right on your Chromebook as another tab. Crouton is essentially a set of scripts that bundle up a Chromium chroot generator. It currently supports Ubuntu and Debian, though other variants don't translate so well.
You can grab the scripts directly from the Crouton GitHub site. To use this you'll want to have some working knowledge of Linux tools and the command line so that you can get yourself out in case you're in a jam.
Google Apps
Chromebooks are made for the Web, as is Google's productivity suite. Drive includes Docs, Sheets, and Slides, and it comes pre-installed, but it's worth noting some of the nuances. For example, if you're working primarily in Docs you'll find it faster to launch the Docs app instead of going through Drive so you can more quickly find the file you want. Or you can set Sheets to open as a separate window and use the full screen to get an experience closer to using a desktop application. You can also access your Drive files through the file menu if you want a navigation scheme closer to that of Windows or OS X.
Cloud9
The Cloud9 IDE was among the first tools to show that one could program code effectively from a cloud-based environment like the Chromebook. The tool has grown since it was first introduced and has evolved into a reliable development platform, with the ability to invite team members to your files so that you can work on shared code.
Cloud9 offers various subscription options depending on the size of your organization. But if you're going solo and stay under 1GB of disk space, you can use Cloud9 for free.
Box (beta)
Cloud storage player Box isn't merely bringing another Web app to Chromebooks. Instead, its implementation lets you access files that you have stored in your Box account directly through Chrome OS's File Manager. This eliminates what was previously a severe limitation of Chromebook, as third-party cloud services were restricted to the browser.
The Box Chrome app is still in beta. But it connects quickly and easily with your Box account with minimal issues, so it's worth grabbing if your organization relies on Box.
HipChat
HipChat is a great team collaboration tool, offering chat, video calling, screen sharing, and integrations into a wide array of workplace tools. Fortunately for Chromebook users, the HipChat Web app is as functional and well-designed as the dedicated applications for Windows and OS X. It has a clean interface and keeps you connected with pop-up notifications and a number icon on your browser tab to indicate new messages. I've found at times that the Web version is even better than the Windows edition, so you're not missing any key functionality if you're working from a Chromebook and want to stay connected to your co-workers through HipChat.
Office 365
Just because your business has gone all-in with Microsoft for Office 365 doesn't mean you can't work on your files from a Chromebook. CEO Satya Nadella's new "cloud first, mobile first" strategy is on display here, as the Office online tools are reasonably strong in the browser. There's no dedicated Chrome app, so you'll simply need to bookmark your sign-in page. The only drawback is that the online versions of Microsoft's suite all tend to be underpowered compared to desktop editions, limiting some of the functionality you might otherwise have access to on a Mac or PC.
CIRC
An IRC client is still essential in many organizations. CIRC is a solid option, connecting directly to any server without the need for a proxy. You're able to use the same IRC connection across multiple devices, which is a time-saver if you move from a traditional desktop at the office to a Chromebook on the go.
The CIRC team has a full Wiki with tips and tricks if you run into issues.
ZenMate
Chrome is a fairly secure browser, but depending on your work requirements you may need greater security. For this, ZenMate is a good resource for Chromebooks, encrypting and securing your Internet connection. It promises anonymous browsing and antivirus protection, along with the ability to access limited, blocked, or geo-restricted content. It also pledges to compress your data by up to 30 percent, which can help if you're trying to stay under a mobile device tethering limit.
Basecamp
A lot of small and large companies use Basecamp for project collaboration. You can grab the Chrome extension for quick access to all your projects. Basecamp is great for letting teams mark off when goals are met and assign tasks to various team members. If you or several team members use Chromebooks, the Basecamp Chrome extension ensures that anyone can get to the content without the need for a desktop app.
ZenHub for GitHub
If you're coding on a Chromebook, chances are your team's source code lives on GitHub. A number of Chrome extensions are available for enhancing your GitHub experience, but few are as full-featured as ZenHub for GitHub.
ZenHub is a project management tool that works on top of GitHub, providing teams with drag-and-drop issue task boards and +1 feedback buttons for peer-reviewing commits, comments, and more.
Postman
Developers working with APIs will definitely appreciate Postman. This dedicated REST client for Chrome has built-in authentication helpers, supporting Basic Auth, Digest Auth, OAuth 1, and OAuth 2. With Postman, you can aggregate individual requests into collections that can then be organized and shared with other developers. You can also run collections directly from the command line or a URL. Additionally, you can create HTTP requests with various parameters to test APIs and RESTful endpoints and even capture requests using the Postman Interceptor extension -- great for debugging.
Chrome ADB
Android developers will greatly appreciate Chrome ADB, a well-built Android Debug Bridge client from Google that facilitates debugging Android devices. It allows you to debug websites in browser tabs, do Web views in native Android apps, and screencast live to your development machine. For app debugging you'll need a device running Android 4.4 or later.
Chrome Dev Editor
Web browsers keep getting more powerful and are quickly becoming the dominant platform for getting work done. If you use Chrome that much as your computing platform, then maybe you're ready to take the next step and build apps for it. The Chrome Dev Editor is the tool for doing that, but it's currently in developer preview, so expect some bugs and other bumps along the way. You can check out the GitHub page for more details, and expect to hear more about it at Google I/O, which is around the corner.
Think of Chrome Dev Editor as the means to fill any gaps in your Chromebook experience, with your own app.
Copyright © 2015 IDG Communications, Inc.
Next Up: Check out these related slideshows