10 enticing, outrageous, and obscure perks for developers
From custom shoes to baby bonuses, companies are pulling out all the stops to lure top talent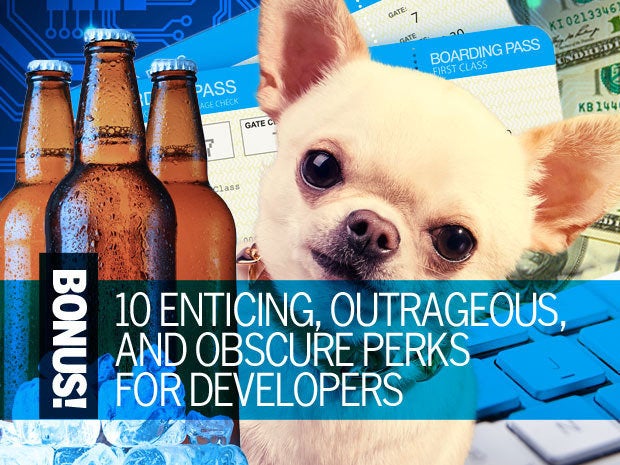 Bonus! 10 enticing, outrageous, and obscure perks for developers
When it comes to over-the-top perks for software engineers, most of us are familiar with the Google bus, but have you heard about the Dropbox jam room? The Zynga dog park (it's on the roof)? No? Then read on. You might find yourself coding from a seashell house in Isla Mujeres, Mexico.
Here we present a list of some of the more intriguing (and obscure) benefits from large and small tech firms around the globe. Some are specific to developers, but if coding isn't your business, many of these perks are extended to the rest of the office as well. If you're not currently being showered with Uber credits and Airbnb coupons, maybe you're working at the wrong place.
And if you're looking to hire today's top developer talent, it might be time to get creative, as these are the offerings you're up against.
AirBnB coupons
Telecommuting flexibility is a much-desired perk. But with people renting rooms and houses around the globe, who's to say that a work-from-home policy has to mean working from your own home? Software developer NodeSource has taken that idea one step further, subsidizing employees' desire to work from anywhere by way of Airbnb coupons.
"Giving people the option of working from anywhere there is an Internet connection enables them to go their kids' Little League baseball games, their daughters' recitals, travel the world, or in my case, visit my mom in Oregon," says NodeSource co-founder and CEO Joe McCann. "We certainly can't compete with Google and Facebook on compensation, so how do we differentiate our offerings? We believe that people value experiences over things, so we focused our perks on how people can enhance their human experience. What better way to do that than to enable people to see the world?"
NodeSource offers the coupons for work or play. The company's design team banded together last year and rented a house on the Gold Coast of Australia to knock out projects over a week at the beach.
Beyond the appeal of working from anywhere, McCann says the company attracts engineering talent by an unusual means: avoiding email. "Whenever a new person joins the NodeSource team, they have two things they must do," McCann says. "Create a custom emoji in Slack and send an all-company email, which is the last email they ever send."
Spouse survival benefits
Google workplace benefits are renowned, with perks that can often come off as overly extravagant.
Its fleet of private buses shuttle more than 6,000 people to their San Francisco Bay Area offices on 5 percent biodiesel fuel. Employees at its Mountain View campus have access to a fleet of electric cars, and charging stations are available for getting around town. Then there's the free cafeteria food, onsite gym, haircuts, child care, doctor visits, and on and on.
But a less discussed benefit looks after the spouse or domestic partner of a Google employee who has passed away. The survivor receives 50 percent of their deceased spouse's or partner's pay for 10 years. Also, all stock owned by the deceased spouse or partner is fully vested at the time of their death.
Unlimited vacation? (Nobody's counting)
Software developers are known for all-nighters, and the Aeron chair is comfortable but not for sleeping. When deadlines get tight, live entertainment service Eventbrite knows how to blow off steam: They take everybody out to the trampoline park.
"We know when you're happy and healthy you do your best work," the company says.
To back that up, Eventbrite offers another frequently mentioned programmer perk these days: No one counts your vacation time.
But keep in mind, those that power through deadlines while their co-workers snowboard in Tahoe may not receive a fat check for the vacation time they skipped -- something to ask about when onboarding (or before).
Baby bonuses
Facebook perks are envied as being nearly on par with Google's. The company provides three square meals a day to staff and offers other onsite amenties, such as laundry, dry-cleaning, and bike-lending. Facebook employees can also schedule onsite doctor visits along with physical therapy. But the most interesting perk is for something that (hopefully) occurs off campus.
Facebook employees who are expecting can expect a $4,000 bonus for a new baby, all while they're enjoying a full four months of paid family leave for either gender and same-sex partners. Facebook programmers also get reimbursed daycare, once it's time to return to work.
Giving dog owners a bone
Game developer Zynga -- known for Words With Friends and Farmville -- throws a veritable kitchen sink of perks at its engineers: free meals, onsite car washes, an arcade, and console game lounges.
But the company stands out with its canine-related perks. Busy coders don't need to leave their pooches alone at home all day -- they're welcome at the Zynga office, where they can expect to find treats, their own break areas, and a rooftop dog park -- plus their own health insurance.
Zygna says 211 pups co-work regularly at Zynga. The name of the company was inspired by the CEO's bulldog, Zinga.
A black lab featured in a Farmville sequel was based on a puppy found abandoned in the desert. Since then, the company says, the dog has become on office fixture, appearing at the office every day since his rescue.
In a word: Alcohol
Eye-opening perks aren't exclusive to Silicon Valley -- and it's not always the major players who toss out freebies at work.
Salsa Digital, a digital design and engineering firm in Melbourne, Australia, offers free breakfast and soda -- ho hum -- but also keeps its fridges stocked with free "beer … whisky and vodka," the company reports.
While slugging down soft or hard free beverages, designers and programmers can be found playing pool or ping-pong, or sitting in a comfy bean-bag chair. (Reporting for this article has found the bean-bag chair to be an almost de rigueur fixture in digital shops.)
Salsa Digital, befitting its name, also has an herb wall for healthy munching. There's probably some cilantro in there.
The proverbial free ride made literal
Uber, disrupter of taxi service around the world, offers unlimited vacation and reimbursement for gym memberships. But that's not what keeps up morale at the on-demand ride service, according to developers on Glassdoor.
"Employees are showered with Uber credits each month," the company says. That means no more waiting for taxis when employees head out to unwind. The company's blog says rolling like an Uber employee means $400 a month in free rides.
The trend to offer service credits isn't exclusive to Uber. Likewise, programmers at Airbnb get a couple thousand dollars in credits each year to see the world on Airbnb's dime.
The rock star treatment
Online storage service Dropbox lets employees set their own storage limits, naturally, and offers free meals from its cafe/bar/cafeteria, called the Dropbox TuckShop. It is also known for flexible schedules and occasional tickets to see the San Francisco Giants from the company box.
But more intriguing is Dropbox's emphasis on reducing stress by playing music on site, an increasingly common perk among engineering firms these days. Dropbox provides employees a stocked music studio with drums, a piano, and amps. They also have an onsite Dance Dance Revolution machine.
But they're not the only cloud-based service using music to relax. Code repository service GitHub's San Francisco office offers DJ booths and karaoke nights, according to the company.
Custom kicks
Mobile app developer imo.im offfers some eyebrow-raising perks for a smaller firm. Like the big players, it provides a well-stocked kitchen and catered lunches or dinners -- as you might expect from a company started by one of the first 10 people on the Google payroll.
Here's where it gets interesting: The company gives $30,000 signing bonuses -- and stock options -- to full-time software engineers, a $500-a-month stipend for those who live within 5 miles of the Palo Alto office, and access to concierge physicians.
Every employee gets four weeks of paid leave a year, and all employees get a perk that we've seen nowhere else: a pair of custom shoes at work anniversaries.
'Healthy living' reimbursements -- and a sabbatical
Frequently named one of Outside Magazine's Best Places to Work, TrainingPeaks makes software that helps athletes (and coaches) prepare for events like triathlons. Based in Boulder, Colo. -- which, depending on your hiking and rock climbing needs, might be the best perk on this list -- the company is known for a litany of unusual perks.
Need fitness equipment? The company will pay $1,200 every year for "any items related to healthy living." The company pays for cellphones, minutes, and data, and it covers medical, dental, and vision for employees and dependents.
After seven years of service, employees can take a four-week paid sabbatical, which could be pretty handy if you're an engineer planning to compete in an Ironman triathlon.
Copyright © 2015 IDG Communications, Inc.
Next Up: Check out these related slideshows