Hands on: The first Apple Watch apps for road warriors
30 first-gen apps show promise, but still make you wonder about smartwatch utility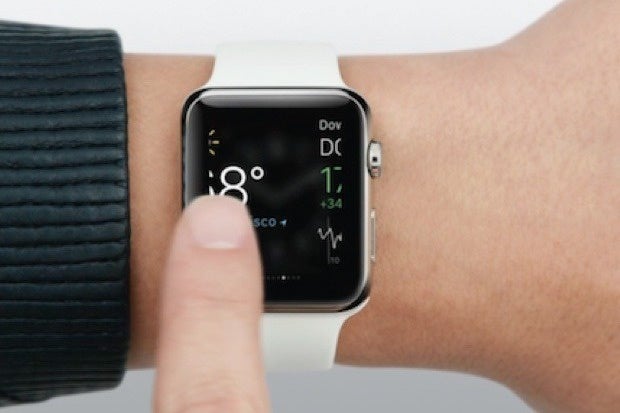 Now that the Apple Watch is here, does it do enough useful things to be a standard item for executives, road warriors, and other digital denizens?
Yes, you can do useful things on the Apple Watch, but few are that useful. Some are, in fact, downright stupid or useless. In this article, I'll show you which of 30 early Apple Watch apps likely to appeal to business users fall into which category.
My conclusion from the first generation is that there's a lot more to be done on the Apple Watch as a platform and by its apps to make it broadly useful.
No question: Apple Watch trounces Android Wear
The Apple Watch is not the first smartwatch. There's the Pebble and, more recently, Google's Android Wear platform on devices from LG, Motorola, and Samsung.
The Android Wear platform from Google is not very good, offering an annoying, awkward, and ultimately useless set of features. But we expect an Apple product to be way better. The Apple Watch is better -- a million percent better than Android Wear, in fact.
Compared to Android Wear, the Apple Watch is a much nicer piece of hardware, worth the $350 to $1,000 cost for those who'd otherwise buy a Tag Heuer or Breitling chronograph. But If you're into Timex or Swatch, the Apple Watch's digital capabilities likely don't justify its expense beyond the techno crowd.
Like Android Wear smartwatches, the Apple Watch's screen can be hard to read; if you're over 40, you'll likely need bifocals or reading glasses. Also like Android Wear devices, the Apple Watch's screen is hard to read in sunlight, even if you crank the brightness up to the max setting.
Apple's taken much more care than Google in making the Apple Watch highly capable and customizable in a sensible, sophisticated way.
For example, you can set the time to be several minutes fast, so people who always run late can fool themselves into being on time. People have done that with regular watches for years, but smartphones tell only the actual time. The Apple Watch lets you treat the watch as a watch, yet it also knows the real time to ensure that alarms and appointments alert you when they actually should.
Unlike today's Android Wear devices, the Apple Watch can do all sorts of things beyond notifications that show intriguing promise of computing on your wrist.
The Apple Watch avoids one of the biggest problems with Android Wear: Its annoyingly spammy notifications over which it offers scattered controls. The Apple Watch on your iPhone gives you full control of which apps can notify you, as well as which can present their glance screens.
Most Apple Watch notifications are unobtrusive: A colored dot at the top of the screen indicates a new notification that you can then pull down. Alerts, of course, show on your screen when needed, as you'd expect.
Finally, the Android Wear devices do little more than provide notifications and tell time. The Apple Watch can do a lot of tasks in concert with your iPhone, acting as an extension of your iPhone for a subset of activities.
The good: Apple Watch apps that show the smartwatch's promise
Even if you don't use many apps with the Apple Watch, its ability to display weather, upcoming events, day and date, another city's time, current location (city), moon phases, and battery capacity is quite useful -- as it would be on a high-end chronograph. What you can show in the watch face (which is really the Clock app) depends on the face design you select, but most faces have several fields whose content you can choose.
Yes, from the Apple Watch you can actually take and make phone calls using the Phone app as well as FaceTime calls to other Apple users -- Dick Tracy-style. But be sure to hold the watch face directly in front of your face so the other person can hear you. 
Apple has several other features on the Apple Watch that also show its promise.
One is the Timer app, a simple app that's both handy and quite easy to use. You can tell Siri to set the timer or do it yourself. Then, when the countdown ends you get an alarm. That'll help you remember to feed the parking meter!
Another is the navigation with Apple Maps. Using Siri, you can initiate the directions, then follow along. If your iPhone is not muted it will speak the directions to you, with the Apple Watch vibrating your wrist as well. If your iPhone is muted, the Apple Watch senses that fact and plays a tone about a half block before you have to make a turn, using the same tone that many cars use for their turn-signal indicators. You can also preview your route by swiping through it, as you would on an iPhone.
The Apple Watch is good with calendars, too. By default, its Calendar app shows you the current day's calendar in a  scrollable list view, though you can change it to day view, where your free time is also shown. I find that latter view harder to navigate on the smartwatch, though.
You can navigate to any date using a month view, though accurately tapping a specific date requires finer motor control. And you can accept or decline invitations you get -- on a watch, this activity makes sense when you're in a meeting or having lunch.
There's also the Camera app on the Apple Watch. That seems strange at first since the smartwatch doesn't have a camera. But the app is quite useful: It's a remote control for your iPhone's camera, so you can take a shot without jostling the iPhone or being so obvious. If you put your iPhone on a stand or mini-tripod, this app is seriously convenient to shoot your photos.
An obvious app found on every smartwatch platform is weather: What's the temperature and outside conditions for where you are or where you're going? The Apple Watch provides a lot of weather detail in its Weather app, and for whatever cities you've set up in your iPhone's Weather app. Its glance view is also wonderfully focused on what you need to know right now.
As you'd expect, Apple's Passbook app makes airline and other tickets, as well as Apple Pay, even more convenient.
But Apple is not the only provider of useful apps that take meaningful advantage of the smartwatch notion. The Delta Airlines app not only shows you the status of your upcoming flight (which the JetBlue Airways and United Airlines apps also do), but also your plane's location during the flight and where your baggage is when you land. This is useful info to get, and info you may want when reaching for your smartphone isn't so convenient.
The middling: Apple Watch apps that don't quite deliver
Unfortunately, there are more middling apps, including some from Apple, on the Apple Watch. These apps are the ones that make you wonder if the Apple Watch really will be the next iPhone or iPad, whose potential shows its reality after developers start taking real advantage of its new context, or whether it will be a niche, faddish product like every other smartwatch to date.
Take Apple's Mail app, for example. It can be useful to see incoming email subjects on your wrist, so you can decide to pull out your iPhone, iPad, or laptop to address whatever is going on.
The Apple Watch app on the iPhone lets you select which email accounts are shown on your smartwatch, as well as restrict shown emails to people in your VIP list or to new emails in existing threads. Apple has nicely adapted its gesture for quickly deleting emails, as well as for calling up the options to flag an email or mark it unread.
But the core of using email is reading and responding, and neither is easy on the Apple Watch. You really have to use your iPhone or other device. As a result, the Mail app on the Apple Watch comes across as promising more than it can deliver. I almost wish it was restricted to only showing subject lines notification-style.
What should have been a handy app on the Apple Watch is the Alarm app. Who doesn't need alarms when on the go? Unfortunately, although it's easy to set alarms on the Apple Watch, it's hard to hear them. Don't rely on it to wake up in the morning in your hotel room.
Likewise, the Music app -- one of the apps I use the most when on the road -- feels like an uneasy fit for the Apple Watch. It plays your iPhone's music, even letting you choose your music using the crown in a way to how the old iPod selection wheel worked -- a revolution in its era that works on the Apple Watch today. And of course you can use Siri to say what you want to play.
Plus, you can send the music to an AirPlay device, such as an Apple TV or speakers. Otherwise the music plays on your iPhone.
Which is what bugs me about the Music app: You're not likely to use your iPhone as speakers, but instead use earbuds or headphones connected to it. In which case, why not use the iPhone itself to control the music selection and playback? OK, so maybe the iPhone is in your backpack, with the cord behind you. Still, using the Apple Watch as music controller feels a bit forced.
When looking at apps from vendors other than Apple, I found more middling offerings. None are bad, but they felt minimally useful -- apps for apps' sake.
An example pair is Apple's Keynote and Microsoft's PowerPoint. Their Apple Watch apps let you advance or reverse your slides in a presentation. I often do that today from an iPhone or iPad Mini when speaking on stage. At first blush, doing so from the Apple Watch was appealing. But you don't get speaker's notes on the Apple Watch, and you can't use the laser-pointer simulation on it, much less the ability to draw on your slides while presenting. OK, that latter capability is not commonly used, but speaker's notes and laser pointers are.
For UI, I slightly prefer the PowerPoint app because it provides both the Forward and Back buttons. The Keynote app can display both, but only if you force-touch the screen to explode them both. Yes, you can swipe to the left on the Keynote Apple Watch app to go backward, but that's not immediately obvious. (Apple obviously knows that, which is why it gave Keynote the option to display both buttons.)
But Keynote for the Apple Watch can remote-control (via the iPhone) a presentation on an iPad, whereas PowerPoint for Apple Watch can remote-control only a presentation on the iPhone. The iPad is a much better editing platform for slideshows, so that's likely where the file will reside.
Also, PowerPoint heavily favors storing files on a cloud service (especially Microsoft's own OneDrive), so you either have to remember to copy the file to your iPhone's local storage in PowerPoint, or be sure you have a good Internet connection. Keynote syncs a copy of its files to all devices, so chances are you have a local copy automatically to remote-control. Even if Internet access is unavailable, you still can present. This is not an Apple Watch issue specifically. But when combined with the iPhone-only remote control, PowerPoint for Apple Watch is less usable.
The Yelp app is nicely designed, providing a good amount of detail on nearby restaurants, bars, and cafés on the Apple Watch -- without becoming difficult to read or navigate. That's a coup. But there are no phone numbers to call to make a reservation or order takeout! That's a big miss, especially since the Apple Watch can make calls. Again, I'm left wondering why do this on an Apple Watch in the first place. (The good news is that you can tap the location on the Yelp map to tell the Apple Watch to begin navigating to it.)
Several apps, including Evernote and OneNote, use Siri for transcribing. (Several texting apps, including Skype and Apple's own Messages app, do the same.) That makes sense given the lack of keyboard on the Apple Watch, but it's not too handy for detailed typing. The use cases for note-taking and texting seem fairly limited to me.
I see the advantage of reviewing list-style notes from your wrist, which you can do easily enough on the OneNote app. But I found Evernote hard to work with on the Apple Watch, especially when trying to find previous notes.
Cloud storage providers like Apple, Dropbox, and Microsoft are desperate to get you to save your photos on their cloud services because those files are likely to take enough space to force you to move from a free storage tier to a paid one. That's got to be why Microsoft has an Apple Watch app for OneDrive -- all it does is access your photos on OneDrive, no other files. For business users, this is a useless watch app. For shutterbugs not aligned to Apple's iCloud or Dropbox, perhaps not. 
Some apps provide a useful feature but don't finish the job. Case in point: the PayByPhone app. If you don't have quarters or (in cities like San Francisco that have these) prepaid parking cards, the PayByPhone app is worth the surcharge it takes for paying for parking spaces on your behalf.
On the Apple Watch, the PayByPhone app shows you how much time is left on the meter, so you can add more money to the meter (from the app on your iPhone) or move your car elsewhere. But it doesn't let you when it's about to expire or when it does expire -- you have to check it manually. That's dumb. I also wish the PayByPhone Apple Watch would let me feed the meter, as the iPhone app can do.
There are a bunch of Apple Watch apps that are glorified status notifications, based on the simple presentation you would find in the Today screen of the iPhone's Notifications Center.
Two such apps are Barclaycard (which shows you your credit card balance and payment status) and DataMan (which tracks your data usage, so you know if you're running out). They do what they claim, but that doesn't seem like a lot. Nor does it feel like the imminent type of information that seems to suit a smartwatch. Again, I get the "why bother" feeling.
Several apps also are useful only periodically. Travel apps, such as the TripIt and Orbitz, are good examples of such apps on the Apple Watch, as are most airline and hotel apps. Most of the time they'll tell you they have nothing to tell you, which seems silly. And they can't do other things -- they're really abut status.
In the case of TripIt, I have a trip coming up in a few weeks, so it could at least remind me of that when I open it on my Apple Watch. But in other travel-oriented apps installed on my Apple Watch, like Orbitz, I have no upcoming reservations to display -- all they can do is tell me they have nothing to tell me.
I wonder if these apps should be on the Apple Watch at all if they have nothing to show me and can't cover basics like booking reservations. Perhaps Apple should handle such status-oriented apps a bit differently, exposing them on the Apple Watch only when they have something to show in a notifications-based approach.
The ugly: Apple Watch apps that don't deliver at all
The middle apps raise both utility questions for the app themselves and existential questions about the smartwatch notion. But there are apps that are simply bad apps.
Some bad apps are bad because they make no sense for the Apple Watch. Case in point: news apps. Yet every news organization seems to want to be on the Apple Watch.
The New York Times has a special Apple Watch app that shows headlines and very short summaries only, which I guess is a form of notifications to let you know when you might want to pull out your iPhone or iPad to read the actual story; the rest you've basically decided are unimportant or self-explanatory ("Comcast cancels Time Warner Cable deal," for example). The Times app's appearance is quite severe, with just white text on black backgrounds. The French-language Le Monde app takes the same basic-summary approach, but it includes images and so is more appealing to use.
Most other news organizations are trying to get you to read some or all of their stories on the Apple Watch, not simply quick summaries. But the Apple Watch is a terrible medium for reading text, especially long text. And it's not great for navigating lots of content, which is what a good news app would have.
The AP News app is a great example of why a news app makes no sense on the Apple Watch -- because it's the wrong medium to read stories on.
The Flipboard app is an example of how to implement that bad idea in a bad way. It makes the yeoman mistake of overlaying critical text onto images without ensuring readability. As a result, the overlay text is harder to read on the already hard-to-read small screen. (The Le Monde app uses this overlay technique, too, but its design is quite readable, by contrast.)
Flipboard adds insult to injury by showing only some of the story and suggesting you read the rest on your iPhone. Why is this app on the Apple Watch in the first place?
The Twitter app for the Apple Watch is also an example of doing a news-style app badly. Twitter isn't strictly news, but it is much like a newsfeed. On the Apple Watch, the Twitter app shows a long scroll of tweets, which can be hard to navigate. Plus, the embedded data in tweets -- hashtags, URLs, and images -- as well as replies and retweets are stripped out or unusable. All you get is a crippled timeline. Why bother?
Other bad apps are bad because their developers screwed up, probably in a rush to get an Apple Watch app out for the device's public availability this past Friday.
Two examples are iTranslate and Zoho Expense. Both apps work fine on the iPhone, but their Apple Watch versions don't work right.
In the case of iTranslate for the Apple Watch, you can set the destination language for whatever spoken words you want translated, but not the source language. (On the iPhone, you set both.) Maybe the app will figure out the speaker's language automatically, but I suspect the developer forgot to put in the source language selector in the Apple Watch app.
Whatever the cause, what happens is that everything you say is treated as English. If you speak French to it, iTranslate displays the closest-sounding phrase in English. That results in gibberish, because the person is speaking a language other than English. For example, iTranslate heard the French phrase "peut être ça suffit" as the English "triple salsify."
Even if you set the output language to something other than English, such as French or Spanish, then speak an English phrase into iTranslate for Apple Watch, the app still shows the English text -- no translation! (Remember: It works fine on the iPhone.)
In the case of Zoho Expense, there's clearly a bug in the app. The expense-tracking app lets you track your mileage from the Apple Watch: You tap Start to have it track your progress via GPS and then Stop to calculate the miles traveled, then save that to the Zoho service for inclusion in your expense reports or tax records. 
Zoho Expense does track your movement -- for a while. But when the Apple Watch screen goes black, which it does quickly to save on power, or when you switch to the clock face or another app, Zoho Expense stops tracking your motion. Basically, as soon as the app is no longer visible on your Apple Watch screen, it stops tracking. When you go back to the app, it shows only the distance traveled until the app stopped being visible.
It's utterly unreliable for tracking your mileage. (Again, the iPhone app keeps tracking your progress fine when you switch other apps or the lock screen engages.)
The good news is that I found very few such really bad apps in the first generation of Apple Watch apps. The bad news is that I'm not yet seeing a lot of compelling uses for the Apple Watch versus using the iPhone only. Still, there are some promising apps, and it's the early days for a new kind of device.
It's too soon to judge whether the Apple Watch is the next iPhone or iPad. But it's exactly the right time to judge the apps available for it and for the road warriors who would buy an Apple Watch.
Copyright © 2015 IDG Communications, Inc.