Tech apocalypse! 9 doomsday scenarios
Far-reaching fallout awaits us at the littlest hack or glitch, thanks to our increasing reliance on hyperadvanced computing and vast communication networks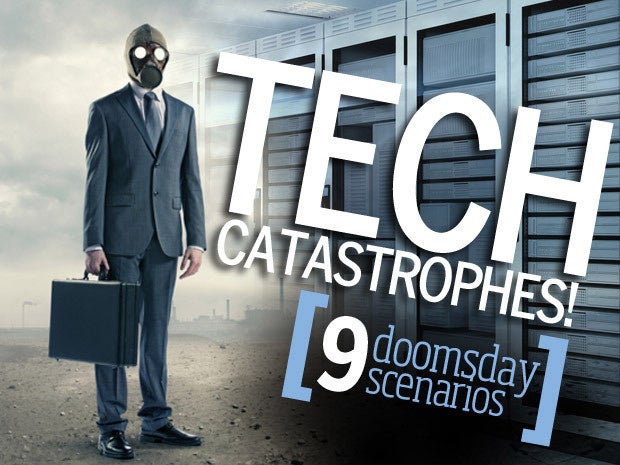 Tech catastrophes! Nine doomsday scenarios
Apocalypse stories have become so popular they now represent a genre unto themselves. Books, TV, film, video games -- everywhere people look for escape from the everyday, the world is at its end. Apocalyptic conjecture may go back to the beginning of human history -- evidence perhaps that we are an anxious, pessimistic species by nature -- but our unsettled, unsettling relationship with technology has certainly accelerated the fascination.
And why not? With technology so profusely infused in our lives, it's hard not to wonder about the likely catastrophes that await us, thanks to our almost insatiable desire for technical innovation and automation. Every little glitch, no matter how seemingly small, is a reminder that doomsday could very well be triggered by our increasing (over?)reliance on information technology, hyperadvanced computing, and vast communication networks.
Here we look at nine significant tech catastrophes in the making. They may not be apocalyptic in and of themselves, but each would have far-reaching fallout that could trigger the beginning of the beginning of the end. Good times!
Internet crash
Network crashes are a fact of life in the IT business. As anyone who has worked on a data center or a disaster recovery plan knows, preparing for a network catastrophe at any scale is grueling work. But what would happen if the Internet -- the largest, most complex network in the history of civilization -- were to somehow go offline? Conventional wisdom holds that the Internet is essentially crashproof. Because it's built around concepts of radical decentralization and massive redundancy, a worldwide failure would have to impact nearly all network service providers, simultaneously and globally.
Any natural catastrophe that could possibly take down the Internet would probably take out the planet itself. That leaves deliberate sabotage as the only means of rendering an Internet apocalypse, probably by way of computer virus. What experts worry about is the Evil Genius scenario -- an unprecedented piece of malware so advanced and so virulent that it blindsides the entire cybersecurity industry. The field of study sometimes called systems theory says that, in any system, it's literally impossible to rule out every conceivable threat. The nature of catastrophe is exactly that -- you don't see it coming.
The consequences of a worldwide Internet crash would be immediate and massive. Literally thousands of individual systems in nearly every industry would be impacted. Studies suggest that the average American relies on the successful operation of more than 250 computers each day, the majority of which require Internet-based communications.
Power grid blackout
Another persistent worry in the realm of modern technological catastrophe is the possibility of massive blackouts in the old-school sense. Electric utility grids are vulnerable on several fronts. As historical blackouts have demonstrated time after time, electrical outages can be caused by everything from inclement weather to solar flares; equipment failure to simple human error.
Information technology is playing an increasingly critical role in managing electrical systems, particularly in fast-growing nations like India and China. In 2012, a series of blackouts in India impacted 700 million people -- 10 percent of the planet's population. Later investigations concluded that the domino effect was caused by overloading, which in turn was triggered by bad math, bad communication, and an information infrastructure that simply wasn't up to the task.
Stock market collapse
Worldwide financial markets would certainly be among the first sectors to be fried by an Internet apocalypse, but a Wall Street doomsday scenario doesn't require a full-on Internet crash. In 2014, a wave of reports percolated into the mainstream media regarding the sophisticated and apparently relentless cyber attacks that Wall Street banks fend off every day.
The 2014 attacks reportedly led to the theft of multiple gigabytes of sensitive data, prompting the FBI and the Secret Service to team up with Wall Street's own massive IT security apparatus. It's big business, all right: JP Morgan, one of the banks said to have been targeted by the hackers, has an annual IT security budget of $250 million, with 1,000 dedicated staffers.
If world financial markets were to be significantly disrupted by way of coordinated cyber attacks, the effects would be colossal -- an economic end-of-the-world scenario. (Hollywood, by the way, has been scaring us with this scenario for a surprisingly long time -- if you can believe it, the cult classic "Hackers" is now 20 years old.)
Water supply attack
For those who like to cultivate a healthy baseline of paranoia, there's the nagging worry of a deliberate cyber attack on the water supply. Nefarious villains in thriller movies have exploited this fear in the past. But in 2011, the fears became uncomfortably real when federal officials confirmed a cyber attack on an Illinois water plant. Like the infamous Stuxnet incident in Iran, it was the rare instance (made public, anyway) of a computer hack that caused physical damage within an industrial control system.
The Illinois attack was traced to Russia, though officials warned that the ultimate origin was impossible to determine. The attackers broke into an affiliated software company's database and gained access to control systems. By repeatedly turning a pump motor on and off, the attackers caused the system to burn out. More recent reports suggest foreign hacking groups are indeed targeting critical infrastructure systems specifically.
Coordinated attack
In an oft-cited quote from his 2013 State of the Union address, President Obama said: "We know foreign countries and companies swipe our corporate secrets. Now our enemies are also seeking the ability to sabotage our power grid, our financial institutions, our air-traffic control systems. We cannot look back years from now and wonder why we did nothing in the face of real threats to our security and our economy."
While an attack on Wall Street, the water supply, or our pipelines would be destructive, the real nightmare scenario, experts say, is a coordinated attack designed to hit multiple utility, energy, and financial systems simultaneously. In previous decades, such an attack would be impossible. But now the Internet winds around and through otherwise discrete networks in all of these industries. Sophisticated computer networks have bought greater efficiency, at the price of greater vulnerability.
Satellite cascade
Fears of mad hackers and cyber warfare get most of the attention these days, but technological catastrophes don't have to occur by nefarious design. Sometimes, one little accident is all it takes. In the most eye-popping scene of "Gravity," director Alfonso Cuarón's 2013 sci-fi thriller, the Russians blow up an old satellite and inadvertently cause a chain reaction that threatens to wipe out most satellites in orbit -- not to mention George Clooney and Sandra Bullock.
It's a real danger that's been studied extensively by NASA and other world space agencies. China, the United States, and the former Soviet Union have all destroyed orbiting satellites in the past, for strategic and safety reasons. The likelihood of a cascade effect like the one depicted in the film is relatively slim, but the impact of such an event on the global communications network would be severe. According to a database maintained by the Union of Concerned Scientists, there are now more than 1,100 active satellites in orbit, with around 60 percent of them used for communications. (Oh, an additional 2,500 inactive satellites are up there, too.)
Oil and gas disruption
The threat of cyber attacks on older utility systems -- power grids and waterworks -- is compounded by the fact that these older systems are often haphazardly patched into newer online networks. Administrators of the utility systems often don't know how to detect or defend against intrusions. That goes for the computer systems that control oil and gas pipelines, too.
In 2012, hackers penetrated the network of the software company that not only gives pipeline companies remote access to their valves and switches, but also keeps detailed blueprints on more than half of all the gas and oil pipelines in the Americas. Recent natural disasters like Hurricane Katrina and Hurricane Sandy have demonstrated how damaging random short-term gas and oil shortages can be. A well-planned and malicious compromise of industrial control networks could make matters exponentially worse.
Surveillance state
Then there are the more notional, slow-boiling tech catastrophes that, depending on who you ask, are already ushering in the end times. Many parents can testify with despair about the dwindling attention span of kids these days, thanks to a seemingly endless proliferation of electronic screens. Recovering English majors will tell you that texting and online discourse is slowly driving language itself into the grave.
For some, increasingly worrisome surveillance state concerns really represent a potentially apocalyptic scenario. Cameras are everywhere, data storage is essentially infinite, and recent disclosures concerning foreign and domestic spy programs -- by the NSA and other intelligence agencies -- suggest dire times ahead as technology and public policy collide. Surveillance societies don't have a terrific track record for long-term viability.
Rogue AI
Finally, we have the tech catastrophe scenario that, in recent years, has gotten the most traction by far -- at least in the pop culture realm. It's the enduring paranoia that someday, and perhaps someday soon, our machines will achieve sentience, stand up and stretch, then overthrow the pesky and inefficient human race.
The robot revolution has been an enduring trope in science fiction for decades. But recent advances in neural networks, machine learning, and artificial intelligence are yanking the concept out of sci-fi and into the real world. A few months ago, no less a personage than Stephen Hawking warned against the rise of the machines, telling the BBC: "The development of full artificial intelligence could spell the end of the human race." Uh-oh.
Copyright © 2015 IDG Communications, Inc.
Next Up: Check out these related slideshows