The robots are coming to steal your job
Automation technology isn't invading the IT industry alone -- robots are taking over a terrifying range of jobs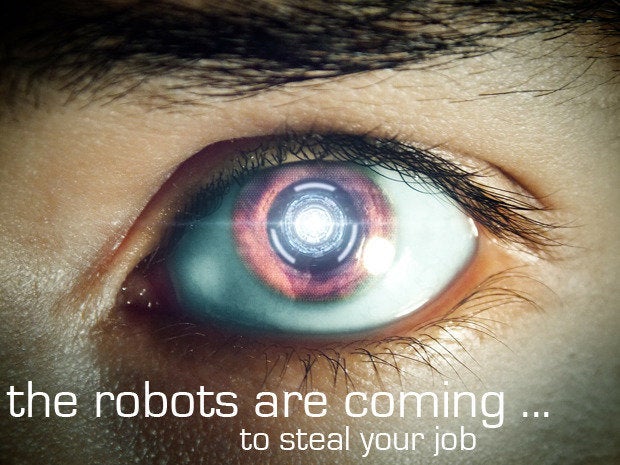 The robots are coming -- to steal your job
For many of us trying to navigate the 21st century, it's become sensible -- healthy, even -- to maintain a simmering, low-grade paranoia about the impending robot revolution. Advances in automation and robotics are impacting virtually every area of technology and industry.
We humans seem to be doing everything we can to ensure that the robotic takeover goes smoothly and with minimum resistance. It's unnerving, really. Scan the headlines on any given day, and you're likely to find at least one story about researchers creating robots designed to take over yet another unexpected aspect of human endeavor. Future android historians will surely look back on this era and marvel at how we participated in our own obsolescence. Ah, well -- such is the price of progress. I, for one, welcome our new robot overlords.
Delivery driver
If certain forward-thinking captains of industry have their say, robots may soon be replacing your friendly neighborhood UPS guy -- or FedEx or even the U.S. Postal Service. Heavyweights, including Google and Amazon, are investing big bucks in the development of drone delivery systems, in which small UAVs (unmanned aerial vehicles) could deliver packages or groceries by flying over your house and dropping parcels on your doorstep.
In fact, German delivery company DHL recently announced a commercial drone delivery service to the island of Juist in the North Sea, which is otherwise accessible only by boat. Domino's Pizza has also started testing a drone service for delivering pies. Regulatory issues will be a challenge, certainly, but maybe we can get the drones to wear those cool UPS-guy shorts.
Library technician
The original information technologists, librarians have become combatants on the front lines of the impending robot revolution. Most university and public libraries have installed self-checkout systems -- similar to those at the grocery store -- to reduce the need for library clerks.
More recently, several major university libraries have installed robotic book delivery systems that also automate the process of shelving and retrieving books. North Carolina State's BookBot system, for instance, uses a system of robotic cranes to retrieve books stored in more than 18,000 bins and requires one-ninth the space of conventional shelving. Each book is bar-coded and sorted for size; patrons can even browse by way of "virtual" digital bookshelves.
Food critic
As occupations go, being a food critic is pretty sweet. You get paid for the privilege of eating gourmet food on the clock, for free. But assessing the taste of food -- surely this is a job for us carbon-based organic life forms, right?
Nope, the robots are coming for this one, too. The government of Thailand recently unveiled its "e-delicious" machine, a robotic food taster designed to rid the world of the scourge of bad Thai food. Developed by the government-funded Thai Delicious Committee (we're not making any of this up), the robot analyzes chemical signatures in both smell and taste, and it can purportedly distinguish between authentic Thai food ingredients and woefully inadequate Western imitations.
Pharmacist
The pharmacist has a curiously (and literally) elevated position in our society. As Jerry Seinfeld once observed: "Why does the pharmacist have to be two and a half feet higher than everybody else? Who is this guy? 'Clear out, everybody, I'm working with pills up here. I'm taking pills from this big bottle, and then I'm gonna put them in a little bottle!'"
For several years now, pharmacies in UCSF Medical Center system in California have been staffed largely by robots, whose job is exactly that: to count, prepare, track, and dispense medications. It makes a lot of sense. The automated system is, statistically, much less prone to error and can safely handle dangerous materials like toxic chemotherapy drugs.
Fast-food worker
Fast-food restaurants are highly automated as it is. Peek behind the counter at a McDonald's and you'll see machines handing everything from dispensing change to filling drink cups. But at least one company wants to take it even further, giving robots total control over our hamburgers.
Momentum Machines has designed a prototype robotic line cook that, the company claims, can crank out 400 made-to-order hamburgers per hour. (That's one burger every nine seconds.) The burger-bot takes up about 24 square feet of floor space and handles everything from grilling the beef to slicing the vegetables. The company is even working on a patented attitude algorithm that will approximate the surliness of the typical teenage fast-food clerk. We kid, we kid.
Shepherd
Consider the lovely, bucolic image of the shepherd with his dog and his sheep. Here's a gentle human endeavor that's been around for 5,000 years, historians say. In a universe that was at all sane, or even moderately discerning, the robot revolution would certainly bypass the ancient of art of shepherding.
Maybe not. Researchers at the University of Swansea in the United Kingdom have developed an algorithm that they say could be used to program a robotic sheep dog, similar to the BigDog quadruped robots from Boston Dynamics, pictured here. The research team outfitted both sheep and dogs with highly accurate GPS trackers, then used the data to create a modeling system for robotic shepherds. The data suggests that sheep-herding dogs use two simple rules: Gather the sheep when they're dispersed, and drive them forward when they're together. The robots could potentially be used for humans, too -- to manage crowd control at public events or in emergency situations.
Music writer
Ah, the Arts! At last we come to an occupation that the robots can't handle. For how can the cold, calculating silicon mind grasp the elusive subtleties of the Beatles?
Uh-oh. According to research published earlier this year, it appears that artificial intelligence can indeed analyze the style of a particular band's music, then draw accurate conclusions about the group's musical development over time. Researchers at Lawrence Technical University created AI technology that analyzed the songs from the Beatles' 13 studio albums released in the United Kingdom. The system was able to discern the evolution of the band's musical style and correctly sequence all 13 albums in the proper order. Music writers have good reason to worry. Robots are already doing certain kinds of sports writing and financial reporting. Really.
TV news anchor
If you're a cynical observer of the media -- or simply observant -- you'll have noted that today's TV news anchors are androidlike as it is. If Anderson Cooper were to remove his electronic faceplate tomorrow, it would surprise exactly no one.
Earlier this year, technicians at Japan's famed Intelligent Robotics Laboratory took it to the next logical place by unveiling two models of robotic newsreaders. The eerily lifelike androids -- complete with complex facial musculature systems and silicone skin -- are designed to speak multiple languages and can translate inputted text directly into spoken words. Osaka University professor Hiroshi Ishiguro, pictured here with the "Otanaroid" model, said the androids are designed to provoke discussion about the boundaries between what we perceive as human and as artificial.
Bartender
Finally, some news we can use. Royal Caribbean recently announced it will deploy a robotic bartender on its latest high-tech cruise liner, Quantum of the Seas. Called the Bionic Bar, the system takes orders from table-mounted tablet computers and uses articulated robotic arms to pour, shake, and stir.
There are actually several robotic bartenders in development, and a few are already in use. The Robots Bar and Lounge in Illmenau, Germany, employs humanoid robots and even has statues of C-3PO and R2-D2 mounted out front. (Droids are welcome in this cantina, evidently.) The Kickstarter-funded project Monsieur, meanwhile, is designed for commercial or home use and can craft 300 different cocktails out of the box. Naturally, you can order your drinks in advance from your phone, because -- as always -- there's an app for that.
Information technologist
The IT industry is no stranger to the upside of automation. In fact, if you're in IT, you've probably encountered a good deal of automation in the workplace over the past several decades. One of the first widespread automation technologies to displace humans, Interactive Voice Response systems are now familiar to anyone who dares to use a phone for technical assistance -- whether it's for checking on your computer, your bank statement, or your kids' lunch money account at school.
More recently, IT automation software like Puppet, Chef, and Ansible can do much of the work that used to be managed by hand, such as configuring servers and handling certain analysis and troubleshooting jobs. As these "virtual engineers" continue to automate routine tasks, it seems only logical that the Machines will decide they want fellow Machines handling this business.
The specter of autonomic computing, "cognitive" tech like IBM's Watson taking over predictive analysis, machine learning for data analysis, natural language processing -- it's almost as if every tool we create to solve business problems threatens to put many of us one step closer to the permanent unemployment line.
Copyright © 2014 IDG Communications, Inc.
Next Up: Check out these related slideshows