Quick Look: Peppermint Five
Peppermint Five adds a new Control Center for settings, a rewritten Ice SSB manager, and long-term support via the Ubuntu 14.04 code base.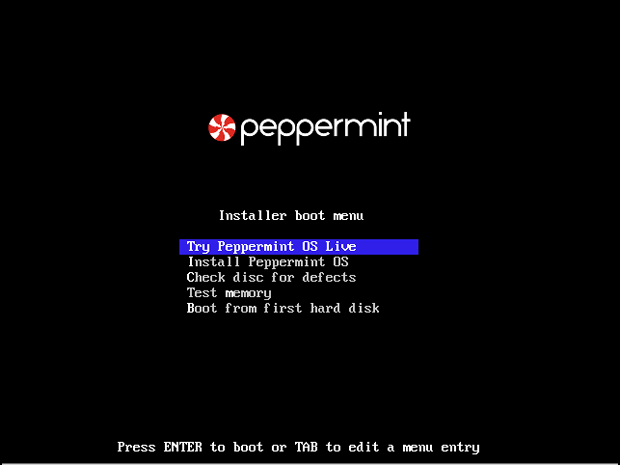 Peppermint Five Boot Menu
Peppermint Five, the latest release of the distribution formerly called Peppermint OS, features a brand new Control Center to manage settings, as well as a rebuilt Ice SSB (Site Specific Browser) manager. Since it's built on the Ubuntu 14.04 code base, Peppermint Five is also a long term support release.
As you can see from the Boot menu graphic, Peppermint Five is a live distribution. You can run it off a disc before doing an actual install on your computer.
Install Preparation
Peppermint Five uses the Ubuntu 14.04 installer, so it's quick and easy to put it on your computer. Note that you have the option to download updates and install third party software such as Flash while your install is completed. I recommend doing this because it will save you time later on.
Install Slideshow
You can watch a slideshow while installing Peppermint Five. The slideshow explains Peppermint Five's new features such as the Control Center. It also covers the advantages of being a "web driven hybrid" distribution that blends desktop software with web applications.
Desktop
The Peppermint Five desktop features funky wallpaper that features what looks to me like a vapor cloud wafting into infinity or something like that. The desktop is uncluttered and you can easily access the panel functions at the bottom of the screen.
Panel Menu
Click the menu button with the peppermint candy on the panel to open the Peppermint Five menu. You'll find all of your application categories as well as links to System Tools, Preferences, logout and other useful functions.
Software Manager
Peppermint Five uses the Linux Mint Software Manager to make it easy to install or remove software applications. The Software Manager has more than 44,000 different applications. Applications are broken up into convenient categories so you can browse through them to find useful software. You can also see star ratings for apps and view user reviews.
Featured Applications
The Featured Applications category lists popular applications such as VLC, Firefox, FileZilla, Wine and many others. You can also find the Peppermint Packs that contain metapackages of applications. If you aren't sure which applications to install then be sure to check the Featured Applications section in the Software Manager.
Ice Create SSB
Ice lets you run web applications in a window on your desktop. To create one you just need to start Ice, paste in the URL of the web application, and add a name. Then choose an icon and click the Apply button. It's quite easy to add web apps to your Peppermint desktop with Ice.
Ice Remove SSB
Some web apps such as Google Drive, Gmail and others come preinstalled in Peppermint Five. Just click the Remove tab in Ice and you'll see a list of them. Click the one you want to get rid of and then click the Remove button. You can also remove web apps that you've added yourself.
Control Center
Peppermint Five comes with a brand new Control Center for settings. The Control Center is broken down into five tabs: Window Manager, Keyboard & Printer, Keyboard Shortcuts, Desktop Effects, and Advanced. The Control Center is one of the best things in this release and once you get used to using it, you'll wonder how you got by without it.
For more information about Peppermint Five or to download it be sure to visit the Peppermint Five site. You might also want to check out the Peppermint User's Guide for helpful install and configuration information, and the Peppermint Forum for user to user support.
Copyright © 2014 IDG Communications, Inc.
Next Up: Check out these related slideshows