Quick Look: Linux Lite 2.0
Linux Lite 2.0 adds Whisker Menu, twenty additional popular applications, updated software and a new system font.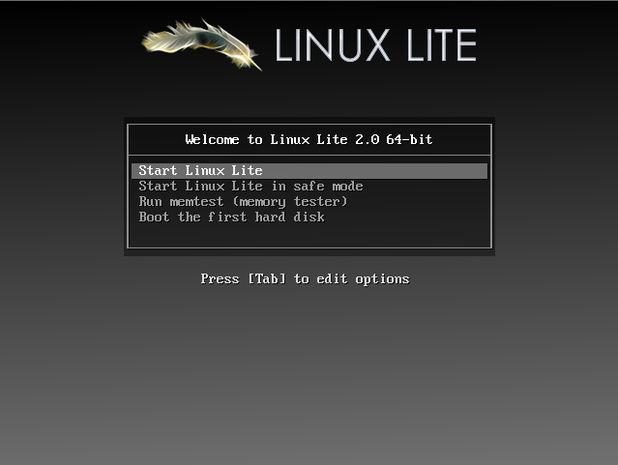 Linux Lite 2.0 Boot Menu
Linux Lite offers a compelling, easy to use desktop that is based on Ubuntu. It's geared toward making it easy for Windows users to make the jump over to Linux. And it does a pretty good job of that by using the Xfce desktop environment to provide a Windows-like experience to new Linux users.
Linux Lite 2.0 includes updated applications, Whisker Menu as the default menu, Linux Lite software repositories, sound control from the tray, descriptive title bars in terminal windows, and more than twenty popular applications that you can easily install from the terminal window. This release also offers a new system font called Droid Sans, tabs in the file manager, and dialog boxes for auto-login.
Live Desktop
Linux Lite is a live distribution, so you can run it off a disc before actually installing it on your computer. If you like it then you can do a full install on your computer right from the live desktop by clicking the Install Linux Lite icon.
Install Preparation
Linux Lite uses the Ubuntu installer, so it's easy and fast to install it on your computer. You have the option of downloading updates and adding third party software while your install completes. I recommend doing both since it will save you time later on.
Install Slideshow
While your install completes, you can watch a slideshow about Linux Lite. The slideshow will walk you through the new features in this release, and it will give you an overview of what Linux Lite has to offer. The slideshow is particularly helpful if you are completely new to Linux Lite.
Installed Desktop
The installed desktop looks pretty much like the live desktop, minus the install icon. The wallpaper is attractive and the desktop itself is complete uncluttered. The panel at the bottom contains icons for various features including the Menu where you'll find all of your applications and system utilities.
Whisker Menu
Whisker Menu is now the default menu in Linux Lite 2.0. It makes it very easy to navigate by using the categories on the left side. You also have the option of switching categories by hovering your cursor. You can also search or use the system icons at the bottom right to gain quick access to settings, lock screen, users and the logout functions.
Sound Control in Tray
Linux Lite 2.0 now makes it easier to control the sound on your system by including it in the tray. Just click the volume icon to raise or lower the volume, or to quickly access the Sound Settings menu.
Additional Software
Linux Lite 2.0 now offers more than twenty additional programs you can quickly install on your system via the terminal. These applications include the Apple Trailers plugin, Chrome web browser, Chromium web browser, Dropbox, a Games pack, the Pidgin Instant Messenger app, Netflix, PlayOnLinux, Skype, VirtualBox, XBMC, and Wine.
Tabs in File Manager
The file manager in Linux Lite 2.0 now offers the ability to use tabs. This makes it possible to avoid the headache of having multiple file manager windows cluttering up your desktop. You can also see the new system font "Droid Sans" in this screenshot.
Descriptive Title Bars
This release also includes descriptive title bars in terminal windows. Changes like this are small but add some definite polish to Linux Lite 2.0, and may be help prevent confusion in new users who aren't experienced in using the terminal window.
Synaptic Package Manager
Linux Lite 2.0 also comes with the Synaptic Package Manager. Synaptic is a very powerful tool for managing software. You can get more information including a list of its features on the Synaptic site.
Settings
The Settings menu in Linux Lite 2.0 lets you easily customize and manage your system. You can change the appearance, display resolution, manage users, tweak your window manager and do many other things from this menu.
For more information about Linux Lite or to download it, visit the Linux Lite site.
Next Up: Check out these related slideshows