The overarching external benefit is improved customer engagement.
Used as part of a multichannel strategy to reach out to customers, business partners, and suppliers, consumerization tools and technology can make it easier for existing customers to do business with you and to create exposure, such as through social media, for new customers to find out about your business's services and products.
Embracing consumerization and reaping its benefits begins with a road map that plans for success and then sharing it with employees. "We recommend establishing a center of excellence where IT partners with the lines of business to identify the greatest benefits of consumerization to the company and how to get there," says Phil Garland, a partner in PwC's CIO Advisory Services group.
Turning users into IT deputies
Although IT organizations admit to feeling besieged by consumerization -- 80 percent of IT executives say consumerization increases IT workload, according to IDC -- the trend is inevitable with no signs of letting up. "The form factors of today aren't the end of it," says Danielle Levitas, a senior analyst at IDC.
The good news for IT is that the democratization of the workplace offers benefits for the IT group. The technology-savvy employee bent on selecting his or her own mobile device and apps can be an asset, one that PwC describes as helping turn "shadow IT" into "deputized IT."
In other words, IT gains an army of user assistants who turn to each other to solve problems with their devices and apps rather than lean on IT. This self-support not only reduces the burden on IT but also offers the IT organization partners in innovation and testing and inside-the-business technology analysts.
That's the approach being taken at furnishings firm Holly Hunt. It's kicked off a series of marketing and training groups with IT for people to trade ideas and to identify gaps in the tools available to employees designed to improve productivity. "These users are the new litmus test for new application development," says business analyst director Goodrich.
Goodrich contends that consumerization makes users less tolerant of poorly made software, so IT needs to tackle that issue head-on. By focusing less on devices and more on apps that target improved business processes, the partnering of IT and users can drive productivity through better tools -- the bull's-eye of consumerization.
The always-on employee
By tapping into an existing base of technology aficionados willing to use their always-on, easy-to-use, 24/7-accessible devices for work -- even if just a quick activity here and there -- businesses will inevitably see a productivity advantage.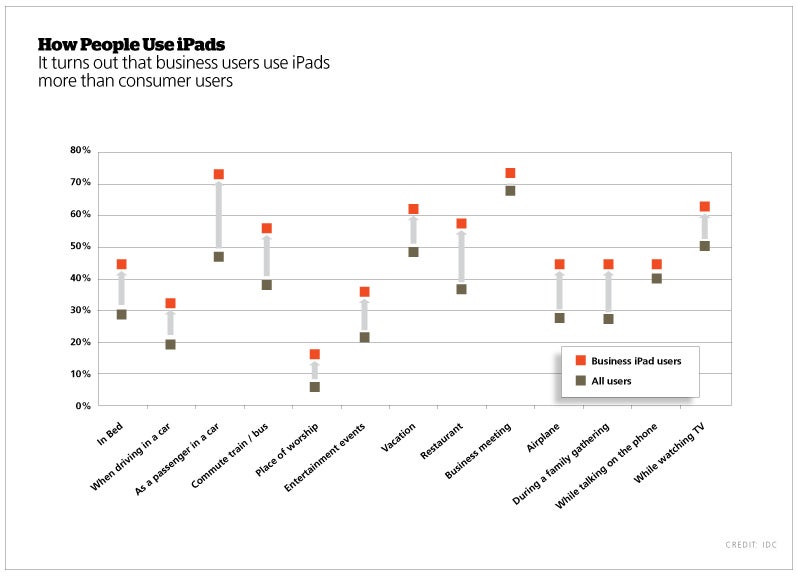 Already, employees admit that no place is sacred when it comes to using consumer technologies to conduct work. IDC survey respondents admit to squeezing in work time while on vacation, in bed, during commute time, at family gatherings, while watching TV, and even at a place of worship. "While not quantified, businesses can reap huge benefits from [consumerization] because it's hard to turn the device off when it's also being used for personal use," says IDC's Levitas. Ask any enthusiast just how easy is it to check email, update Facebook, and collaborate with business peers.