Minimize Metro! How to make Windows pure again
Windows 8's Metro UI is really jarring but hard to avoid -- unless you follow these tips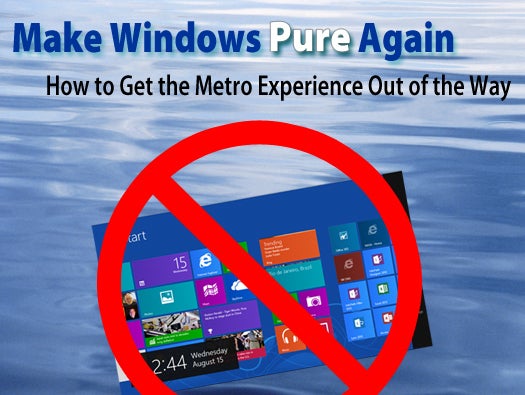 Minimize Metro! How to keep the pure Windows experience alive
So you use Windows 7, and you're thinking about upgrading to the new Windows 8. You've read about the jolting changes when you jump between the Windows Desktop side of Windows 8 and the Metro side. Perhaps you've already downloaded the Release Preview or final (RTM) version of Win8 and had a chance to judge the whiplash for yourself. If the sudden Jekyll and Hyde change doesn't bother you, that's great -- you're a better mouser than I, Gunga Din. But if you don't want to jump over to the Metro side every time Windows squawks, but stay on the Windows Desktop as much as possible, take these steps to keep your desktop sunny-side up -- most of the time.
Install a third-party media player
Windows 8 fresh out of the box makes Metro's Music app the default player for MP3 and WAV files, and Metro's Video app the default for AVI, DIVX, and MPEG-4 files. That's not good: Music doesn't even have a volume control in the app. Solve the problem by installing a superior, free media player that keeps you on the desktop: VLC Media Player (my favorite) from France or PotPlayer from South Korea. Both will play just about anything -- including DVD movies -- and they sport features I haven't even found yet. When you install, be sure to tell the player it should be the default for every media type it handles.
Don't use Metro's Reader app
Although Microsoft's Reader app is a superior (and by all appearances bulletproof) PDF reader, it's Metro-only. Every time you click on a PDF file, you get whooshed over to the Metro side of the fence. Unfortunately, the two best-known Windows Desktop PDF-reading apps, Adobe Reader and Foxit Reader, both have flaws: Adobe Reader has become one of the most widely used vectors for attacking PCs, and the Foxit installer pesters you with crapware.
Get a photo program
When you double-click on a BMP, GIF, JPEG, or TIFF file on the Windows Desktop, you're hurled (I use the term deliberately) over to Metro's Photos, which is gorgeous but has exactly zero functionality. I use Windows Photo Gallery, but Picasa works well, too -- and if you want to expand your picture editing capabilities farther, consider IrfanView. All are free. Once again, when you install the program, make sure you tell the installer to take control over all file types.
Pin your most-used programs to the taskbar
If you install Office on a clean Win8 PC or install Win8 over a Win7 system that already has Office, you'll see tiles for each component on your Metro Start screen; that means using Metro to launch those Windows Desktop apps. Prevent that horror by going to the Metro Start screen and, one by one, opening the App bar (at the bottom of the screen) and choosing Pin to Taskbar. (To open the App bar, right-click the desired tile or, on a touchscreen, drag it to the bottom edge of the screen and then release your finger.) Now the apps can be easily launched from the Windows Desktop. Once apps' icons are on the taskbar, you can drag them to your preferred order.
Install a third-party Start menu
Install Stardock's Start8 or a competitive third-party Start-menu product. There's a race under way to bring as much Windows 7-style Start menu functionality as possible to Windows 8, so expect to see many alternatives appear. But Start8 is the first, and it lets you boot directly to the Windows Desktop, where it adds the Start orb icon to the taskbar and its own version of the Windows 7 Start menu. Start8's Shutdown option can also be handy.
Get to know the Power User menu
The Power User menu makes it easy to quickly launch various Windows Desktop functions. Whether you're in Metro or the Windows Desktop, press Win-X to open it at the lower left of the screen. Most of the entries aren't frequently useful (what, you don't use Disk Manager every day?), but the Power User menu gives you easy access to Control Panel, Task Manager (which you can also start by right-clicking an empty spot on the taskbar or using the old three-finger salute), and Command Prompt.
Customize the daylights out of the Metro Start screen
Every Win8 desktop user will fall into the Metro Start screen from time to time. Hey, it happens. If you ever get tossed to the Segoe wolves, moving your most-used tiles to the left can make it much easier to get where you want to go. (Gratuitous tip: The Desktop tile should be double-wide, in the left-most column.) After you drag your tiles into position, hover the mouse over the lower-right corner and click the minus (–_ icon that appears to zoom out the tiles (in what is called a semantic zoom), right-click the desired tile group, and choose Name Group from the App bar.
Install the desktop version of SkyDrive
Even if you don't plan to use Microsoft's SkyDrive cloud storage service, if you have a Microsoft account, it doesn't hurt to claim your free 7GB of storage -- and get it working on the Windows Desktop side, so you can avoid that %$#@! Metro SkyDrive app. In your browser, go to SkyDrive.com, sign in with your Microsoft account, and in the lower-left corner click or tap the link to Get SkyDrive Apps. Follow the installation instructions to end up with a fully functional SkyDrive folder in your File Explorer's Favorites list. You'll also end up with a second SkyDrive tile on your Metro Start screen, which you can safely ignore.
Get a Mail program that works on the Windows Desktop
Metro Mail draws you into the (Metro) dark side -- and keeps you there. Both Gmail and Hotmail/Outlook.com run on the Win8 desktop just fine, using any browser. If you want to store your mail locally, check out Thunderbird, the aging but still usable Windows Live Mail, or even (gulp!) any version of Outlook. All but Outlook are free.
Know when to give up
Sad to say, but there are some things you can't do from the old-fashioned Windows Desktop. For example, if you want to add a user account to your PC, you can't do it in Control Panel, as you would in Windows 7. Instead, you have to venture out to Metro's Settings charm, click or tap Change PC Settings at the bottom, then on the left click or tap Users. Similarly, you have to use Metro to change your account picture and connect to Wi-Fi networks.
Don't be afraid to use Metro!
If nothing else, Metro is the only way to get into the Windows Store. Hankering for some of those old Windows 7 games? They're in the store, free, gorgeous ... and Metro.
Microsoft really, really wants you to get used to the Metro interface. There's much to recommend it. But there's no need to dive right in or forgo all the how-to skills and apps you have in the Windows Desktop. Wade into the Metro waters at your own speed -- and keep using the familiar Windows Desktop as long as you can.
Copyright © 2012 IDG Communications, Inc.
Next Up: Check out these related slideshows