iPhone 6 in Review
How iOS 8 makes email, contacts, and calendars work better
8 cool and useful improvements to business communications on the iPad and iPhone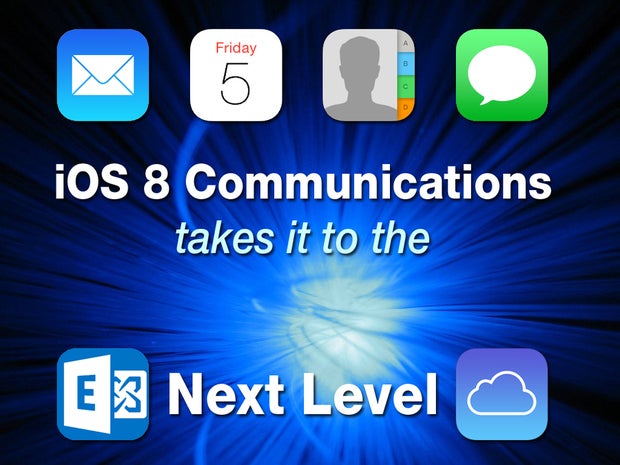 How iOS 8 makes email, contacts, and calendars work better
There are many amazing productivity apps for the iPad and iPhone, but the truth is that most people use iOS devices for business communications — what they do in Outlook on their computer. iOS 8 adopts several key Outlook features that have long been missing in mobile, and it adds a few twists that make business communications easier when on the go.
I tour those new communications capabilities here. Note that although I show iPad screens, they're also available on the iPhone.
Mail: Manage email from the Notification Center
We all get emails we don't need to pay attention to, from spam to minor replies in an email conversation. iOS 8 lets you trash emails or mark them as read without going to the Mail app. Now, you can manage them from the Notification Center or lock screen. Just swipe to the left over an email preview to get the Mark as Read and Trash buttons. As before, you can also tap a message to open it in Mail, for when you do need to engage with it.
Remember: You have to enable mail from whatever accounts you want to appear in the Notifications Center and/or lock screen. You do that in the Settings app's Notifications pane.
Mail: Get alerts for message threads
Then there are times when you're part of an important message thread, and you want to know when something new occurs. Sure, you'll get the email in Mail and, if you enable it, in the Notification Center. But iOS 8 lets you designate specific message threads for special attention, notifying you when new messages arrive.
To do that, tap the Flag icon and choose Notify Me in the popover. That makes iOS 8 monitor for new messages in that thread. (You also use the Flag popover to stop notifications, with its Stop Notifying option.) In the Settings app's Notification pane, you set how thread alerts are presented to you. In the Mail app's mailbox list, tap Edit to enable a smart folder to collect thread notifications.
Mail: Set up out-of-office alerts for Exchange
It's long frustrated me that I can set up out-of-office alerts for Exchange accounts from the Mac's Mail application but not iOS's Mail. Now I can, and so can you. Say bye-bye to that awkward Outlook Web Access browser interface on your iOS device.
You set up out-of-office notifications in the Settings app's Mail, Contacts, Calendars pane. Tap your Exchange or Office 365 account, then tap Automatic Reply to open the form shown here. It has the same options as Microsoft's OWA for iPad app: You can set an end date and a reply that everyone sees when they email you during that period.
Note: This feature is available only for Exchange accounts, not iCloud, Gmail, or IMAP.
Mail: Add new information to Contacts
Apple has long used data detectors to scan emails for actionable info such as phone numbers, addresses, flight numbers, tracking codes, and dates. Tap the information on your Mac or iOS device to have Apple act on it for you, such as create an event in Calendar or open the FedEx website to track a package.
iOS 8 takes data detectors to a new level. If it detects contact information in an email, such as from an email signature, it looks in your Contacts app to sees if that information is also there. If not, it lets you create a new contact from it or add new info to an existing contact, with a toolbar that displays at the top of the email message.
Contacts: Quickly connect to recent contacts
If you double-tap the Home button to open the App Switcher, where you can navigate among running apps, in iOS 8 you'll now see the Recents row of people you've interacted with recently via FaceTime or Messages (or, on the iPhone, that you spoke with). Tap a person's icon to get a menu of connection options: Messages, FaceTime video, FaceTime audio, and (on an iPhone) Phone. Then tap the desired option to initiate that connection.
If you don't want to use this feature, go to the Settings app and turn off the Show in App Switcher option in the Contacts section of the Mail, Contacts, Calendars pane.
Calendar: See if people are free for a meeting
If you use the Exchange server from a computer with the Microsoft Outlook client (as most businesses do) or Apple Mail client, you know how handy it is to see if people you are inviting to a meeting are actually free. (Both applications use Exchange's ability to check the schedules of other Exchange users in your company to do this lookup. Sorry, it doesn't work with Google Calendar or iCloud.)
iOS 8's Calendar app can do it too. When you invite fellow Exchange users to a meeting on your Exchange calendar, the Invitees popover automatically shows if there are any scheduling conflicts. It even proposes dates and times that would work better based on people's availability. No scheduling conflict? Then nothing displays.
Calendar: Keep your schedule private
It's great that Exchange can look up colleagues' calendars to make scheduling easier. But it's not so great that they can see personal information such as medical appointments you keep on the calendar, so they know not to schedule meetings with you at those times.
The Outlook and Apple Mail clients on the desktop, like Microsoft's OWA for iPad, let you mark an Exchange event private, so people see you're busy but not why. Calendar in iOS 8 now adds the same option when setting up events in your Exchange calendar. (It doesn't work with Google Calendar or iCloud.)
Messages: Opt out of conversations
Text messaging is great, but sometimes you want to mute a conversation so that you're not constantly pinged with notifications about new messages — especially in group conversations. But if you turn on Do Not Disturb, you no longer get notifications for any app.
iOS 8 to the rescue: It lets you selectively turn Do Not Disturb On for individual conversations in Messages, allowing you to opt out of notifications for a chatty conversation while still seeing notifications for the rest. Tap Details (a new option in the Messages app) for a selected conversation; then turn on Do Not Disturb to mute notifications for that conversation. (You'll still see the conversation in the Messages app.) Turn off the switch to resume getting notifications for that conversation.
More Apple slideshows from InfoWorld
Copyright © 2014 IDG Communications, Inc.
Next Up: Check out these related slideshows