App wars: Windows 8 Metro vs. the iPad
Microsoft's Metro environment in Windows 8 and Windows RT takes the iPad approach to apps, but is it better?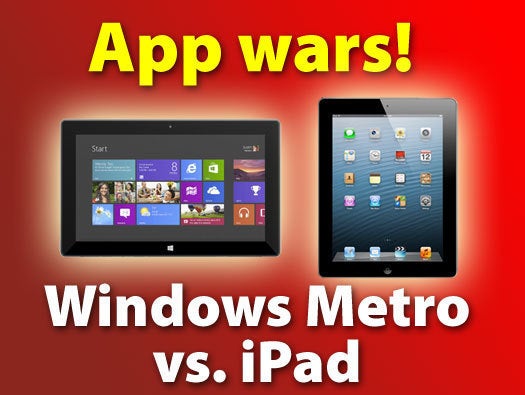 Windows Metro and iPad apps face off in 16 categories
The iOS app model is now the holy grail, and Microsoft has adopted it all-out in its Metro UI, which forms the core experience in Windows RT tablets and the preferred experience in Windows 8 PCs. (Microsoft dropped the Metro name this summer but has no replacement, so I continue to call it Metro.)
Metro's UI approach is simpler and bolder than iOS's. But apps typically do less and require you to open menulike bars to access some features, whereas iOS typically keeps all relevant controls onscreen.
• Read on to see who won in each of the 16 app categories.
• Learn more with my "Exploring iPad for Dummies" and "Exploring Windows 8 for Dummies" books.
Email: iPad wins
The iPad's Mail app provides a clean client for your email work, keeping controls front and center and providing nice usability touches such as options for message threading and per-account signatures. The all-inbox view makes it easy to stay updated, but you can drill down into specific accounts at any time. Plus, you can reorder your accounts' display, as well as have designated senders' emails go to the VIP mailbox so that they don't get lost in the crowd.
To format text, you have to select it to get the formatting contextual menu -- which many people may not realize. By contrast, Metro's Mail app automatically displays formatting controls when text is selected.
Email: Metro loses
As a basic email client, Metro's Mail app is fine, with support for most popular account types (but not POP, the most common account type -- shocking!), rich text formatting, and contacts integration. Windows 8 and RT devices' wider screens let Mail show your folders, your message list, and the current mail message simultaneously.
But Metro Mail takes more work to use, and it's often unintuitive. For example, to search your messages, you have to use the Search charm, and you get no filters such as From or Subject. It also lacks the iPad's handy unified inbox view, message threading, and ability to have separate signatures for each email account. Additionally, connecting to Exchange from outside the office can be problematic.
Browser: iPad wins
The Safari 6 browser on the iPad is very much like a desktop browser -- which is good. You get full bookmarks, including folders, plus Apple's nice "read it for later" Reading List bookmarks and the synced iCloud Tab bookmarks so that you can pick up on what you were browsing on other devices. Sharing and printing are easy actions. Its HTML5 support is among the best of any browser, and you can browse privately when desired.
What Safari 6 lacks are thumbnail views of open tabs, common in Android and Windows 8. Plus, there's no Home button. But as I said, you get a near-desktop-level browser that works well on most websites (some AJAX controls are problematic).
Browser: Metro loses
The IE10 browser in Metro (the "regular" one is available on the Windows Desktop side) is very slick and simple. The Control bar at top shows thumbnails of open Web pages, and when you open a new browser tab, you get icons for both your bookmarked pages and frequently visited pages. HTML5 support is decent, but behind iOS's.
But the lack of folders and other real bookmark management functions means IE10 is hard to use outside of casual browsing of a few favored sites. And navigating among browser pages can be confusing -- sometimes sideways swiping moves through open tabs, sometimes it doesn't. The bottom line is that Metro's IE10 is more simplistic than simple.
Calendar: iPad wins
Usability is again the reason that iPad's Calendar app beats Metro's Calendar app. All the controls are available onscreen, and you can very quickly see the status of outstanding invitation on the iPad.
The iPad's list view is a particularly handy view unavailable in Metro. Plus, the controls to jump to today's events, add an event, search events, and switch calendar views don't require opening a menu, as they do for Metro's calendar. A nice touch is the ability to specify the time zone for an event as you add it, which helps when you're on the road and don't want to risk miscalculating an event's time.
The iPad's calendar does lack support complex recurring events, but so does Metro's calendar.
Calendar: Metro loses
For basics, Metro's Calendar is fine: You can work with multiple calendars and invite people to events (for accounts that support this feature), but new invites are not so easy to see -- there's no invite inbox that ensures you can see them all as in the iPad's calendar.
As is typical to the basic Metro UI of using menulike bars for most controls, basic operations such as switching calendar views and adding events require extra steps.
Contacts: iPad loses
Apple's Contacts app has long been substandard, even as a basic contacts manager. Yes, its ability to sync via iCloud with your other iOS and OS X devices is wonderful, bringing Exchange-like synchronization to everyone. And it has nice touches, like the ability to specify separate ringtones for individuals, to mine your Twitter and Facebook friends for their current contact data, and to link related individuals.
But it doesn't let you create or edit groups (you have to do that on your Mac or PC). Worse, you can't use a group in Contacts in Mail to send a message to everyone in a group -- which is how most of use groups in the first place.
Contacts: Metro loses
Metro's People app debuted in Windows Phone, where it's one of the key strengths of that uneven smartphone platform. The reason: It's the hub for all your social accounts. It's an address book you can actively use to stay in touch.
But as a contact manager, it's even more basic than the iPad's Contacts app, with far fewer fields available for contact information. There is no groups capability at all. It does let you link contacts, and you can mark individuals as favorites.
All in all, both the iPad and Metro offer inferior contacts apps, neither of which is a winner. I quite like Metro's social approach, but I need at least iPad-level contacts management as well.
Tasks: iPad wins (uncontested)
Apple's Reminders app is not special -- let's be honest about that. You can do the basics: Create tasks (including repeating ones), set task priorities, set which task list they belong to, and reorder items within its list. Tasks can also be synced via iCloud and/or Exchange accounts.
But you can't see a unified view of all your tasks across accounts, and you don't get that neat location-tied reminder capability that Reminders has on the iPhone.
However, there is no tasks app, or capability for tasks in another app, in Metro. You have to use the full Outlook app instead (an optional purchase in Windows 8, but included in RT), which is not so easy on a touchscreen device.
Instant messaging: iPad loses
On the Mac, Apple's Messages app provides a one-stop shop for instant messaging, supporting AIM, GoogleTalk, Jabber, Yahoo, and Apple's own iMessage service (which works on OS X and iOS only), plus users on local networks. It does text, audio, and video. But the Messages app on the iPad supports just iMessage, making it handy only if your friends and family are all Apple-only users.
The reality is that you'll want third-party apps to handle whatever services you use.
Instant messaging: Metro loses
The Messaging app in Metro is as limited as the Messages app in iOS. It's tied to Microsoft's Messenger service or to Facebook, leaving everyone else out in the cold. And it's text-only, like Messages. Again, you'll want a third-party app to get a real IM experience.
Note-taking: iPad (uncontested)
The iPad's Notes app is simple but deceptively useful. I routinely use it to type in interview and meeting notes, knowing the contents sync to my IMAP or iCloud accounts so that the notes are available to all my devices. (If only it supported Exchange's notes!) You can use multiple accounts, such as to keep personal notes separate from work ones, yet you also get a unified view if desired of all notes. What Notes can't do is format text, but it retains basic formatting such as boldface on PC-created notes.
Metro has no note-taking app. You could use OneNote in Microsoft Office -- optional in Windows 8, included in RT -- but its complex interface is hard to use on a touchscreen.
Document preview: iPad wins
In the iPad's iOS, you access documents from within a compatible app, so there's rarely the issue of a document you can't open natively. But when you get an email with an attachment, you're not in any such app. iOS's Quick Look facility comes into play, opening the document so that you can go through its contents. (Supported formats include PDF, Office documents, iWork documents, RTF files, text-only files, and most popular graphics files.)
A nice aspect of iOS's approach is that you can open files in supported apps or in Quick Look, as you prefer -- and you can open a document viewed in Quick Look in a compatible app, should you want to do more than view it -- just as in OS X.
Document preview: Metro loses
Metro has a file system, so apps aren't tied to their compatible apps. But it "knows" which apps support which file types, so when you try to open a file, Metro opens it in a compatible app for you -- there is no preview option. That usually means an Office application rather than a Metro-style app, giving you full editing capabilities but a more complex UI than touchscreen devices comfortably handle.
The Reader app in Metro opens and -- unlike the iPad's Quick Look -- annotates PDF files. It's not quite as powerful as Adobe Reader on a PC, but it's still a very nice PDF viewer.
There's nothing wrong about how Windows 8 and RT handle document previews, but they're not as flexible as the iPad.
Cloud storage: iPad loses
IT may hate it, but the ability to keep documents in the cloud is amazingly useful. Apple's iCloud Documents feature lets you keep documents in the cloud, but in a much too limited way to be very useful. It works only on iOS and OS X, and you need the same app on each device to access the same document; for example, only Keynote can open Keynote files. And though Keynote can open and save PowerPoint files, it can't save them to iCloud Documents from the iPad (on the Mac, you have to copy the PowerPoint into iCloud, not save directly).
The boundaries of iCloud Documents are simply too tight to be used outside of Apple's iWork suite. Use Dropbox or Box instead.
Cloud storage: Metro wins
Metro comes with the SkyDrive app, a cloud storage service similar to Dropbox and Box. The app gives you a Metro front end to the service, both directly in the app and in other apps that have Open and Save capabilities.
You also can use other storage services -- Dropbox, Box, Google Drive, and so on -- that have either Windows 7 versions (except in Windows RT tablets) or Metro versions. These appear as drives to other apps, so their files too can be directly accessed. It's the right approach to file accessibility, even if SkyDrive gets a favored position.
Maps and navigation: iPad wins
Yes, I know: Apple Maps is a joke, with iffy geographic knowledge and Toon Town-like 3D graphics. The comparison here is not to Google Maps, but to Metro. In urban areas, the maps are fine, and so is the navigation if you stick to car directions and be careful at complex intersections. The turn-by-turn voice directions are passable if you have an iPhone 4S, iPhone 5, or third-gen iPad (earlier models don't do voice). But be careful in your map searches: if you don't specify a city, Apple Maps seems to look in the last city you were in.
The traffic conditions and various map views are nice, and it's easy to print if you have an AirPrint-compatible device.
Maps and navigation: Metro loses
Metro's Maps app uses Microsoft's Bing Maps, which has a longer track record than Apple Maps and no obvious problems. It too has traffic conditions and several map views. If you use the Charms bar, you can print to a standard printer (no AirPrint required).
The Bing-based Maps, though, is also not smart about searching for addresses without a city. Apple Maps guesses wrong; Bing doesn't even try. Either way, you end up having to type in more context.
Bing Maps is weakest in navigation. It doesn't provide voice directions, just the standard panes for each step in your directions. It requires you have a human navigator to follow along.
Clock: iPad wins (uncontested)
Before iOS 6, the iPad had no Clock app -- unlike the iPhone. Now it does, and that's a relief for when I travel, as it gives me an alarm clock I know how to use: no more hoping I figured out the hotel's clock alarm contraption. (Because I'm paranoid, I set it on the iPhone, too.)
You also get a world clock (done very prettily), a timer, and a stopwatch. Those are less useful on an iPad than an iPhone, but it can't hurt to have them.
Metro has no clock app, so you have to use a third-party option, your smartphone, or the hotel alarm clock.
Camera: iPad loses
The Camera app in the iPad is very basic, with the usual controls to switch between front and back cameras and to switch between still and video modes. The only image controls are to turn on an alignment grid, zoom in or out, and to manually focus (tap and hold on the image). The iPhone's camera app offers much more control, such as over high dynamic range and flash. It also has the amazingly cool panoramic autostitching capability in an iPhone 4S or iPhone 5. The iPad's camera functionality is clearly not a priority for Apple.
Camera: Metro loses
Metro's Camera app is also basic, though it offers more controls than the iPad's Camera app. You can select the audio source, enable video stabilization, and set a timer. You can also set the exposure, brightness, and contrast -- none of which the iPad's Camera app does. But you can't zoom -- a stunning omission. When you set manual focus, Metro provides no feedback as to the focal point, as the iPad does. Metro's camera functionality is clearly not a priority for Microsoft.
Photos: iPad wins
Although the Camera app on the iPad is basic, the Photos app is not. On an iPad 2 or later, you can crop, rotate, apply image enhancement, and remove red eye on photos, as well as stream slideshows of your photos via Apple TV or play them on the iPad. And on any iPad you can copy images to photo albums and sync them automatically via the iCloud Photo Streaming feature among your iOS devices, Macs, and PCs.
Photos: Metro loses
Metro's Camera app lets you crop and delete photos. But there are no other controls such as image enhancement, slideshow playback, or sharing as on the iPad.
The Photos app is where you access your photos, which are stored in the traditional My Pictures library. To manage your photos -- for example, to place them in albums -- you need to do so in the Windows Desktop by moving them within folders you create; it's a primitive approximation of iOS's albums. The Photos app does let you play slideshows of images from whatever folder is currently open. Where it stands out from the iPad is in its ability to connect to Facebook, Flickr, and your other Windows 8 PCs, presenting photos there as separate libraries.
Entertainment media: iPad wins
The iPad has always been a media player, offering both apps to play media files and the iTunes Store to buy more. The Music, Video, and iBooks apps for media consumption provide the controls you need to enjoy your entertainment, whether you purchase it from Apple or bring it into iTunes (although I'm not a fan of the Music app's new cold-steel look). iTunes' ability to organize and manage all your media, not just what you buy from Apple, is a power capability that makes the iPad a great entertainment device.
Entertainment media: Metro loses
Microsoft is trying to copy the Apple iTunes Store with its Xbox Music and Xbox Video stores, and their corresponding Music and Videos apps. There is no e-book app (or store), though you can use apps like Amazon.com's Kindle.
Metro's media focus is so heavily on buying content from Microsoft that your own media libraries get buried. By default, they're shunted off screen, requiring you to scroll left to find them.
Without the equivalent of iTunes on your computer to manage your media files, Metro doesn't easily serve as your entertainment library. Yes, you can manually copy music and video files to the My Music and My Videos libraries in Windows 8, but that's a big barrier to use. And there's no AirPlay streaming equivalent.
News and sports: Metro wins (uncontested)
Metro has three information apps: News, Sports, and Finance. All use feeds from Microsoft's Bing and MSN units. (Serious information addicts should use websites or apps from their favorite publications.) The News app lets you create your own "magazine" by selecting from various news sources, and it has the typical prebuilt topical news sections such as World and Business. The Sports app lets you track your favorite teams, a nice supplement to its league-based news sections. And the Finance app lets you create watchlists for your investments, in addition to its traditional news section. Plus, it comes with a currency converter and rates tracker -- handy.
The iPad has no such apps, relying instead on users to choose third-party apps and websites.
Weather: iPad loses
The iPad has no weather app (though the iPhone does). However, on the third-gen iPad, you can ask Siri for the current weather or for a forecast where you are -- or for any location. You just need an Internet connection. It's basic, but available if you own that newest model. Otherwise, you need to get a weather app or check on the Web.
Weather: Metro wins
Microsoft's MSN experience likely also explains why it has a rich Weather app that not only shows you the current weather and five-day forecast for your current location, but lets you scroll through several panes of weather details and historical records. More useful than those is the ability to track the weather for multiple cities of your choice.
Metro vs. iPad: The final tally
When all is said and done, the iPad wins by a mile when it comes to its bundled apps. The tally of wins:
• iPad wins 10
• Metro wins 3
• Neither wins 3
Copyright © 2012 IDG Communications, Inc.
Next Up: Check out these related slideshows