10 heavy-duty tools for mobile app development
Powerful programming tools are rapidly evolving to meet the needs of mobile developers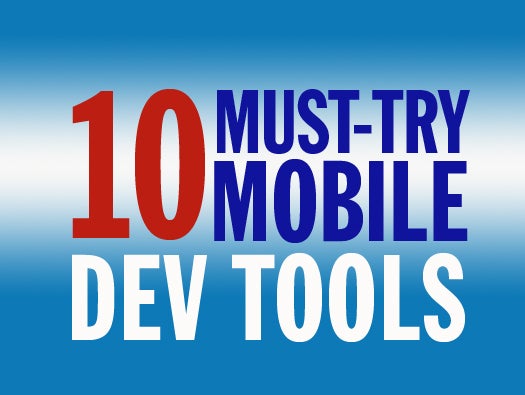 10 heavy-duty tools for mobile app development
As the market for mobile apps rapidly expands, so does the market for tools aimed at aiding developers in building them. Whether targeted at a single platform or calibrated for coding cross-platform apps, these tools provide developers powerful means for building feature-rich apps tailored to mobile devices.
Available tools leverage a vast array of technologies and libraries for creating mobile Web or native apps, with many offering the kind of functionality, such as testing and debugging, developers have long relied on for creating desktop applications.
The following 10 mobile development tools are worth exploring for building apps on various handheld devices.
Adobe PhoneGap
This open source technology enables development of cross-platform mobile applications via Web technologies like HTML, JavaScript, and CSS. PhoneGap is a distribution of the Apache Cordova project, with Cordova serving as the engine. Version 2.0 of PhoneGap, featuring improved plug-in support and embeddable Webviews, was released in July. With Version 2.0, developers can use the PhoneGap API to access native capabilities not accessible in mobile browsers.
Appcelerator Titanium
Titanium is a JavaScript-based platform with an integrated Eclipse IDE. Developers can build Apple iOS, Google Android, and mobile Web applications from a single code base. Applications sit in a container on the iOS or Android device and are interpreted on the fly, and cloud services like push notifications and check-ins can be accessed. The open source Titanium Mobile SDK leverages more than 5,000 device and mobile APIs to build native applications, which behave as if they were written in Objective-C or Java.
Apple Xcode
Apple's Xcode IDE enables development of applications not just for the iPhone and iPad, but for Macs as well. It includes an instrument analysis tool, an iOS simulator, and SDKs for iOS and Mac OS. Xcode offers an interface to integrate code editing, UI design, testing, and debugging, and an embedded Apple LLVM compiler underlines coding mistakes. Also featured is integration with Cocoa and Cocoa Touch frameworks.
Google Android Development Tools
Google ADT (Android Development Tools) is a plug-in for the Eclipse IDE for building Android applications. It extends Eclipse for setting up Android projects, building UIs, and adding packages based on the Android Framework API. Applications can be debugged via Android SDK tools, and ADT features a guided project setup plus tools integration and custom XML editors. Compatible versions of the Eclipse IDE and Android SDK are required.
Motorola RhoMobile Suite
RhoMobile Suite is a platform for developing OS-agnostic HTML5 apps. The suite consists of RhoConnect, for connecting to data sources; RhoStudio, an Eclipse plug-in for building applications; and RhoElements, an HTML5 framework. Motorola acquired Rhomobile in July 2011.
appMobi jqMobi and jqUI
Open source jqMobi is a lightweight query selector for mobile devices that comes with more than 60 API calls and jQuery-compatible syntax for building HTML5 mobile apps. Included in jqMobi, jqUI is a UI/UX framework that works with iOS and Android; reusable plug-ins work with jqUI and are built on top of jqMobi. Both jqMobi and jqUI were written for the mobile, touch-based Web, in large part because Web frameworks originally designed for desktop browsers, such as jQuery, did not perform well on mobile devices.
Marmalade SDK
The Marmalade SDK enables developers to build hybrid applications using HTML5, CSS3, and JavaScript. PhoneGap APIs are supported, and the SDK provides a cross-platform platform for building smartphone, tablet, and TV applications. Native applications can be built using C/C++ and supporting C/C++ standard libraries, and Marmalade enables iOS application developers to develop, test, and debug on a Windows system via a single-binary architecture. Development is independent of the OS platform SDK toolchains, and applications do not need to be recompiled for different platforms. Development on Macs also is supported.
Microsoft Windows Phone SDK Tools
Microsoft's Windows Phone SDK includes the Visual Studio 2010 Express for Windows Phone development environment, as well as a toolbox containing phone controls, a phone-based designer skin, and project templates. A Windows Phone emulator is featured for deploying, debugging, and testing applications. Also featured in the toolset are the XNA Game Studio programming environment; the Expression Blend for Windows Phone design; and prototyping tools, samples, and documentation.
MobileFrame
MobileFrame is a code-free development environment that enables business users with no programming skills to build cross-platform native or HTML5 mobile applications that can be tailored to business processes. MobileFrame includes a WYSIWYG screen designer and pre-built functions. Features like scanning bar codes and RFID tags, and capturing photos can be added via a single click. Built-in testing is featured, as are built-in source control and application versioning, database development, and management and support for applications built by multiple developers.
Research in Motion BlackBerry Native SDK for Tablet OS
The BlackBerry Native SDK for Tablet OS includes tools for building apps for the BlackBerry PlayBook tablet, including a compiler, linker, libraries, the QNX Momentics IDE, and command-line tools. Developers can build C/C++ applications and games, and the SDK includes the ability to leverage 3D capabilities. Applications can be tested using a PlayBook or PlayBook simulator.
Copyright © 2012 IDG Communications, Inc.
Next Up: Check out these related slideshows