Happy birthday, iPad! RIP, pretenders
Two years ago today, Steve Jobs unveiled the iPad. And computing has never been the same, despite all the 'iPad killers'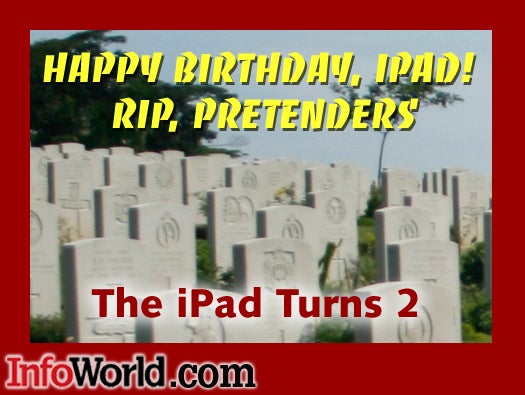 The amazingly resilient two-year-old
As the iPad triumphs in its second year, a lot of would-be iPad killers are themselves dead and buried. Before the iPad debuted -- when it was just a rumor -- many pundits dismissed it, saying people wouldn't find any value, that it would just be a glorified e-reader, and that Windows tablets were the future. Yet many hardware makers hedged their bets by announcing tablets more than six months before Apple confirmed there was an iPad.
The pundits were wrong, and today Apple sells more iPads than even Hewlett-Packard sells PCs. Most would-be iPad killers have faded, after proving to be poorly conceived and executed. As the iPad begins its third year, it's the only child in the room that matters. Happy birthday!
Fusion Garage JooJoo
This tablet got months of publicity from then TechCrunch.com head Michael Arrington -- he called it the CrunchPad -- in the rumor-filled year before Apple unveiled its iPad. Arrington fell out with its manufacturer and designer, Fusion Garage, in September 2009, leading to several lawsuits.
It's not clear whether any customer units ever shipped after the company's claim of a March 2010 release, just before the original iPad shipped. But that didn't stop "Popular Mechanics" from calling it six months earlier "one of the 10 most brilliant products of 2009." Reviewers who actually used it hated it.
Fusion Garage killed the JooJoo in November 2010, and went bankrupt in January 2012.
Dell Streak 5
As rumors swirled of an impending Apple tablet, several manufacturers in spring and summer 2009 announced their own tablets in hopes of not being iPhoned. Most turned to the smartphone-oriented, partially open source Android operating system from Google. Dell's Streak 5, aka the Mini 5, was one of the first to be announced, though it didn't ship until June 2010 and then only in the United Kingdom. Dell killed the unsuccessful product in August 2011. A 7-inch version was announced in January 2011 to scathing reviews; Dell killed it in December 2011.
Samsung Galaxy Tab
Although Google warned tablet makers not use its smartphone-oriented Android 2.2 "Froyo" OS on tablets -- it was still working on the tablet-oriented Android 3 "Honeycomb" -- Samsung was one of many that did, releasing the Galaxy Tab in November 2010.
The Samsung's Galaxy Tab, a 7-inch device, got a lot of buzz and fanboys. Many reviews were positive (though not InfoWorld's), largely based on rooting for the underdog than on the tablet's genuine ability. The product survived less than a year, and was replaced with the much better Galaxy Tab 10.1, which has become the bestselling Android tablet to date.
Hewlett-Packard Slate 500
Microsoft has been trying to get people to buy Windows tablets since Windows XP, but they've never taken root. Well, some hospitals and government agencies use them, as there really was no other option for their highly mobile field forces. But users really want an iPad, which hospitals are increasingly turning to as they learn how to manage them. Government agencies are still often stuck with Windows tablets because Apple has not yet earned government security certification.
Thus the HP Slate 500, announced by Microsoft CEO Steve Ballmer in January 2010 to much fanfare. But there were few sales upon its release in fall 2010 as it became clear it was yet another unsatisfying Windows tablet. Hewlett-Packard discontinued the Slate 500 in fall 2011.
Motorola Mobility Xoom
When Google finally got around to finishing Android 3 "Honeycomb" for tablets in early 2011, Motorola Mobility had the honor of delivering the first "real" Android tablet using it: the Xoom. The operating system was certainly a big improvement over the smartphone-based hacks used in previous Android tablets, but the Xoom hardware was ungainly, heavy, and graceless. Especially compared to the iPad 2 that had just shipped.
The later Samsung Galaxy Tab 10.1 showcased Android 3 in a better package, and the Xoom faded away within months. In fall 2011, Motorola released an improved Android tablet, called the Xoom 2 in the United Kingdom and the Droid Xyboard 10.1 in the United States. The original Xoom was officially dead.
ViewSonic ViewPad 10
This is one of the worst products I've ever used. Released in spring 2011, the ViewSonic ViewPad 10 is a dual-boot tablet, running Windows 7 and an Intel x86 version of Android -- two tablets in one! But it is so underpowered that Windows 7 and its awkward touch UI were nearly unusable. And the x86 version of Android was an ill fit, thanks to the fact that the tablet's hardware buttons didn't correspond to Android's expectations. Whoever designed it never used it. The ViewPad 10 is shockingly still being sold. If you buy one, though, you'd wish it were dead.
RIM BlackBerry PlayBook
Research in Motion's BlackBerry PlayBook tablet was supposed to be its phoenix product, showing that RIM could compete with Apple and Google. Instead, it showed just how clueless RIM had become. Without being paired to a BlackBerry smartphone, the PlayBook was just a glorified Wi-Fi-connected Web browser. With a BlackBerry, it was essentially a second screen for your phone, magnifying the awkward RIM apps. Even a holiday fire sale at $200 has not cleared the inventory.
RIM vows to resurrect the PlayBook (and BlackBerry) this year with a modified operating system, although the beta I have doesn't seem that much different where it counts. Let's hope the real thing is better.
Hewlett-Packard TouchPad
HP spent $1.2 billion for Palm's WebOS, saying in early 2011 it would run on smartphones, tablets, and PCs. When the TouchPad shipped in summer 2011, it was clear that HP was smoking dope. The hardware -- from a company that brags about hardware excellence -- was underpowered. And WebOS 3 was underwhelming, a minor update to the previous year's failed smartphone-oriented WebOS 2.
Six weeks after releasing the TouchPad, HP killed it, the smartphones never shipped, and HP soon fired its CEO. Several fire sales got rid of the TouchPad inventory, and HP dumped WebOS's carcass on the open source community. I can't remember a more spectacular flameout in my 30 years in this business.
Sony Tablet S
Sony's presence in the computer industry has been tenuous for years, after a brief spotlight for its once-stylish Vaio PCs. The Android-based Tablet S released in September 2011 follows Sony's unsuccessful attempts to play off its home-entertainment brand recognition in other computing areas by focusing on movie, music, and game playing. But the Tablet S is just another Android tablet, and an underpowered one at that.
The birthday hero: The iPad 2
The iPad is simply amazing -- to use a favorite word of the late Steve Jobs, who's the reason we have an iPad. And the iPad 2 is even more amazing. Even as a veteran of Apple's reality-distorting press events, I remember the feeling I and other jaundiced editors had when we got our chance to check out the iPad 2 when Jobs unveiled it in February 2011. Amazing.
It's created a new type of computing. It's already outselling desktop PCs. And it's just turned 2, with an enhanced model due this spring. Yes, the iPad is by no means perfect, but it is still better than most products. And did I mention it just turned 2? Amazing.
Copyright © 2012 IDG Communications, Inc.
Next Up: Check out these related slideshows