InfoWorld Green 15: 2012's superstars of sustainable IT
This year's Green 15 devised innovative ways to slash waste, save energy, and reduce CO2 emissions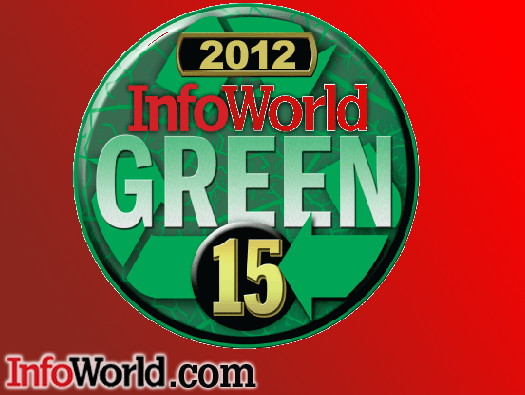 2012's superstars of sustainable IT
This year's crop of InfoWorld Green 15 award winners demonstrate that 2011 was a banner year for sustainable IT as organizations from around the globe devised innovative ways to slash waste, save energy, and reduce CO2 emissions. From green data centers to paper-saving efforts, these businesses and government groups lead the way.
Bellevue, Wash. spreads the green citywide
Since adopting a resolution to reduce global-warming pollution in 2007, the city of Bellevue, Wash., has taken a multipronged approach to slashing waste associated with its IT operations -- saving tax dollars in the process. Among its initiatives, the city embraced PC power management, ensuring computers power shut down at night; reduced paper use by 17 percent through techniques like default double-sided printing; extended its computing hardware lifecycle by a full year; and is in the process of implementing a telework program and piloting a virtual desktop implementation. Additionally, the city has embraced energy-saving technologies to reduce its data center PUE to 1.5 through server virtualization, data deduplication, outside-air cooling, and setting a higher temperature in the data center.
Bharat Aluminium speeds up business with e-documents
Located in Korba, Chattisgarh, BALCO (Bharat Aluminum Company) embraced a host of green technologies to slash print waste and reduce travel. Among the initiatives, the company automated an array of traditionally paper-based business and HR processes, making it faster, more efficient, and less wasteful to generate and distribute documents for review and -- thanks to digital signatures -- approval. The company also deployed a document management system, serving as a central repository for easy access to documents, policies, training manuals, and the like. Beyond shifting to a more efficient business model that used less paper, the company also deployed telepresence to significantly reduce time- and fuel-wasting travel.
eBay brings free cooling to the Arizona desert
Part of the massive Project Mercury data center consolidation effort and guided by the Green Grid's Data Center Maturity Model, eBay teamed with Dell to build a highly efficient data center that uses free cooling in the Arizona desert. The facility's water-side economizer cooling works 24/7 with chillers in place for backup, even as the region's temperatures frequently exceed 115 degrees. On the IT side, 80 percent of the servers are deployed in a lower-cost Tier II space. The company also took a modular approach to rolling out servers, installing machines on a rack-by-rack, container-by-container basis. The result: a data center with a PUE rating of less than 1.2, and even as low as 1.018 in some containers.
Dr. Jonathan Koomey brings a shade of green to Moore's Law
Since 1965, Moore's Law has been a benchmark for the computer hardware industry, pushing vendors to double the processing power of computing equipment every 18 months. It turns out that computers have doubled in energy efficiency at about the same rate, according to a study titled "Implications of Historical Trends in the Electrical Efficiency of Computing," co-authored by Dr. Jonathan Koomey, that examined the energy efficiency -- computations per kWh -- of computing devices dating back as far as the 1940s. The study found that computing efficiency has steadily doubled every 1.57 years, concluding that "achieving faster rates of improvement is within our grasp if we make efficiency a priority and focus our efforts on a holistic compute system approach."
Facebook opens up its sustainability-secret vault
While some organizations hold their green cards close to the chest, social networking giant Facebook took a step in the opposite direction in 2011. In conjunction with the opening of its new data center in Prineville, Ore., the company launched its OCP (Open Compute Project), through which it shares its efficiency secrets. For example, the servers hold taller heat sinks than traditional servers and can be opened and serviced without tools. The company has since completed a second data center in Forest City, N.C., that will be the first live test of OCP's outdoor-air cooling designs in an environment where temperature and humidity conditions exceed typical ranges. Facebook reports that both facilities have incredibly low PUE scores, around 1.06.
Green Mountain taps nature's gifts to go carbon-free
The investment arm of Norwegian shipping firm Smedvig teamed with IT services company ErgoGroup and utility Lyse Energi to build the Green Mountain Data Center. Located on the island of Rennesoy, the facility boasts underground halls carved out of caves of a mountain. Those halls ensure that the center has no air leakage, enabling the installation of a highly efficient hypoxic air ventilation system that reduces the amount of energy necessary to move air. The data center's cooling system draws naturally chilled water from the adjacent fjord, and the pipes carrying that water use water pressure alone, no energy required. The facility is also carbon neutral, thanks to its usage of power from renewable-energy providers.
Google dives in to an ocean of free cooling
Google has deservedly garnered a reputation for embracing sustainability as it builds out its data centers: The company boasts an impressive average PUE of 1.14 among its data centers with a capacity of 5MW or higher. But the company has raised the bar another notch or two with its data center in Hamina, Finland, converted from a 1950s-era papermill. Among the facility's innovations: It uses a pre-existing, 450-meter tunnel beneath the facility to move in seawater from the Gulf of Finland to cool down its servers for free. The company then mixes the warm wastewater with seawater before returning it to the gulf, thereby minimizing thermal pollution.
Harris use server-cooling for irrigation
Working with Lee Technologies, Harris developed and implemented a multizone water containment system for its 140,000-square-foot Cyber Integration Center that uses reclaimed water from its data center's chilled-water system to irrigate its 4.5-acre property year-round. Irrigation water is recovered from the facility's closed-loop condenser water system, designed to maintain discharge water quality acceptable for irrigation without requiring chemicals or other treatment. The innovation saves the company around $80,000 per year on utility bills and sewage disposal, while reducing annual water usage by 2.6 million gallons. The facility, which has secured LEED Silver certification for energy and environmental efficiency, is highly efficient, boasting an estimated PUE of 1.36 and annual electricity savings of 26 million kWh.
Kaiser Permanente builds a better metric to reveal green opportunities
Eschewing PUE as being insufficiently granular for measuring data center efficiency, health care company Kaiser Permanente devised its own metric called CRFE (Computer Room Functional Efficiency) to wring better performance out of its three data centers. The idea behind CRFE is to measure, analyze, and validate HVAC enhancements in the data center on a component level. To slash overall power consumption by 7.2 million kWh, the company took such steps as virtualizing its Unix and Windows server infrastructure, installing variable-speed fans and hot- and cold-aisle containment systems, and pinpointing and sealing up air leaks. Additionally, the company meters power at the circuit level, and it employs environmental sensors within racks, along aisles, and in the raised floor to monitor temperature, humidity, and static charges.
State Street Corp. builds a window to a more sustainable data center
In 2011, financial giant State Street launched a homegrown Environmental Sustainability View project, a sustainability performance management platform that integrates with the company's automated data center infrastructure management system. The system provides data center administrators with means of monitoring energy consumption and usage, carbon emissions, maintenance, and other data center design elements in its primary 130,000-square-foot facility in Boston. Using that information, the company can make better and more insightful decisions to boost productivity and efficiency, as well as better plan for future expansion. Over a 12-month period, State Street reports offsetting nearly 35,000 metric tons of CO2 equivalent, while saving on hundreds of man-hours thanks to the automation of once-manual processes.
Tieto warms up residential homes with heat waste
IT service company Tieto puts the heat generated by its data center in Espoo, Finland, to excellent reuse: It's distributed to residential homes in Espoo via the local energy company's district heating network, saving 10,000 metric tons of CO2 annually. Heat reuse aside, the facility is highly efficient, with a reported PUE of around 1.25 thanks to an array of green-oriented technologies, including liquid-cooled racks, energy-efficient hardware components, centralized humidity control, and low-energy lighting.
United Airlines swaps paper-heavy flight bags for iPads
United and Continental pilots last year were able to trade in their traditional flight bags -- stuffed with some 38 pounds of paper operating manuals, navigation charts, reference handbooks, flight checklists, logbooks, and weather information -- for something far lighter, more convenient, and greener: iPads loaded with an application called Jeppesen Mobile FliteDeck, capable of delivering real-time navigation information and worldwide georeferenced terminal charts. Not only does the shift to electronic flight bags save pilots on back strain and time wasted thumbing through stacks of pages, the airline projects that the EFBs save nearly 16 million sheets of paper a year, not to mention 326,000 gallons of jet fuel.
UPMC sheds 22.8M pages of print waste
In 2007, health care company UPMC launched an enterprisewide managed print services program in an effort to cut printing costs, energy waste, and its carbon footprint. Since then, the health care provider has reduced its number of output devices, including printers, faxes, and copiers, from 18,000 to 8,800. Those devices, all Energy Star compliant, include multifunction printers and printers. All are compatible with the organization's network applications, including electronic medical record apps, and are set to two-sided print. The company is now is printing approximately 22.8 million fewer pages per year than it was in 2007.
State Department puts 89,000 PCs to sleep
The State Department faced more than a few challenges in deploying a massive PC power-management initiative to slash energy waste for 89,000 desktop computers spread out among 468 sites worldwide. Requirements included interoperability with existing systems management platforms, as well as a reporting system capable of tracking how much money was being saved across the board. The department's IT team had to install a mandatory software agent on every workstation, then work with each site individually to develop and implement appropriate policies for shutting down and waking up machines. They also had to coordinate with centralized offices that perform patching and scanning for the far-flung sites.
Vantage Data Centers goes double LEED platinum
Why stop at one Platinum LEED-certified data center when you can have two -- or three? Vantage Data Centers' Santa Clara, Calif., campus is home to two data centers that have earned the esteemed U.S. Green Building Council's highest possible certification by adhering to a strict sustainability guidelines during the design and construction processes, including embracing responsible site-development practices, water-saving strategies, energy-saving design measures, efficient material selection, and low-toxic building materials. The 9MW V2 data center, with a PUE of 1.12, features a cooling system that utilizes the building's upper floor as a plenum to process outside air for cooling. The 6MW V3 facility, meanwhile, has a PUE of 1.20 when using outside air for cooling and 1.29 when using chillers.
Copyright © 2012 IDG Communications, Inc.
Next Up: Check out these related slideshows