9 great iPad tools for IT pros
Private servers, WiFi camera monitors, remote management -- further proof that the iPad is an IT pro essential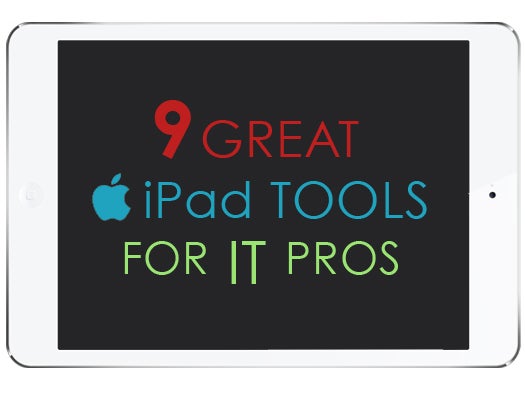 9 great iPad tools for IT pros
The iPad long ago replaced the yellow notepad as the ubiquitous business-meeting companion. And as heavier duty apps have arrived, diehard IT pros have followed suit, embracing iPads as lightweight replacements for laptops in their technician tool bags. The iPad Mini's reduced price point has only accelerated this trend.
My first tour through the IT app ecosystem on the iPad surfaced a number of tools that remain essential to my work. Following are some cool new discoveries I found vital for IT work in the year since.
Get Console Airconsole
Previously I've been high on Bluetooth serial dongles, but connectivity has been haphazard given that the 2.4ipcalc
GHz frequency range has been getting more and more clogged. The Airconsole from Get Console is a single-port USB terminal server with a built in WiFi access point and bridge that can also provide local file sharing and session logging. What really sets this apart is Get Console's Private Server, which allows network technicians to monitor and remotely control the serial session over the network connection.
Dropcam
This tiny WiFi camera is something I now use for installations in addition to its usual security role. Dropcam comes in two models, the 2.4GHz standard-def original and the 2.4GHz/5.8GHz high-definition Dropcam Pro. Both have a great cloud-based recording system that also provides reasonably good motion detection. Because both run on a micro USB power input, I can easily Velcro the camera to a rack or wall to keep track of who's making changes in the data closet. The portability factor means you can use it when travelling to keep track of conference rooms and hotel rooms. Dropcam's motion detection can email you video clips of the detected event, enabling you to view it on an Android, iOS, or Web app.
TechSmith Skitch
I've had a long love affair with Camtasia (screencasting) and SnagIT (screen capture), but Skitch is a still-image annotation tool that has become one of the more useful tools I've ever found. Simply put, it allows you to take an image (camera, screenshot, etc.) and add note balloons, text, ink, and so on. So I can take a picture of the inside of a server and put arrows to the components I've just upgraded. I can do an ink line on the route to a building. The sky is the limit. Best of all, it's still free.
HP iLO Mobile
HP has greatly improved the iLO Version 4 experience on its Gen8 HP Servers with HP iLO Mobile, an app available for both iOS and Android. With iLO Mobile, I can remotely manage my servers, restart, visualize the heat in the server, and get a remote console, which I can use to change BIOS settings or perform a sysgen. The iLO Mobile features include iLO Web interface (aka home), remote console, and scripting.
Evernote
When Microsoft refused to release OneNote for the Mac or tablets, I had to find a new research tool. I needed to be able to save URLs, whole Web pages, images, audio, video, and screenshots in a format that could be searched. The answer was Evernote. With browser plug-ins to make it easier to grab entire Web pages and now analog notebooks to facilitate OCR scanning of handwritten notes into your Evernote account, I'm not sure if Microsoft's OneNote can catch up.
Ustream
There's a lot to like about WebEx, GoToMeeting, and Adobe Connect Enterprise; what I don't like is that someone has to fork over some bucks for each session. I'm quite fond of using Ustream with my iPad as a quick and free way to stream meetings and get questions and comments back via the chat feature. Since the microphone on the iPad is less than optimal, I'd strongly suggest spending just a bit on a Mikey Digital by Blue Microphones. While not studio quality, it's pretty darn good and super-portable.
Microsoft Remote Desktop for iPad
It's not very sexy, but for those of us in the VDI game, having a Microsoft version of a Remote Desktop Client is a huge step forward. Just because your client says it's an RDP client doesn't mean it will be full-featured when you try to RDP into your Windows 8.1 desktop. Take a good hard look at this Wikipedia article, and you'll quickly see how RDP has morphed over the years. My only complaint is that Microsoft to this day doesn't offer any information about which RDP version is implemented in its RDP clients.
Project Eureka iVMControl
A must-have app that now supports VMware vSphere 5.5, Project Eureka's iVMControl gives you remote management over your vSphere and ESX systems. The basic app is free, but an in-app purchase of $4.99 is necessary if you want VM console capability.
Zingersoft's iSSH
You're not always working with an ESX or iLO console, making Zingersoft's iSSH another must-have. This SSH encrypted terminal tool is essential for working with routers, switches, and other such networking equipment. It's a basic SSH tool that just plain works.
More InfoWorld slideshows
Copyright © 2014 IDG Communications, Inc.
Next Up: Check out these related slideshows