25 essential business apps for iPhone 5
From productivity to sharing to managing travel expenses, these apps cover lots of bases for workers on the go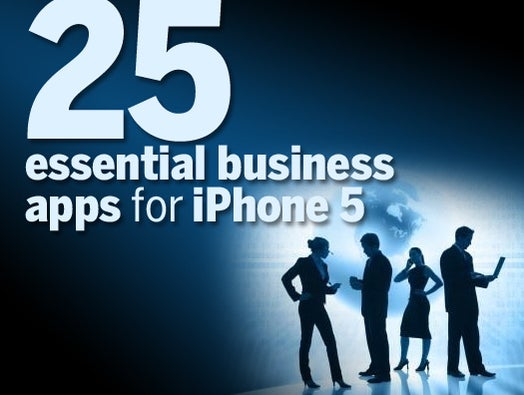 The iPhone 5 is here, so it's time to start loading it up with apps. After all, without apps that connect us to Facebook, let us use our phones as universal remotes, and serve as digital bubble levels, would we really pay for those expensive data plans? When it comes to business apps, though, finding the right one for the right task can be tricky. There are so many apps out there that it's tough to distinguish the mission critical from the mission impossible. Here are some that should get you started, and should help you convince your IT department that welcoming your iPhone 5 into the corporate network is indeed a good idea.
WatchDox
WatchDox is an enterprise-focused solution to the growing need for secure document sharing and mobile collaboration. Users can view all documents shared via the WatchDox Workspace service or the WatchDox Exchange service on an iPhone, iPod, or iPad. You can browse through workspace folders, see all documents in your WatchDox Exchange inbox, designate documents or folders for automatic sync, annotate documents, and even render documents in just about any format. WatchDox protection allows the document owner or enterprise admin to wipe out or restrict access to documents at any time.
Developer: WatchDox
Cost: Free with a WatchDox license, which has varied pricing based on business needs and number of users.
Available on Android? Yes
PocketCloud
PocketCloud provides secure remote access to a Mac or Windows desktop from your iPhone or iPad. Through PocketCloud, you can access your files, photos, and applications like PowerPoint and Photoshop. Recently added features include an "explore" capability that provides a streamlined view of desktop file systems, so you can actually find what you're looking for from that small smartphone screen. This feature also helps facilitate file sharing, especially when files are too large to email or download to your phone. A cloud storage component has also been released, but it is still in beta.
Developer: Wyse (recently acquired by Dell)
Cost: Basic version for one computer, free; premium version, which provides connections to multiple computers, $5/month.
Available on Android too? Yes
Wunderlist
This is a task-management app that makes the old To-Do list look like something developed by precocious chimpanzees. With Wunderlist, you start getting organized simply by creating lists of tasks that you need to get done. Then, Wunderlist helps you complete those tasks by helping you fill out, in an organized fashion, the steps you need to complete to accomplish each task. The app lets you keep track of your more important tasks with reminders and notifications. You can create a new task for Wunderlist straight from your email inbox, and the app has built-in collaboration and security features.
Developer: 6Wunderkinder
Cost: Free
Available on Android too? Yes
Brainshark
At first glance, Brainshark is simply an easy way to view PowerPoints on your iPhone or iPad. Dig deeper, though, and it offers tools to create, share, and track mobile presentations. The app also helps you transform static content, such as text-heavy PowerPoints, into voice-enriched video presentations that can be accessed on demand. The app also delivers analytics to measure the effectiveness and reach of your content.
Developer: Brainshark
Cost: Free
Available on Android too? Yes
Do.com
Do.com is billed as a "social productivity" app. It helps you organize projects, track contacts and close deals. The app has a "Sales Progress" feature to help you track and meet your sales goals, and a "Virtual Checklist" that allows you to assign tasks to others by groups or projects. A built-in collaboration feature enables secure sharing of critical information.
Developer: Salesforce.com
Cost: Free
Available on Android too? Yes
Quickoffice
Quickoffice gives mobile workers on-the-go access to Word, Excel and PowerPoint. Mobile editors provide a mobile-optimized way to create, edit and share various documents. Features recently added include connections to cloud storage providers, a PDF annotation tool, spell check (English, French, Italian, German and Spanish) and external keyboard shortcuts for tablets.
Developer: Quickoffice (recently acquired by Google)
Cost: $14.99 for smartphones; $19.99 for tablets.
Available on Android too? Yes
Evernote
Evernote helps you stay organized across your various devices, from desktops to smartphones. Evernote lets you take notes, capture photos, create to-do lists, and record voice reminders, and it makes all of these things completely searchable. This app helps you sync all of your notes across devices. The search feature even lets you search for text inside images. The Web Clipper add-on lets you save anything you see online, including links, text, and video, into Evernote with one click.
Developer: Evernote
Cost: Free for the basic version; $5/month for the premium version, which shuts off ads, includes a PIN lock, boosts the monthly upload limit and enables PDF searching.
Available on Android too? Yes
Concur
Concur is a travel and expense management app that allows employees to book travel, manage itineraries, and track and file expenses. Concur also gives companies data, insights, paperless systems, and cost savings to ensure that business travel is efficient. The app lets employees create expense reports from card charges or cash entries, photograph receipts and transform them into IRS-compliant images, add car mileage to an expense report, and create a single itinerary from any travel reservation site or travel vendor via integration with TripIt Pro.
Developer: Concur Technologies
Cost: The mobile app is free, but pricing for the cloud-based suite starts at $8/month/user, with access to TripIt Pro included in the base cost.
Available on Android too? Yes
Expensify
Expensify helps you track work expenses as you travel. The app lets you use your phone's camera to scan in receipts, and it's smart enough to capture the date and amount charged for each receipt you upload. You are also able to track mileage and import expenses from bank and credit card accounts. While the app connects to QuickBooks, you can also file an expense report directly from the app itself.
Developer: Expensify
Cost: Free for individual users; for business users, $5 per month per person who submits an expense report. The paid version also allows for one-click report submission, and it allows the business to approve expense reports.
Available on Android too? Yes
OfficeDrop
OfficeDrop turns your smartphone into a portable scanner. While any file type can be uploaded into OfficeDrop's cloud filing cabinet, anything scanned by your phone is immediately converted into text-searchable PDFs. With this app, you can access and search any documents that you've scanned into the cloud, and you can share the document with select team members.
Developer: OfficeDrop
Cost: Free for 2GB of storage and 50 OCR pages/month (or document pages that are scanned and turned into searchable PDFs). Pricing goes up from there, with the next tier being $9.95/month for 20GB of storage and 1,000 OCR pages/month.
Available on Android too? Yes
RingMindMe
How many times have you decided to be polite in a meeting and turned off your ringer? Later, you're shocked to discover that you've been missing important calls and texts for hours on end. RingMindMe will remind you to turn your ringer back on when your meeting or event is over. It also has a snooze feature -- they call it an "Extend" button -- so you can deal with those meetings that run long.
Developer: PeggyWrites LLC
Cost: $1.99
Available on Android too? No
Webalo
Webalo is a remote access app that allows you to connect your iPhone to most enterprise apps. To help companies deal with BYOD initiatives, Webalo lets administrators configure mobile access to individual enterprise applications or combine functionality and information from multiple applications. IT can then consolidate everything in a simple set of menus on mobile users' devices to provide each employee with an individualized connection to the enterprise.
Developer: Webalo
Cost: Free for up to 3 users; for more users, it is $99/year/user for the cloud version or $150/year/user for an appliance-based version you can host behind your firewall.
Available on Android too: Yes
Quickbooks Mobile
If you already use Quickbooks for your small business accounting, Quickbooks Mobile will help you streamline your bookkeeping by adding a mobile client to the mix. The mobile app lets you track sales, send out invoices, and see recent payments from your handset.
Developer: Intuit
Cost: Free with an existing Quickbooks subscription, which starts at $12.95/month.
Available on Android too? Yes
EasySign Mobile
EastSign Mobile lets you electronically sign documents (and get documents signed) directly from your smartphone. Simply draw your signature on your touchscreen, and then the app will let you resize it to fit any document.
Developer: Glykka
Cost: $14.99 for a lifetime subscription, or you can buy document credits at $1.99 for 5 docs, $3.99 for 10 docs, or $5.99 for 20 docs.
Available on Android too? Yes
Flipboard
Rather than simply consolidating social media feeds, as many aggregators do, Flipboard turns them into a "social magazine." Frankly, this app looks best suited to tablets, or to smartphones with gigantic screens, such as the Samsung Galaxy Note, but the concept is very cool regardless. Flipboard isn't solely focused on social media feeds. You can also pull in news feeds, travel deals, and plenty more, all reformatted into a magazine-style layout that is easy to navigate and just plain looks good.
Developer: Flipboard
Cost: Free
Available on Android too? Yes. It was just recently ported to Android, but recent reviews (and my own testing) find it to be glitchy and slow on Android.
Tweetbot
Tweetbot makes Twitter easier to use on an iPhone or iPad. User reviews rave about Tweetbot's "smart gesture" shortcuts. You can view a whole conversation thread by swiping a Tweet to the right. You can view options for anything by tapping and holding it, and you can configure other gestures, such as, say, a triple tap, to do anything from automatically retweeting to translating a tweet into a foreign language. Other cool features include the ability to mute "noisy" users and the ability to retweet from multiple accounts by holding down on the retweet button.
Developer: Tapbots
Cost: $2.99
Available on Android too? No
Simple In/Out
This is a digital in/out board for office workers. The app has a GeoFencing feature, so you can set your iPhone up to automatically check you in or out of your office as your phone enters or leaves.
Developer: Simply Made Apps
Cost: Free for up to 3 users; $5/month for up to 10 with prices going up from there.
Available on Android too? Yes
1Password
Can you remember a strong password like *&%Huck987#!? Probably not, but increasingly, that's the type of password you need to avoid brute-force attacks. This app saves your online user names and passwords, as well as sensitive information, such as bank account and credit card numbers. Your data is then locked behind either a strong password or a PIN. The app requires a desktop version, and once the desktop app is in place, data can then be synched to mobile devices through Dropbox.
Developer: AgileBits
Cost: The mobile app is free, but it requires a desktop/laptop counterpart ($49.99) to actually work.
Available on Android too? Yes
VirusBarrier iOS
Anyone who tells you that Macs and iPhones don't get malware is misinformed. VirusBarrier iOS is the first anti-virus app approved for iOS. The app scans your phone  for viruses, and also scans any incoming attachments. Android users who switched to the iPhone 5 might think this app is pretty primitive. It doesn't allow for automatic scheduling of scans, nor does it automatically quarantine or delete any malware it finds. It does alert you to malware, if it finds it, and then you're pretty much on your own.
Developer: Intego
Cost: $0.99
Available on Android too? No
Lookout Mobile Security
While VirusBarrier is the only AV tool for iOS, Lookout is available on iOS, but this version doesn't scan for viruses. It does back up your contacts and let you locate a missing iPhone over the Internet. It will show you on a map, using your phone's GPS, where the device is. Also, Lookout will warn you if you are connected to an unsecured Wi-Fi network, it will alert you to out-of-date software and to iOS updates that haven't yet been installed, and it will tell you if an app is trying to track your location.
Developer: Lookout
Cost: Free
Available on Android too? Yes
herematch
This location-based service is designed to help you make new business connections in real time. The app can be linked to your LinkedIn, Twitter and Facebook accounts, so that when you check into a place or event, your status will be automatically updated on social networks. When you are at a networking event, herematch shows you a list of people who have checked in who match with you, either because they need the services you provide or you need the services they provide. Click on a person listed, and the app displays a picture, the reasons you were matched, and a short bio.
Developer: Tangletech
Cost: Free
Available on Android too? Yes
CrowdCall
This is a mobile conference call service. Unlike most conferencing or group call services, CrowdCall doesn't use dial-in numbers or pins. The host of the conference simply selects the participants from a contact list (or from a preselected group of participants) and touches the "Call" button. CrowdCall then creates an instant conference. Once the host receives a call from CrowdCall, every other participant is called, and the conference begins.
Developer: SocialDial
Cost: Free for 500 minutes/month to 40 countries; $9.99 for 1,000 minutes; $49.99 for 10,000 minutes; or unlimited calling to 40 countries for $99.99.
Available on Android too? Yes
ShareFile
ShareFile is a secure file sharing service that comes packaged with IT control capabilities to ensure the security of company data when accessed from a mobile device. If a user loses their iPhone or iPad, an "Unauthorized Access Alert" activates a remote wipe, even when the user is offline. The app then generates a log, indicating whether files were viewed, so that users can determine whether data was compromised. The newest version of ShareFile also includes a feature that allows IT to set data expiration policies. Plus, multiple preferences settings allow IT to decide whether files can be opened in third-party applications or saved offline.
Developer: Citrix
Cost: Pricing starts at $29.95/month for two employees.
Available on Android too? Yes
FileMaker Go
FileMaker Go allows productivity workers to remotely access custom business apps that have been created using FileMaker Pro 12 database software. The app allows team members to view, edit, search, and share information with each other while on the go.
Developer: FileMaker, an Apple subsidiary
Cost: Free, but you need a desktop version of FileMaker to connect to, which starts at $299 for up to 10 users.
Available on Android too? No
Jeff Vance is a freelance writer based in Santa Monica, Calif. Connect with him on Twitter @JWVance, on LinkedIn (Jeff Vance), or by old-fashioned email at jeff@sandstormmedia.net.
Next Up: Check out these related slideshows