The 6 companies Google has bought in 2012 (so far)
Google has been bolstering its technology by buying out other companies; here are six the search giant has bought this year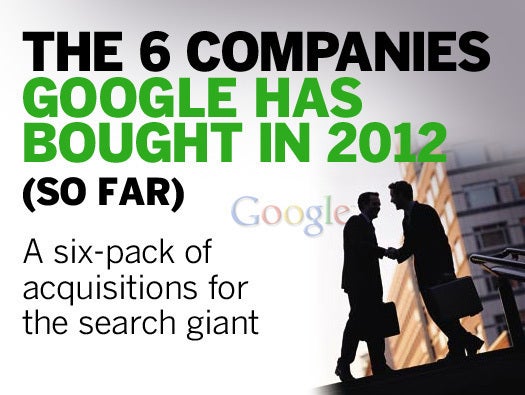 As Google keeps growing
Google's size and role as the biggest curator of knowledge this side of the Library of Congress requires continual adjustment and innovation to sustain. One important way the company does this is by acquiring smaller businesses. Here's our look at the six companies the search giant has snapped up so far in 2012.
Related: Top tech M&As of 2012
Milk
Kevin Rose created Milk, Inc. in 2011 after leaving his previous venture, the well-known but troubled social news site Digg. Milk was a mobile app startup known primarily for Oink, which allowed users to rate everything from food to amusement park rides and share those ratings with their friends. Rose and several former Milk employees now work on Google Plus.
Date: March 20
Price: Rumored $15 million
TxVia
Mere weeks after the Milk acquisition, Google bolstered its Wallet product – which recently saw a major upgrade -- by absorbing TxVia, another mobile payment startup.
Date: April 2
Price: Undisclosed
Meebo
The well-known instant messaging and online advertising company made headlines when it announced it was to be acquired by Google, which shut down most of its products and folded its employees' expertise into the Google Plus team.
Date: June 4
Price: $100 million
Quickoffice
The acquisition of Quickoffice, a mobile productivity suite, was announced at almost the same time as the Meebo deal and got lost in the shuffle slightly. However, the integration of Quickoffice's technology and technical savvy into Google Docs could prove important in the long term.
Date: June 5
Price: Undisclosed
Sparrow
Google buying an app maker known for its work on iOS and OS X? You bet! The creators of a well-known email client for the Apple ecosystem are now helping to improve Gmail.
Date: July 20
Price: $25 million, according to the Verge
Wildfire
Google's biggest and most recent deal of 2012 happened last week, as social media marketing software company Wildfire was acquired for a reported $350 million. The search giant's likely goal is to buttress its existing search ad business by adding a social aspect.
Date: July 31
Price: $350 million, according to TechCrunch
Next Up: Check out these related slideshows