There are two options for tracking your bandwidth usage on the iPad. If you tap View Your Account under Settings > Cellular Data, you can see how much data you've used and how much you have left for your billing period. However, I found that this meter doesn't usually update immediately. You can also view usage under Settings > General > Usage, which seems to present a more current picture of your bandwidth situation.

You can check your bandwidth use under the Cellular Data section of Settings, but the count isn't always accurate.
What I learned
In a nutshell: Even just Web browsing can eat up bandwidth fast, and the meters for both the iPhone OS and AT&T (when it updates) seem to either not register very small portions of data, or update in at least 1MB chunks. Tumblr, a site rich in media and and fancy JavaScript interface magic, eats up anywhere from 1MB to 3MB each time I visit (depending on whether Tumblr users I follow post a lot of images). Facebook is usually 1MB to 2MB. Tapping through to a friend's Facebook status to see any comments sometimes doesn't register on the bandwidth meter, but sometimes racks up another megabyte. GelaSkins.com's online store boasts a number of images and a rotating banner showing off skins for various gadgets—it weighed in at 2MB. Opening the iPad section's first page was another 1MB, and visiting a specific skin was yet another 1MB. See what I mean about bandwidth adding up fast?
When it comes to news feeds, I tested NewsRack with both my custom settings and without. When I turned on some features like downloading images from the latest 10 articles, my first refresh in the morning of my 349 feeds took 15MB. After reinstalling NewsRack to clear out all feeds and use the default settings (with images turned off), an initial download of the 100 most recent articles in each feed took 8MB. Subsequent refreshes to update these feeds later in the day took 5MB with images, and 2MB without.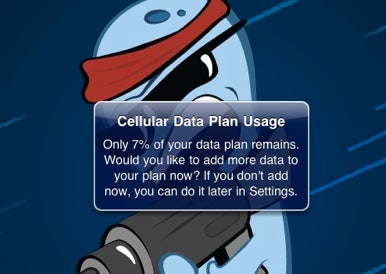 An example of one of the bandwidth warnings you'll receive on the iPad's 250MB data plan.
Toss in a couple of short YouTube videos and small app updates, and I hit the 250MB ceiling in just three days after activating my month-to-month plan.