Attention IT job seekers: You want the good news first or the bad news?
The good news: Growth in the IT job market remains positive. The bad news: Said growth is slowing visibly.
Janco Associates' latest report on data from the BLS (Bureau of Labor Statistics) reveals that a mere 6,500 IT jobs were added to the U.S. economy in August, with the growth rate for IT jobs down markedly from the same time last year.
That assessment hasn't changed, even after June and July BLS figures were revised slightly upward. Originally at 5,200 and 12,200 new jobs, respectively, the latest stats show June and July gains at 6,800 and 16,100 -- better news than it initially seemed, but still not good enough to bend the job-growth arc back up.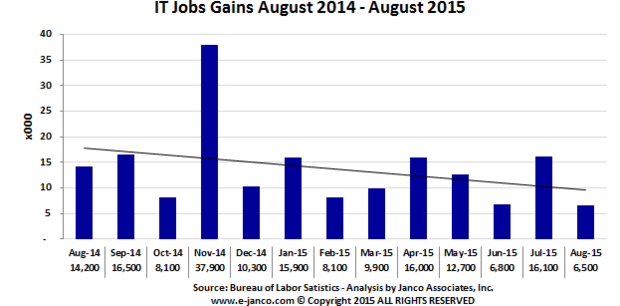 Consequently, Janco's projections of total IT job market growth through 2015 have taken a downward hit. Originally estimated at 160,000 new jobs for the year, the current estimate is now around 154,700.
But a positive job market is nothing to sneeze at, and the three-month moving average for IT job market growth remains up across the course of the past year. What's more, the growth in question is still some 45,000 jobs more than were added in 2014, for a third straight year of rising IT job market growth.
The overall economy also registered less job growth than desired over the past month, although unemployment continues to fall across the board.
Apart from the job numbers, other dramas in the IT jobs world continue to unfold -- mainly, the controversy over the use (and abuse) of H-1B visas.
A recent court decision may send home tens of thousands of foreign workers employed through student visas, due to the government not seeking public comment on extending the program under which said students are allowed to remain and work in the country. The White House was recently petitioned to take action on the issue, to "avoid expected shock to both firms and students."
Meanwhile, aspiring presidential candidate Donald Trump unveiled his own H-1B reform program. The plan mainly involves raising the pay floor for H-1B workers -- thus making the program less useful as a way to replace existing U.S. workers with cheaper imported labor, the most common complaint regarding the abuse of H-1B visas.