Apple recently released the public beta of El Capitan, and users other than those with developer accounts can try out the software before release. (Find out about Apple's public beta program.)
I took a close look at Spotlight in Yosemite recently. It's time for a first look at Spotlight, which gets some new features in El Capitan. Don't forget that things may change between now and the official release in the fall.
Location, location
Spotlight has added a handful of new features -- mainly sources it uses for searches -- but the most useful is the way Spotlight includes your location in searches. (You can turn this off in the Spotlight pane of System Preferences; uncheck "Allow Spotlight Suggestions in Spotlight" and "Look up" if you don't want Spotlight to use your location.)
Spotlight already used your location to give you results from Maps. Search, for example, for a restaurant, and find one nearby, and see directions, photos, TripAdvisor reviews, and contact information.
You can get now a weather forecast with a few keystrokes: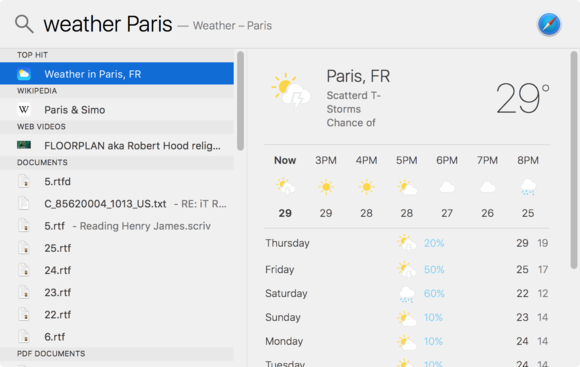 You can find your nearest movie theater or Apple Store, look for local supermarkets, find a gas station, a coffee shop, or search for other things near you, as you can in Apple's Maps app.
Data mining
Spotlight can also search for stock prices, and give you links to websites that have more information about the shares you look up.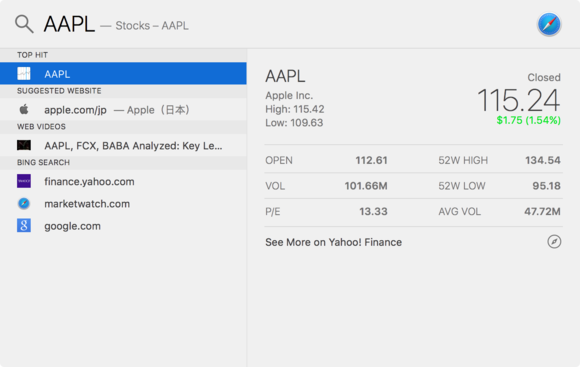 Spotlight is supposed to let you search for files using natural language, such as "Documents I worked on last week." This is currently spotty; it finds old documents for me, and if I search for a specific type of document, such as PDFs, it returns all formats. (Though you can use the keywords I cover in this article to narrow down searches.) This is one of the marquee features in El Capitan, and I suspect that it's not been finalized, and that we'll see improvements as the software progresses.
You can ask to see emails from a specific contact; this works best if you enter both the sender's first and last name, but if the person has a unique first name, the first name is sufficient.
Apple says you can search for web videos, but this category only shows up for me if I include, in my search, the words YouTube or Vimeo; and I only ever get a single video in my search results. It's too bad you can't view a preview of a video in the Spotlight window; the thumbnail you see below with the play button just opens a webpage.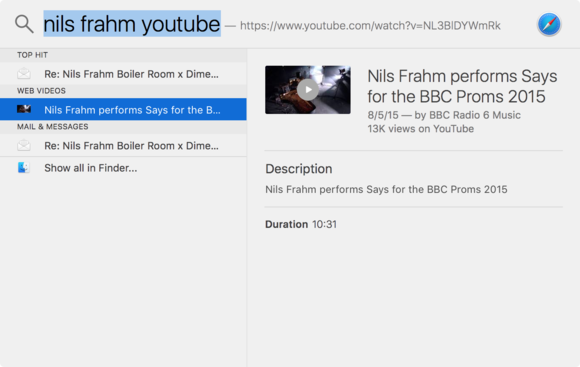 Resizing; finally
One of the biggest changes to Spotlight in El Capitan is the ability to resize the window. (That deserves a big "finally.") Drag from the bottom to see more in Spotlight, but you can't make this window smaller than the default size you see when you first launch Spotlight, nor can you make the window wider. Once you've resized the window, it stays at that size as long as you don't change it back.
You can also move the search box around on the screen. If you'd rather it display on one side of your screen, or higher or lower than where it displays, just click on it and move it.
Spotlight has languished for several years, with only minor improvements. El Capitan brings some much-needed freshness to the feature, but we can still hope for Siri to be incorporated into Spotlight some time soon...
This story, "Hands-on with Spotlight in El Capitan: Location info, natural language searches, UI tweaks, and more" was originally published by Macworld.