The IT job market is faring well, but it could be better. And amid the numbers is one hopeful sign: Companies and lawmakers alike are taking on the H-1B controversy.
BLS data processed by Janco Associates shows some 8,600 IT jobs added in June of this year -- off from the 15,000-per-month highs from earlier in 2015, but still up. Janco's projections for the year's total hiring put it at just over 160,000, which would make for the fourth straight year of growth in the sector.
One constant issue with the BLS's reporting is how data is sometimes revised in retrospect. In this case, it turned out to be for the better: April 2015 was a stronger month for hiring than previously announced, with 16,000 new jobs added in the field nationwide, pushing the yearly estimate back up even further.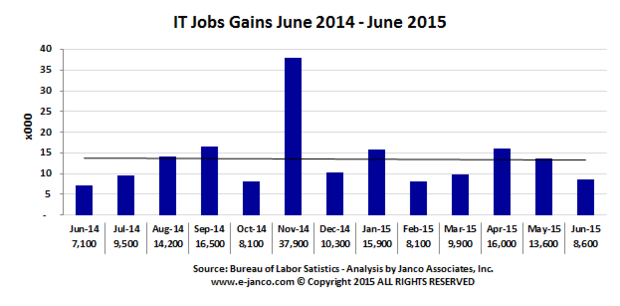 Many of the new hires, according to employment research firm Wanted Analytics, are in and around security. By its analysis of BLS data, jobs for Information Security Analysts are up 28 percent over last year, with skills like intrusion prevention, firewalls, network security, and application security among those most in demand.
IT has historically enjoyed more lucrative and stable employment that the rest of the economy, and the most recent unemployment figure for tech workers was at around 2 percent. Employers are also learning that the packages of perks to offer with IT jobs needs constant rethinking, with lesser-demanded compensations getting squeezed out. (Tuition reimbursements, for instance, is less favored than it might seem.)
The biggest area of controversy within the IT job field remains the H-1B issue, where H-1B visa applicants are used to cheaply displace domestic tech workers. The major sponsors of visas are not companies like IBM or Microsoft, but consultancies like Infosys and Tata, who are now under fire for the part they play in this drama.
Broadening awareness of the problem is now spurring a slew of anti-offshoring actions. Most prominently, California is mullling legislation to prevent job bleed, although right now it deals solely with state utilities, in response to Southern California Edison's own outsourcing efforts. Disney also backed off on a previously announced plan to swap out its IT people with foreign-sourced replacements.
The boom in IT jobs also hasn't been enough to offset other employment figures. Despite around 223,000 jobs being added nationwide in all sectors in June, labor force participation slumped again to a new decades-long low of just over 62.5 percent. New studies by the St. Louis Fed hint that the problem isn't an aging workforce, since the decline is across all age groups, and peculiar to the U.S. in ways not seen in other countries.