Google Code may be dead, but Google's still got ambitions to provide cloud-hosted source code control for projects big and small a la GitHub and Bitbucket.
According to VentureBeat, Google's recently soft-launched Cloud Source Repositories is being positioned as a competitor to both of those major incumbents. But the feature set being mentioned for CSR also puts it into competition with cloud-hosted IDEs like Microsoft's Visual Studio Online.
Aside from offering private Git repositories, Cloud Source Repositories is also a cloud-hosted development environment for Google Cloud's Compute Engine and App Engine, with an in-browser editor and live-code debugger (albeit with the latter only for Java applications at this point).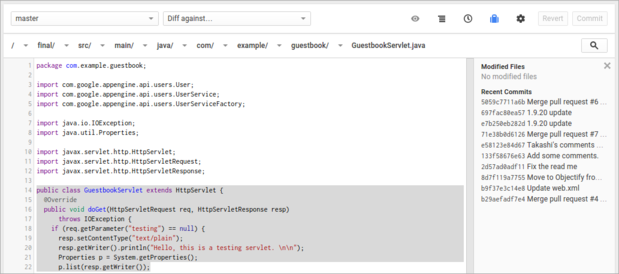 These features by themselves set Google's offering apart from GitHub and Bitbucket. Those services have always been focused on hosting code and documentation, rather than providing actual code execution or debugging services.
One other Cloud Repositories feature, Connected Repositories, offers convenience for developers -- and constitutes a shot across the bow of GitHub & Co. Any GitHub or Bitbucket repository can be connected to Cloud Repositories; changes pushed to one are synced to the other. Hypothetically, that makes it easy for developers to migrate out of another Git-based repository over time.
Early adopters with big projects might feel constrained, though, since the beta program for Cloud Repositories is currently limited to 500MB of storage. The full-blown version of Cloud Repositories will need to offer more than that to be properly competitive, since Github has few practical storage limits save for the sizes of individual files or repositories. (Those limits are rooted in how Git behaves; Bitbucket has similar limits.)
Most of GitHub's ambitions of late revolve around offering an appealing roster of for-pay features to enterprises, especially a private, on-premises version of the service. It's highly unlikely Google plans to offer something in that vein; it's more likely to provide such services as telemetry for developers based on their application behaviors. The bigger question, though, is which offering would have the greater appeal over time -- GitHub's locally-hosted services within an enterprise firewall, or Google's cloud-based compilation and deployment services.