Charges of racial bias and brutality by the police are not new, but the high profile deaths of Tamir Rice, Michael Brown, Eric Garner and Walter Scott have brought about discussion and protest at a national level.
In all of these cases, a new piece of evidence has undermined police accounts: recordings. Video evidence show Garner and Rice dying while shocking bystander video shows North Charleston police covering up the death of Scott.
These recordings also make clear that the tools of the information age open new avenues for accountability and transparency of police behavior. The federal government has already embraced these principles with the Obama administration's open data policy. How can local government follow this lead and turn the tide of distrust into a new beginning for responsible policing?
Visualization: FOR Atlanta
Most local governments retain detailed records about the police that citizens rarely see, records that often show just how responsible police departments are on the whole. Big picture trends like neighborhood crime rates, diversity of applicants or the use of deadly force are catalogued alongside the tedium all bureaucracies track like officer performance, physical plant condition and vehicle fleet age.
Together, these data points create a yawning gap between government officials, who generally see responsible policing from the data, and the public perception of police, which has soured from media reports. And that's where projects like Focus On Results (FOR) Atlanta can bridge the gap.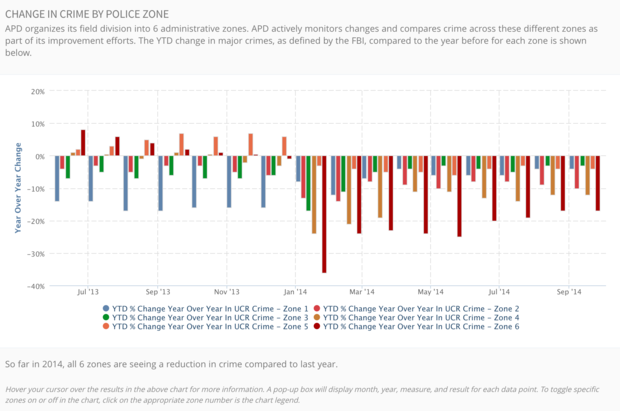 I spoke with J Cornelius, president of the Nine Labs consultancy in Atlanta who created the FOR Atlanta site (h/t to Ben Balter of Github for connecting us up). The open source project aggregates key city data and exposes it to the public visually. FOR Atlanta uncovers trends all across local government, and provides year-over-year crime rate comparisons.
Most police data up to this point has consisted of crime blotters that news organizations kept up (see the Baltimore Sun's blotter for an example) or activists with some coding skill, like Oakland's crimespotting tool. With FOR Atlanta, Cornelius explained, the city can actively push new data up to their site via Github, something Nine Labs trained them how to do, helping them visualize the data for their constituency.
In that a sense, FOR Atlanta could be thought of as a new open data baseline for cities to measure themselves against. It isn't an end goal - and certainly won't completely solve public distrust of police - but it's a step in the direction of visualizing data for the citizens.
Community engagement in Philadelphia
Once a local community makes the move towards releasing more data around police activity, a host of other challenges set in. Moving from data to engagement, both internally and externally, is how government can help overcome some of these early problems. Government and community activists alike pepper municipalities with questions about the process:
What is the process for gathering data internally?
What data gets released?
Who uses the data once it released?
How does data get updated?
This is where the new role of a chief data officer (CDO) can help, explained former Philadelphia CDO Mark Headd. Governments have a tendency to function in departmental silos, which makes the aggregation of data difficult. Headd explained that during his time as CDO in Philadelphia, he overcame those obstacles by establishing a process for gathering and releasing data internally, verifying that data was relevant to the constituency and facilitating legal and technical review -- roles most CDOs can play in their agencies.
Citizen activists sometimes point government to the data they need. One example, the Crime and Punishment Project from Chicago, outlines which elements of total data universe need filling in by government. And it's this type of community engagement part that can improve departments the most, especially police.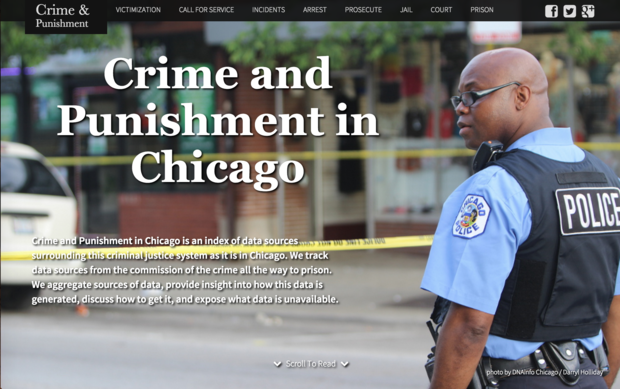 Headd facilitated the first crime data release in Philadelphia's history, data that was welcomed by the police department and saw rapid update from the community. In Philadelphia's case, the city already had an independent Police Advisory Commission that hungered for good data which helped adoption. The crime data release didn't please everyone (lack of depth for some), but it shows the additional impact community engagement can provide a data set.
Forward to criminal justice reform
With open data and community engagement in hand, the building blocks of creating substantial criminal justice reform come into light. Various proposals have surfaced in the recent months that involve the use of better data procedures and new technologies.
I had the chance to speak with Emily Shaw, National Policy Manager at the Sunlight Foundation about what the future looks like for criminal justice reform. Shaw oversees getting criminal justice data across the entire system -- from cops to courts -- into open, usable formats anyone can access.
She describes the space as being in it's early stages. Despite that, there is near universal agreement that increased transparency will create better relations between police and the community (a view shared by both sides of the debate).
How it all comes together
From on-body cameras, to civil asset forfeiture (a policy that has come under heavy fire) many facets of the justice system could eventually benefit from the additional data transparency Shaw mentioned.
Coupled with communities that get chief data officers in place to manage data releases and tools like FOR Atlanta that visualize the data, the public will have access to information that was once just in the purview of government. Maybe then local communities will again feel confident in the dangerous work law enforcement provides for citizens every day.
This article is published as part of the IDG Contributor Network. Want to Join?