Mozilla's deal with Yahoo has quadrupled the search provider's usage by those running Firefox in the U.S., but the browser's users still prefer Google, according to data from an Irish analytics company.
Data provided to Computerworld by StatCounter showed that Yahoo's search engine referred more than four times the number of pages visited by Firefox 34 than did the browser's predecessor, Firefox 33, in the U.S.
Mozilla changed the default search from Google to Yahoo when it released Firefox 34 on Dec. 1. Firefox 33, which a small percentage of users continue to run, uses Google as its default search provider.
StatCounter's numbers, described as usage share, are based on the number of page views each browser accumulates on the three million sites that deploy the firm's analytics package, so they are more an indication of activity than a user tally. The company counts page referrals from search providers, not search queries.
As of Jan. 6, Yahoo's search usage share on Firefox 34 was 32.2 percent, or more than four times the 7.5 percent that Yahoo had on Firefox 33 on the same day.
The Yahoo increase in Firefox 34 came at the expense of Google, which had a 60.8 percent share in that version, significantly lower than the 86.1 percent in Firefox 33. Meanwhile, Microsoft's Bing search engine, at 5.5 percent in Firefox 34, was only slightly up from the 5.4 percent in Firefox 33.
On Jan. 6, StatCounter's search provider usage shares for all browsers in the U.S. were 75.3 percent for Google, 12.4 percent for Bing and 10.5 percent for Yahoo. In other words, Firefox 34 users were more than three times likelier to reach a destination page from a Yahoo search than the U.S. average because of the new default.
On Wednesday, StatCounter also released other data that showed Yahoo had gained usage share in December, and attributed the small increase to the Mozilla contract.
Yahoo's overall U.S. usage share climbed from 8.6 percent in November to 10.4 percent in December, said StatCounter, while Google's dipped from 77.3 percent in November to 75.2 percent in December. "The move by Mozilla has had a definite impact on U.S. search," said Aodhan Cullen, StatCounter's CEO, in a statement. "The question now is whether Firefox users switch back to Google."
When an existing Firefox user first runs version 34, the browser displays a "Better results from Yahoo" pitch on a post-update landing page, then asks whether the user wants to try the new search engine or postpone the decision.
Firefox users can also easily change the default from one search provider to another in the browser's Preferences screen.
The Mozilla-Yahoo deal may have moved the search share needle in the U.S. among Firefox users, but with 61 percent of Tuesday's search referrals still coming from Google, the new default has not instantly changed user behavior. And its impact overall has been minor, as the small U.S. share changes showed.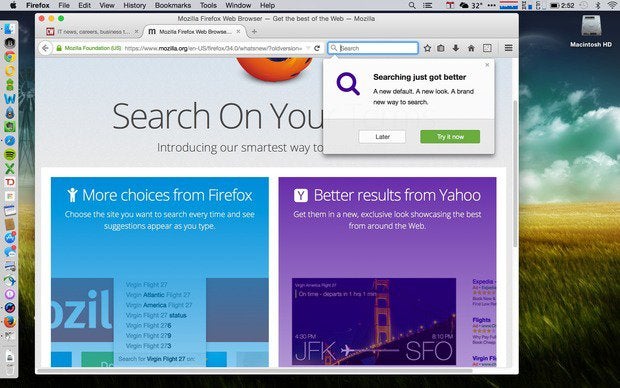 That's not surprising, as by StatCounter's metrics, all versions of Firefox accounted for just 16.1 percent of browser usage on Jan. 6, and 13.6 percent for the month of December.
Within a week or so, more definitive search usage rankings will be released by comScore, which regularly publishes data on U.S. search providers. In its most recent report -- for the month of November -- comScore pegged Google's share at 67 percent, Yahoo's at 10.2 percent and Bing's at 19.6 percent, each at odds, sometimes substantially, with StatCounter's 77.3 percent, 8.6 percent and 12.1 percent, respectively.
The Yahoo contract that Mozilla signed is for five years, and was one of several that the browser maker negotiated with providers in individual markets after it dropped Google as its global partner. Financial terms of the deal were not disclosed.
This story, "Yahoo's U.S. share on Firefox quadruples after deal" was originally published by Computerworld.