Here's how you can use Google Takeout to download a copy of your data from various Google products.
1. Go to the Google Takeout page.
2. Click on the Create Archive button.
3. You'll see a list of products with checkmarks.
4. Leave the checkmark for the ones you want and then click Create Archive again.
5. Your archive will be created.
6. After your archive is ready, click the Download button.
As of this writing, fourteen products are supported with more on the way. Here's a list of the products supported by Google Takeout.
Calendar
Contacts
Drive
Profile
Hangouts
Google+ Circles
Google+ Stream
+1s
Google+ Pages
Blogger
Orkut
Messenger
YouTube
Google+ Photos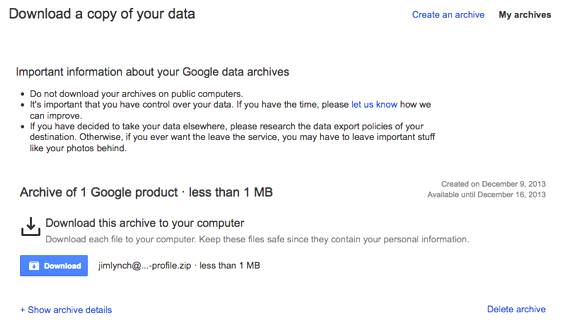 Read more: Ghacks
This article is published as part of the IDG Contributor Network. Want to Join?