The iPad Air and the A7 Chip
The 64-bit A7 chip has been a big driver in iPhone 5S sales, and PCMag think it's really going to rock in the iPad Air.
For graphics, Anandtech found the A7 to contain a PowerVR G6430 GPU that supports OpenGL ES version 3.0, which Apple is claiming to be twice as fast as the prior generation iPad 4. We'll see when we get the two of them side by side, although we've already done plenty of benchmarking with the iPhone 5s and found it to be a stellar performer. And there's also a companion M7 coprocessor that handles sensor input, which frees up the A7 to do other tasks, or just rest and conserve battery life.

So what's the big deal about 64-bit architecture? For now, on tablets, it's a buzzword. But as new apps optimized for the A7 begin to appear, you'll see the rewards in performance. iOS 7 is already 64-bit-aware, and as a result will run more smoothly, with better multitasking, on the iPad Air and Air mini with Retina display.

Then there's content creation—that thing pundits claim is ill-suited for the tablet form factor, and that yet so many people are already doing on iPads anyway. Today, most creative professionals stick with desktop PCs for processing photos, HD video, 3D modeling, and 24-bit/192kHz audio tracks. But that could very well change, as 64-bit versions of video editing and audio recording apps gain the ability to run dozens of plug-ins and keep greater chunks of content in memory.

But the A7 enables the iPad to run console-quality games in a way no iOS device could before, with Infinity Blade III being the earliest example. And as the iPad's skyrocketing popularity as a gaming platform indicates, not everyone feels the way I do about hardware controls.

More at PCMag
The comment about gaming is an understatement and a half. Mobile games are hugely popular on the iPad, they make up quite a lot of the Top Paid iPad Apps and the Top Grossing iPad apps. The A7 is likely to increase the popularity of games as they get better by taking advantage of the chip's capabilities.
See the screenshots below for a look at the Top Paid Apps and Top Grossing Apps for iPad. Note how many of them are games.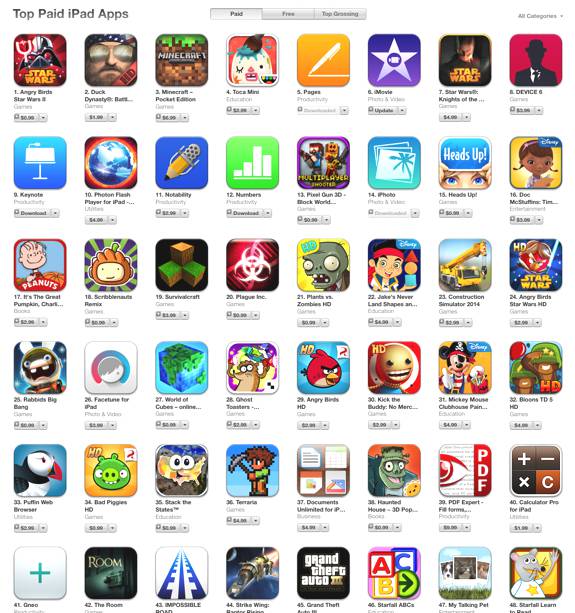 iPad Sales in Trouble?
CNN thinks that Apple's tablet market share is plunging.
IPad sales are slumping, and Apple's share of the tablet market is in a tailspin.

During Apple's fiscal third quarter, which ended in June, iPad sales fell to $6.3 billion -- a 27% drop over last year. But this year, Apple didn't get a boost from a new version of the tablet. The company released a new iPad in March 2012, while the fourth-generation iPad came out in November. Even though last quarter's iPad sales were weak, tablet revenue jumped 40% and 22% in the prior two quarters.

More striking is the fact that Apple no longer dominates in tablets. Apple's global tablet market share currently stands at 32%, down from 60% a year ago, according to IDC.

More at CNN
I'm glad CNN noted the lack of an iPad update as having an impact on sales. I suspect many people have been simply waiting for the next iPad to be released before buying one.
I'm one of them, I have an aging iPad 3 that needs to be replaced. I saw nothing in the iPad 4 that appealed to me enough to buy one. I suspect that CNN will be updating their sales data significantly after the iPad Air and new iPad mini have been out for a quarter.
John Sculley and Carl Icahn
John Sculley thinks that Apple should probably ignore Carl Icahn.
Apple doesn't need to resort to increased stock buybacks or higher dividend payouts, former CEO John Sculley says.

Apple doesn't need to heed activist investor Carl Icahn's call for more stock buybacks and increased dividends, former CEO John Sculley said Wednesday on CNBC's "Halftime Report."

"Well, Carl Icahn is one smart guy," he said. "But the reality is Apple is about building great products, great experiences, and if I were Tim Cook, I'd deal with him the way Steve Jobs would probably with him—not blink."

Sculley, who was Apple's chief executive from 1983 to 1993, said that Apple's cash could be put to better use.

"I would continue to invest in the business and grow the platforms they have," he said. "There's still a lot of growth ahead for Apple without having to use the—what I'd call the old recourse many companies follow when they don't have big ideas like Apple and just go in and buy their stock back or make bigger dividends.

More at CNBC
I don't think Sculley has anything to worry about, Tim Cook is a super smart guy. No doubt he'll listen politely to Icahn and then continue to do what's right for Apple over the long term.
What's your take on all this? Tell me in the comments below.
This article is published as part of the IDG Contributor Network. Want to Join?