BlackBerry is trying to win back the business crowd with the BlackBerry Passport, a smartphone with a square-shaped screen and physical keyboard.
The phone is available from BlackBerry's online store, without a contract, for $599 in the United States. It's also for sale in Canada, France, the United Kingdom, and Germany, and is coming to 30 other countries by 2015. As for U.S. carrier support, only AT&T is on board, selling the phone for $249 with a two-year contract. The Passport will be available through all three major carriers in Canada.
BlackBerry has struggled mightily as a smartphone maker in recent years, waffling between the consumer and enterprise markets and ultimately appealing to neither with its overhauled BlackBerry 10 operating system. But at a press event today, the company made good on earlier promises to focus squarely on business professionals. BlackBerry's pitch was all about how the Passport's wide screen, dedicated keys, and monster battery were more efficient for work than conventional phones.
The display measures 4.5 inches diagonally, but its 1:1 aspect ratio means it's a lot wider than 16:9 phones with the same screen measurements. The 1440-by-1440 resolution display can pack 60 characters across each line, and it provides a less cramped view for editing documents or spreadsheets. BlackBerry says the square screen is better for editing spreadsheets and reading documents.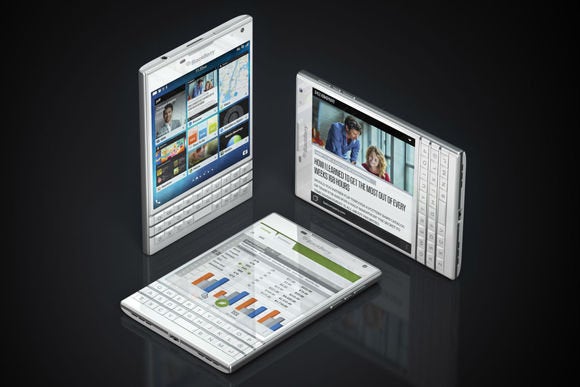 Like many of BlackBerry's legacy phones, the Passport has a physical keyboard on the bottom, but it works a bit differently than previous designs. Instead of having dedicated keys for all functions, some keys pop up on the screen above the physical keyboard, including numbers, punctuation and shift keys. The keyboard itself is touch sensitive; users can swipe over it to scroll through documents or select text.
BlackBerry also released BlackBerry Blend software for Windows, OS X, and Android that lets those devices see text messages, use the BlackBerry as a hotspot, and sync files across the devices. It's similar in concept to Apple's iCloud Continuity features.
The company also made audio quality a major focus for the Passport phone, arguing that business pros still rely heavily on phone calls. The Passport's speakers are supposedly 18 percent louder than those of the HTC One (M8), and the "sweet spot" on the earpiece is 70 percent larger than other phones. The Passport can also detect the loudness of the environment and adjust call volume accordingly.
Other specs for the BlackBerry Passport include a 2.2GHz quad-core Qualcomm Snapdragon processor, 3GB of RAM, a 13-megapixel camera with optical image stabilization, 32GB of storage, a MicroSD card slot, and a 3,450mAh battery, which BlackBerry says is good for 30 hours on a charge. The phone has a stainless steel frame, weighs 0.43 pounds, and measures 0.37 inches thick.
Software will likely remain a trouble spot for BlackBerry, as the company shifts away from populating its BlackBerry World store with a broad range of apps, and instead focuses on offering a smaller number of business-centric programs. For instance, the company showed off a version of Bloomberg Professional that takes advantage of the wider screen to show more stock prices and other details. While BlackBerry is including the Amazon Appstore for entertainment apps, early reviews note that these apps tend not to run well -- or at all -- on the square screen.
Clearly, the BlackBerry Passport is a niche device, but the days of BlackBerry appealing to a broad audience ended long ago. At least BlackBerry recognizes that much as it tries to stay in the mobile hardware business.
This story, "BlackBerry launches square Passport in latest comeback bid" was originally published by PCWorld.