Page 2 of 2
Egnyte's hybrid approach solves many of the typical cloud storage problems. Not only do local users avoid sharing large files through slow Internet connections, but all files stored in the local ELC repository are automatically backed up to the cloud, reducing the need for manual backups. What's more, files become portable: Anything saved on site to ELC is also available via the Web by accessing the hosted cloud storage with the proper credentials -- and here again, vice versa.
Where Egnyte truly proves to be unique is with the additional file server-like capabilities that it adds to cloud storage. For example, users are able to quickly and simply share files via email from the Egnyte cloud, even with recipients who don't use ELC or Cloud File Server. In those cases, a unique URL is embedded in the email, granting access to the recipient, who just has to click the link to download the file. Other Egnyte cloud features include version tracking, file locking/check-out, and notifications for users who want to know when files have changed. Commands are laid out in a concise fashion in the simple Web GUI, with easy-to-understand descriptions. Savvy users will have no trouble figuring out how to work with the service, and neophytes will pick up on its capabilities very quickly.
Egnyte's ELC solution is not the company's first foray into hybrid cloud storage. In addition to native Windows and Mac client software that syncs an individual user's desktop folders with the cloud service, Egnyte offers a solution similar to ELC for the Netgear ReadyNAS and other Linux-based storage appliances -- but based on embedded software not a virtual machine. That solution, called the Office Local Cloud and aimed at small businesses, offers limited scalability compared to ELC. ELC cuts the ties to proprietary appliances and can be run on faster, beefier commodity hardware.
There are a few nits to pick with ELC. Tighter integration with Active Directory and direct support for SAN and NAS infrastructures (without the requirement of creating a virtual hard drive) would also be welcome additions. However, when it comes to simplifying and speeding up cloud storage, nothing currently on the market compares to Egnyte's ELC, and with prices as low as $50 per month per terabyte, Egnyte makes cloud-based storage surprisingly affordable.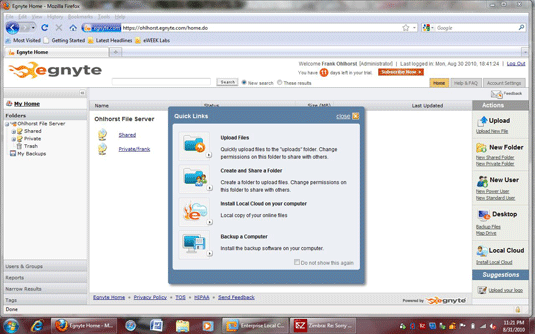 This story, "Egnyte's hybrid cloud storage: Twin file shares are better than one," was originally published at InfoWorld.com. Follow the latest developments in cloud computing, applications, enterprise data management, and virtualization at InfoWorld.com.