Malware-fighting firewalls miss the mark
InfoWorld Test Center attacks Astaro, SonicWall, WatchGuard, and ZyXel firewalls, and only one puts up a fight
In the beginning was the firewall, and it was pretty good. A big box of rules that sat between your network and the evils of the Internet, the firewall examined ports and protocols to decide which packets got in and which were barred at the door. Then things got, as things often do, complicated. New threats came sneaking in on trusted protocols, ports and protocols became tangled, and looking inside packets became just as important as noting their source, destination, and type.
Protecting a network now meant deploying multiple firewall types (network, endpoint, application), anti-virus protection, content filters, intrusion detection systems, and more. Instead of a big box of rules, you needed a relay rack stuffed top to bottom with appliances -- each with its own administrative interface, and each representing a possible point of failure in the network. There had to be a better way, especially for smaller companies that couldn't afford a massive staff to feed and care for the relay racks full of appliances -- and thus, the unified threat manager (UTM) was born.
WELCOME, ACM MEMBERS
InfoWorld has many resources we believe will be of value to you. We encourage you to explore the InfoWorld.com site, but wanted to bring the following editorial resources to your attention:
[ Read the InfoWorld UTM reviews: Astaro Security Gateway 425 | SonicWall NSA E7500 | WatchGuard Firebox Peak X5500e | ZyXel ZyWall USG1000. Compare the UTMs feature by feature. ]
Indeed, a rapidly growing number of small and mid-size companies are opting for the administrative and operational simplicity of the single-box solution. And so we decided that UTMs aimed at the mid-size company were the perfect group to use for the rollout of InfoWorld's new firewall and UTM test protocols. When we began this process well over a year ago, we asked for input from virtually every firewall and UTM vendor we knew, and we invited every UTM vendor we could find to send us an appliance to test. In the end, four vendors answered the call. Astaro, SonicWall, WatchGuard, and ZyXel submitted units for this first set of tests.
Although all four fulfill the basic definition of a UTM -- combining firewall, VPN, intrusion detection and prevention, anti-malware, anti-spam, and Web content filtering -- we could not have asked for four more diverse units. There are differences in basic approaches to security (by default, allow most normal traffic or allow absolutely nothing), differences in administration capabilities, big differences in throughput, and most important of all, immense differences in effectiveness against malware.
UTMs unmasked
Among the four devices we tested, only one -- the SonicWall NSA E7500 -- provided a significant level of protection against malware, blocking 96 percent of the attacks we threw at it. The Astaro Security Gateway 425 and WatchGuard Firebox Peak X5500 fell far short, blocking a mere 26 percent and 33 percent of the attacks, respectively. The ZyXel ZyWall USG1000 took the middle ground, blocking a more respectable 69 percent of the attacks. (See chart below.)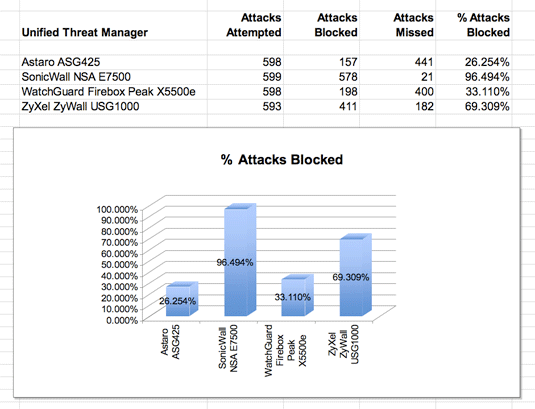 | InfoWorld Scorecard | Management (15.0%) | Ease of setup (15.0%) | Value (10.0%) | Throughput (15.0%) | Features (15.0%) | Attack blocking (15.0%) | Scalability (15.0%) | Overall Score (100%) |
| --- | --- | --- | --- | --- | --- | --- | --- | --- |
| Astaro Security Gateway ASG425 | 8.0 | 8.0 | 7.0 | 7.0 | 8.0 | 5.0 | 8.0 | |
| SonicWall NSA E7500 | 9.0 | 6.0 | 9.0 | 8.0 | 8.0 | 9.0 | 8.0 | |
| WatchGuard Firebox Peak X5500e | 8.0 | 6.0 | 8.0 | 9.0 | 9.0 | 6.0 | 9.0 | |
| ZyXel ZyWall USG1000 | 7.0 | 9.0 | 7.0 | 7.0 | 8.0 | 7.0 | 7.0 | |
Most Read
Having trouble installing and setting up Win10? You aren't alone. Here are many of the most common...
Hot or not? From the web to the motherboard to the training ground, get the scoop on what's in and...
Confidence in our power over machines also makes us guilty of hoping to bend reality to our code
Resources
Video/Webcast
Sponsored

Research/Infographic
Sponsored

White Paper

White Paper

KnowledgeVault
Sponsored