First look: Exchange 2010 beta shines
Flexibility, reliability, client-side improvements, and ease of administration mark this major upgrade
Page 3 of 5
Smoother ops
Reliability has improved in Exchange 2010, while opening up the possibility of reducing costs, through a number of different enhancements. Database availability groups give you redundant mail stores with continuous replication; database-level failover gives you automatic recovery. I/O optimizations make Exchange less "bursty" and better suited to desktop-class SATA drives; JBOD support lets you concatenate disks rather than stripe them into a redundant array. Automatic page patching repairs corrupted database pages from copies.
[ See Microsoft Exchange Server 2010 highlights. ]
In addition, Exchange is becoming much easier to manage and more compliant with regulatory and legal requirements. Role-based access control allows administrators to delegate tasks to the appropriate departments for self-service; so, for example, the legal and HR departments might be given the rights to run multimailbox searches to respond to subpoenas and check for regulatory compliance. Additional features to improve compliance include protection rules, personal archives in secondary Exchange mailboxes, moderation of sensitive e-mails, and improved rights management.
Moving a mailbox from one server to another formerly required taking the user offline for at least a couple of hours, not to mention night and weekend hours for the mail administrator. The same task in Exchange 2010 can be done live, with the user online, in a few minutes.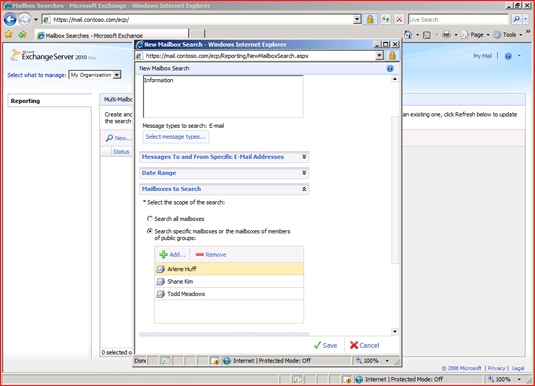 View Comments
Most Read
This weekend's Windows 10 upgrade has users angry, and it's unclear if the ploy will continue
Here's the best of the best for Windows 10. Sometimes good things come in free packages
Speaking at the O'Reilly Fluent conference, Eich also endorsed the Service Workers mobile app...
Resources
eBook
Sponsored

eBook
Sponsored

White Paper

White Paper

White Paper
Top Stories
Four, rich, pretrained machine learning APIs bring the smarts behind Google to your apps
F# 4.1 will include struct tuples, improved error messages, and backing for .Net Core
The Apache project for container orchestration aims higher than merely managing Docker or being a...
Whether their cloud is powered by Amazon, Google, Microsoft, or IBM, developers need security tools....