The best free open source software for Mac OS X
If you live and work on a Mac, you'll want to try these 10 killer open source apps -- InfoWorld's top picks
Page 6 of 8
Turn ASCII any which way with jEdit
jEdit is a Java-based editor for programmers that is backed by an active plug-in community, a slick auto-updating mechanism, and a sophisticated project system. This is for most intents and purposes an IDE without the compiler and the execution mechanism. If you add a JVM and Javac, you'll have everything you need to develop Java programs, including CVS and SVN connections.
The plug-ins handle more than just Java. There's also support for the usual suspects like Perl, PHP, Python, and Ruby, as well as some not-so-common languages like Rexx, LaTeX, and Prolog. There are formatting tools and real shells that execute the code inside of jEdit.
While all of these examples are good for hard-core programmers, there are plenty of features that enhance any kind of text editing. There are a number of tools for balancing tags in HTML and XML. If that's still not your cup of Joe, there are also plug-ins for juggling log files and to-do lists.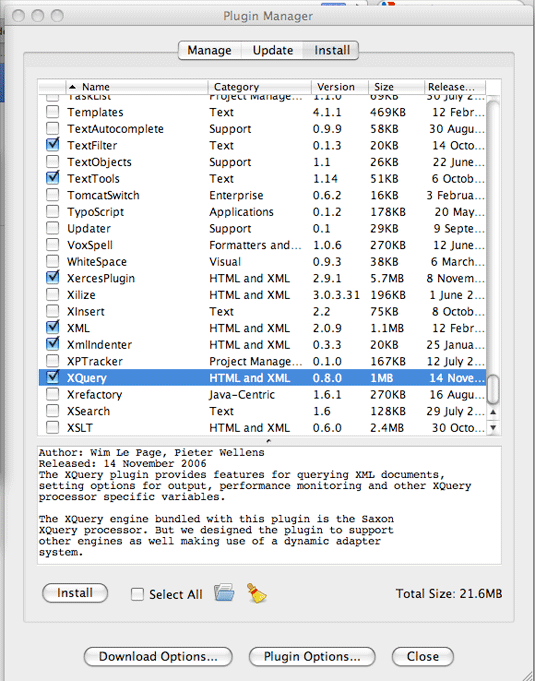 Stick it to Microsoft with OpenOffice.org
Long ago, everyone had to buy Microsoft Office because everyone else already used it and you couldn't work with them on documents without it. If someone sent you a file, you would need Microsoft Office to read it. That time is long past, thanks to OpenOffice.org, an open source project nurtured by Sun. The software reads all of the major document types, including text, spreadsheet, presentation, and drawing. There's also a database like Microsoft's Access.
Is the compatibility perfect? No, it's not. Text may move, tables may lose their formatting, and charts and drawings may end up in entirely different places, but the documents are often quite close to the original. That's good enough for most relationships, although it might be tough for tight collaboration with strong aesthetic requirements.