As a journalist, I frequently view Web demos, using every conceivable technology. GoToMeeting? Check. WebEx? Check. LiveMeeting? Check. Glance? Check.
[ Keep up with app dev issues and trends with InfoWorld's Fatal Exception and Strategic Developer. ]
Wait, you're not familiar with Glance? It's a lightweight, reservation-less system. In my experience, it's the easiest of the bunch to use, and the fastest at initializing a session. It does less than the others, but it seems to do the essentials faster and more easily.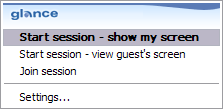 What about voice? If it's a one-to-one session, just make a telephone call or run a Skype session in parallel with your Glance session. If it's a broadcast, use the unlimited audioconferencing line supplied as part of your Glance subscription. It isn't toll-free, but the modest cost reflects that.
A Glance 24-hour day pass costs $9.95; a personal subscription costs $49.95 per month, or less if yearly or in quantity; a corporate subscription costs $249 per month for a pool of two concurrent sessions.
I've had good luck with Glance so far for all three functions. I'll consider buying day passes when I need them, once my trial subscription runs out, but obviously if I find myself using more than five days a month, I'll upgrade to a subscription.
Your mileage may vary.