Centralized PC power managers not created equal
Autonomic, BigFix, and Symantec Altiris solutions offer a wealth of potential power savings, but also differences in policy depth, granularity, and ease
Page 3 of 5
The Autonomic ANSA management system is quite flexible, allowing policy-based management by user or group that can take many variables into account. Thus, if you have groups that come in at nine and leave at five on the dot, you can develop different policies for them than you might for developers who work at all hours of the day and night. Additionally, you might set different policies for different times of the week, putting some PCs into hibernate after five minutes of inactivity and giving others more time.
Admins have the flexibility to treat laptops differently from desktop PCs. You can apply different policies for plugged-in laptops versus ones running on batteries, for example. The agent also allows for if-then-else scripting, which lets administrators create flexible policies that take into account the day of the week, whether there are files open on the PC, which software packages are installed, and so forth. 
[ Learn more about which utilities are offering free money to companies who reduce their energy consumption. ]
Some other things, such as enforcing password protection when the screen saver is on, are easier to do in ANSA, which often provides a simple check box where the other systems require hunting around in the policy editor. The administrator can easily hide the power management control panel from the user as well, thus preventing anyone from tampering with the settings.
The system can wake PCs during the night for patching, put the them back to sleep afterward, then rouse them in the morning as users arrive. The agent can also execute command-line utilities, enabling it, for instance, to use a computer manufacturer's utility to change BIOS settings on the motherboard or network interface card, assuming that the manufacturer provides such a utility. The included asset-management part of the suite can discover all the devices on a given subnet, and it collects SNMP and WMI data from each system.
Autonomic offers a unique pricing model for the power-management portion of its ANSA suite; rather than charging a set price per seat, the company takes 25 percent of the savings you reap by implementing PC power management. The company will help customers calculate their projected savings; plus, it will work with you to apply for rebates from your local utility, offered by some as an incentive to reduce power consumption. Moreover, the company has information on tax incentives and carbon-trading programs that may apply in your area.
Autonomic sees the power management piece of its suite as a loss leader. The strategy is to give companies a reason to install the suite, then upsell customers on additional features, such as remote desktop control; remote monitoring of network, devices, servers, and workstations; remote management with help-desk functionality; patch management; configuration management; software distribution; workstation backup; enterprise reporting; vulnerability assessment; and managed services. Given the relative ease-of-use of the system, this is a good deal for both Autonomic and its customers.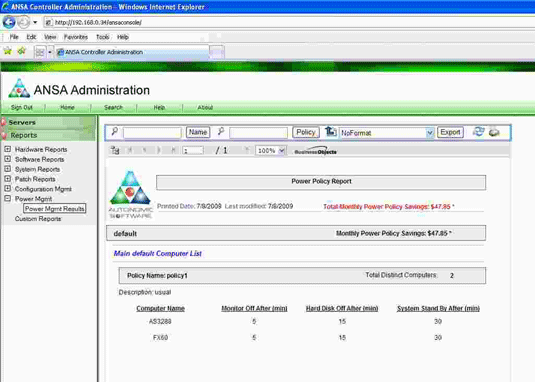 View Comments
Most Read
This weekend's Windows 10 upgrade has users angry, and it's unclear if the ploy will continue
Here's the best of the best for Windows 10. Sometimes good things come in free packages
Speaking at the O'Reilly Fluent conference, Eich also endorsed the Service Workers mobile app...
Resources
Video/Webcast
Sponsored

White Paper

Video/Webcast
Sponsored

White Paper

Case Study
Sponsored
Top Stories
Making the switch to Salesforce's ecosystem can prove lucrative for biz-savvy programmers
A chat with IT consultant and former InfoWorlder Bob Lewis leads to a couple of entertaining...
The top 10 programming languages remain JavaScript, Java, PHP, Python, and more
Secure messaging apps are all the rage, and developers can now develop their own open source Wire...