Intel's new six-core Westmere Xeon is as fast as the Nehalem before it, but even better at handling multiple processes at once. After proving itself in InfoWorld's threading benchmark tests and blade server shoot-out, Westmere arrived on my desktop this week in the form of the HP Z600 workstation. Thanks to this sizzling loaner from HP, I've already saved hours of video rendering time. If Adobe Premiere Pro made better use of Westmere's 24 logical CPUs (2 per core with Hyper-Threading enabled), I might not even have time for a cup of coffee.
Here at Interop's HotStage, where we put together the networks in advance of the conference, I pestered the HP guys to borrow a workstation because I was facing a huge backlog of video rendering. With Premeire Pro taking upward of three hours to render each video on my MacBook Pro (2.5GHz Core 2 Duo with 4GB of RAM), I was staring at impossible deadlines. Then HP whispered that I could borrow an as-yet-unreleased Z600 so long as I kept it under my hat until after the announcement. To sweeten the deal, HP also loaned me a couple of its 24-inch LP2475W widescreen monitors.
[ Fast AES encryption, better scalability, and consistent per-core performance make the new six-core Westmere a worthy successor to Nehalem. See "InfoWorld review: Intel's Westmere struts its stuff." ]
The Z600 is a no-nonsense black monolith aimed at engineers and other creative types who might know how to put 12 CPU cores to use. With Hyper-Threading turned on, the Windows 7 performance monitor shows the appearance of 24 CPUs, but alas Adobe Premiere Pro (like many other applications) is lagging behind the hardware curve. During the rendering process, Task Manager shows that Premiere Pro is using only half of the 24 threads (see screen image below). Aside from splitting such hairs, that same three-hour rendering job on the MacBook Pro plummeted to less than 20 minutes on the Z600 -- and that was with both Adobe Premiere Pro and Adobe After Effects running alongside the rendering engine.
All in all, the Z600 is a fine workstation with room enough to grow. My borrowed unit sports a pair of Intel Xeon X5670 2.93GHz Westmere CPUs, 12GB of DDR3-1333MHz ECC RAM, an Nvidia Quadro FX3800 GPU, a 500GB SATA 7,200-rpm drive that boots 64-bit Windows 7 Professional, and a 1TB SATA 7,200-rpm drive for data. The Z600 has a slot-loading DVD+/-RW drive, three FireWire 1394a card slots (two rear, one front), and a ridiculous number of USB ports (three front, six rear). For me, the only thing missing is an SDHC memory card slot on the front. It would also be nice to have at least one disk drive available from the front for hot swapping.
[ Intel's latest chips revolutionize the workstation market. See InfoWorld's reviews of Dell, HP, and Lenovo systems in "Nehalem workstations: A new era in performance." ]
Also noteworthy in my loaner is HP's SkyRoom videoconferencing solution. SkyRoom combines the best of Microsoft's now-defunct NetMeeting and the aging Remote Desktop Client into a modern package designed to meet the remote collaboration needs of engineers. At CES I saw a demonstration of SkyRoom in which an ordinary laptop shared a 3-D CAD drawing with a workstation. Now I must point out that the demo systems were back to back on a local network, but the spinning propeller of the radial engine simulation displayed on the two computers were perfectly in sync. SkyRoom is a huge improvement over RDP or NetMeeting in terms of system requirements. All you need is a Windows system with a 2.33GHz Core 2 Duo CPU or better and at least 2GB of RAM, and even fancy 3-D renderings are delivered in real time for what felt like seamless collaboration.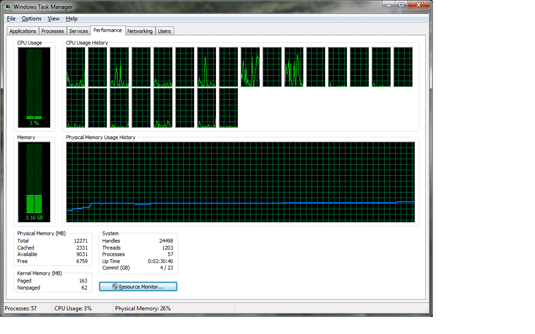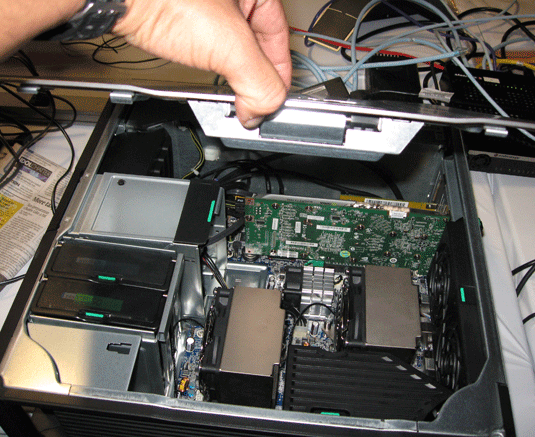 This story, "First look: HP Z600 workstation with twin Westmeres," was originally published at InfoWorld.com. Follow the latest developments in servers, processors, and other hardware at InfoWorld.com.