In a leaked internal memo to Cisco employees, CEO John Chambers admitted that the company has let down customers and investors by being unresponsive and straying too far from its core networking roots.
If there's any doubt that Cisco needs a jump-start, one need only peruse the company's stock performance over the past decade. For the first nine years, Cisco has been a Nasdaq bellwether company, with its stock prices rising and falling in near lockstep with the overall market, not to mention enjoying healthy spikes along the way.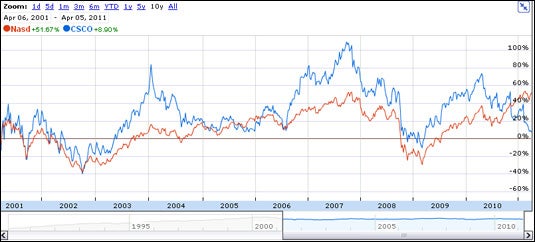 Over the past year, however, the story has changed significantly. While the overall Nasdaq has slowly rebounded from the economic meltdown, Cisco's stock prices have fallen.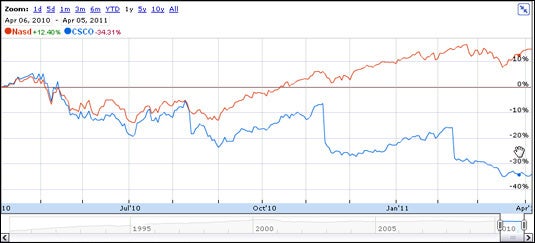 Does that suggest an overall soft market for networking gear is to blame, rather than problems within Cisco? That's a tough case to make if you add Juniper's stock value to the graph. The Cisco competitor has seen its value increase as Cisco's has dwindled.
To address the slump, Chambers outlined (in rather vague terms) a four-point action plan. First, he said the company "will not fix what's not broken," meaning the company would stay the course on five priorities: leadership in core routing, switching, and services; collaboration; data center virtualization and cloud; architectures; and video. That implies we won't be seeing more consumer devices, such as set-top boxes, coming out of Cisco in the near future.
Second, Chambers said that company "will take bold steps and ... make tough decisions." Specifics here were lacking, beyond making decisions quickly and precisely to fix the company's portfolio.
Third, Chambers said the company would "accelerate our leadership across our five priorities and compete to win in the core." As an example, he observed that customers are buying across broader segments and demonstrating specific needs in the switching space. Meanwhile, he said, competition is heating up, a nod to companies such as Juniper and HP that are increasingly taking nibbles and bites out of Cisco's pie. The solution, according to Chambers: giving customers the right reasons to stick with Cisco. Here, one might wonder whether that means, for example, moving away from forcing customers into paying perpetual services licenses a la UCS.
Finally, Chambers told employees that "we will make it easier for you to work at Cisco, as we make it easier for our customers and partners to work with Cisco." That, he said, translated to significant rework of the company's operations, pointing to the recent creation of a COO role as a step in that direction.
This article, "Why Cisco's CEO is sounding the alarm," was originally published at InfoWorld.com. Get the first word on what the important tech news really means with the InfoWorld Tech Watch blog. For the latest business technology news, follow InfoWorld.com on Twitter.