In the IT world, we're always looking for the next big thing, and for the last year or two, one of those next big things has been cloud computing. Unfortunately, numerous questions around the cloud have been holding it back. There has been general confusion as to what exactly is the cloud, how is it defined, what is it made up of, and why do we need it. But the cloud is becoming better understood, and IDC has reported that spending on public IT cloud services is expected to grow at a compound annual growth rate of 27.6 percent from $21.5 billion in 2010 to $72.9 billion in 2015.
To get in on the action, Austin-based startup CopperEgg has announced a $2 million Series A round of funding that it plans to use to expand product development and sales efforts by doubling or tripling its workforce by the end of the year. Today, CopperEgg is also announcing a new product line, RevealCloud, a performance monitoring solution that helps companies accelerate the delivery of applications and services across both public and private clouds.
[ Also on InfoWorld.com: Read how another new startup, Bromium aims to secure application clouds and virtual desktops. | Find out how the latest Mac OS X Lion is expected to ease Apple's virtualization restrictions. | Keep up-to-date on virtualization by signing up for InfoWorld's Virtualization newsletter. ]
As new economics, technologies, and consumption models drive the adoption of cloud computing, CopperEgg says it is addressing one of the biggest challenges IT organizations face in utilizing these services: lack of visibility and control over the infrastructure used to manage them. The company is hopeful that its second SaaS product offering, RevealCloud, will do the trick to solve that challenge.
CopperEgg's RevealCloud leverages rapid deployment; a highly distributed data collection model; the extreme speed and scalability of a NoSQL schema-free database; and real-time visualization with click-through analytics to provide a modern, purpose-built cloud monitoring solution.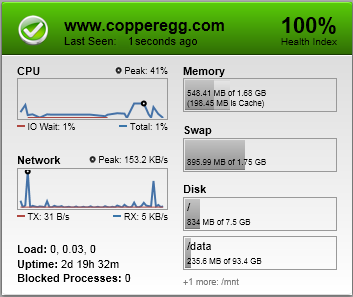 The company claims its latest solution differentiates itself from legacy performance monitoring tools that conduct polling and performance updates every 1 to 5 minutes. Instead, RevealCloud records, analyzes and delivers updates of critical operating and performance metrics every few seconds, and does so across many cloud instances at the same time.
RevealCloud also helps identify both the need for adding more cloud instances in support of changing load patterns, as well as potential opportunities for savings by identifying when you might be paying for more capacity in the cloud than you actually need -- a problem cloud service providers may not want to reveal for obvious reasons.
Other key benefits of CopperEgg RevealCloud include:
Quick and easy installation -- as a SaaS offering, there is no installation or configuration required; users just copy and paste a single command into their systems to get up and running
Supports hybrid cloud environments -- including multiple cloud vendors and virtual or physical data center resources
Uses a higher sampling rate than traditional solutions -- speeds up the polling rate and provides deep, rich performance detail