InfoWorld review: Mac OS X Lion, more than multitouch
Apple's new OS for the App Store era borrows iPad usability tweaks while delivering key new features for businesses and professionals
Page 2 of 6
Even though Lion is packaged like an app, it can't be uninstalled after an upgrade. If you want to take Lion for a spin before committing to an in-place upgrade, you can install it to a dedicated partition on your Mac's internal or external disk. To perform a nondestructive Lion upgrade, install Lion to its own partition, boot into Lion, and run Apple's Migration Assistant utility.
Apple's Lion licensing is more than liberal. Individuals can legally install one purchased copy of Lion on all of the Macs they own or control. It's strictly honor system -- no install keys or online activation. You can buy Lion once and download it as often as needed from any Mac. The Lion installer app can be copied from Mac to Mac using your LAN or a flash drive. Just drop the installer into the Applications folder and double-click to install the OS.
Naturally, I've described the license policy for consumers, but Apple has said the same policy applies to businesses and other organizations: one license covers all the Macs an employee uses (so one license per employee; IT can buy them in bulk at the new Business App Store). For shared Macs, such as those in kiosks and conference rooms, the license applies to that single Mac.
Mac OS X Lion: Working with apps
In Lion as in iOS, touch is king. If you're going to run Lion on a desktop Mac, get a Magic Trackpad. While prior OS X releases have supported multitouch gestures on Mac notebooks, the dominance of the mouse on Mac desktops and docked notebooks kept Apple from wiring too much touch-exclusive functionality into the OS. Lion is an iPad-inspired full reboot of OS X's touch interface. Apple did away with Exposé and Spaces as add-ins, reworking and combining their features with touch in mind and pulling them into the core OS X GUI.
Exposé still provides a tiled view of the front-most app's open documents, but it has a new counterpart in Mission Control. When you bring up Mission Control (via three-finger upward swipe, pressing F3 for a Snow Leopard upgrade or Control-up arrow for a clean Lion install, or pushing the pointer into a hot corner), you get a single-screen view of everything that's running on your Mac. From here, you can quickly preview and jump to any Spaces desktop, app, or open document. You can also create and delete desktops with one click.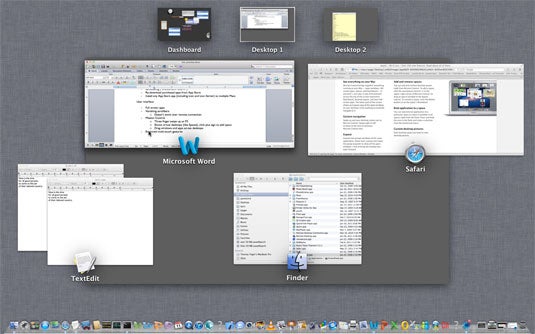 Full-screen apps are new to Lion, and just as on the iPad, they're a brilliant way to manage multiple applications in limited space. Applications that support it display a two-headed arrow on the right side of their title bar. Click that, and the app takes over the whole display. The menu bar and window chrome disappear, and toolbars are pared down to an application-defined minimum. The one full-screen app that's always open and always positioned as the first desktop is Dashboard. You can flip among desktops using a three-finger horizontal swipe.
View Comments
Most Read
This weekend's Windows 10 upgrade has users angry, and it's unclear if the ploy will continue
Here's the best of the best for Windows 10. Sometimes good things come in free packages
Speaking at the O'Reilly Fluent conference, Eich also endorsed the Service Workers mobile app...
Resources
Video/Webcast
Sponsored

White Paper

Video/Webcast
Sponsored

White Paper

Case Study
Sponsored
Top Stories
Making the switch to Salesforce's ecosystem can prove lucrative for biz-savvy programmers
A chat with IT consultant and former InfoWorlder Bob Lewis leads to a couple of entertaining...
The top 10 programming languages remain JavaScript, Java, PHP, Python, and more
Secure messaging apps are all the rage, and developers can now develop their own open source Wire...