VMware Lab engineers are at it again. This internal group of VMware developers and engineers has been tasked with creating interesting plug-ins, dubbed "flings," for the VMware vSphere and vCenter product lines that are made available for download to the entire VMware community.
These free yet unsupported tools are generally fun and useful product gap fillers, but they also come with a set of caveats. VMware says flings are intended to be played with and explored, but warns they shouldn't be used in a production environment. If you are the adventurous type -- or if your organization hasn't yet virtualized its mission-critical applications -- perhaps these flings will find their way into your production environment. Like anything else, it may come down to a risk/reward scenario.
[ Also on InfoWorld.com: Check out the top five reasons to consider VDI in 2011 | And find out why networking may be on the path to becoming 'interesting' again. | Keep up-to-date on virtualization by signing up for InfoWorld's Virtualization newsletter. ]
VMware's latest fling, called PXE Manager for vCenter, is a management tool designed to support automatic PXE boot (network boot using preboot execution environment) and automatic customization of large numbers of VMware ESXi systems. For large-scale deployments, this is important because it simplifies the setup and management and helps remove the need for large numbers of installation media. The drawback for some will be that this fling supports ESXi and not the more popular and more widely installed ESX.
For those who've already moved to or begun deploying ESXi hosts in their environment, this latest fling offers much more functionality. In fact, the PXE Manager vCenter plug-in is said to allow automated provisioning of both stateless and stateful ESXi hosts; perform ESXi host state (firmware) backup, restore, and archiving with retention capabilities; manage ESXi build repositories; perform ESXi patch management; provide support across multiple vCenters; support multiple networks with agents; and provide a wake-on-LAN capability, as well as the ability to deploy hosts directly to VMware vCloud Director and to Cisco UCS blades.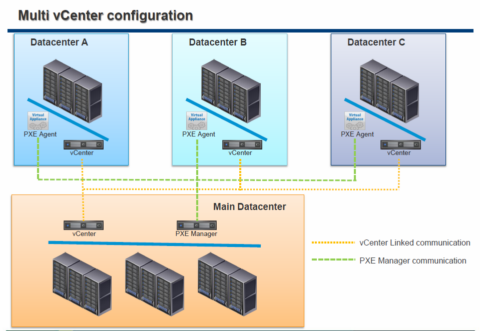 Very cool stuff indeed, but this newly released PXE Manager fling isn't the first time we've seen a PXE solution like this from VMware. In fact, the virtualization giant first introduced us to this PXE Manager technology for vCenter with a preview during VMworld Europe 2009 in Cannes. However, we haven't seen or heard much about it since that time, in large part perhaps because of the security implications or concerns that go along with it.
You see, VMware's lack of support isn't the only reason some folks may choose to completely avoid this fling. There are other security concerns to take into consideration when weighing the risk and reward. PXE relies heavily on the DHCP protocol, and many environments can't or won't add DHCP into a production datacenter for obvious security reasons.
VMware cloud services engineer and fling developer Max Daneri understands this security concern and says this is the reason that PXE Manager comes with its own DHCP server that isn't RFC compliant. A future version of PXE Manager will update the TFTP component to be non-RFC compliant as well, he adds. Additionally, the PXE setup and DHCP server should operate in a separate management network or isolated VLAN as not to interfere with the existing network infrastructure. Again, it may come down to looking at risk versus reward. While setup in a test/dev environment seems simple and easy, this fling may need more care and feeding when considered for a production environment where the need is most warranted.
If you want to get your hands on this latest PXE fling or any of the other experimental flings currently available, check out the VMware Labs website and download them now. Keep in mind, however, that this fling, like all other VMware flings, is still an unsupported Technical Preview; you use it at your own risk.
If ESXi-only support is keeping you away, remember: ESX and its Console Operating System (COS) are going away. VMware has been warning folks for quite some time that ESX would be replaced by the more secure and smaller-footprint ESXi. ESXi is the future of VMware -- a future that will be here before you know it. You might consider embracing it now to get ahead of the game as much as possible. Who knows -- this fling could be the catalyst needed for change.
This article, "VMware has new 'fling' with PXE Manager for vCenter," was originally published at InfoWorld.com. Follow the latest developments in virtualization at InfoWorld.com. For the latest business technology news, follow InfoWorld.com on Twitter.