Page 4 of 4
Cloudorado
Cloudorado is a price comparison service for cloud hosting providers. It could also be referred to as a price calculator for multiple cloud hosting providers, as the comparison is performed by calculating price for individually set server needs. The beta cloud computing price comparison engine currently only focuses on IaaS providers, but they are also working on a future PaaS (platform as a service) provider comparison solution.
This comparison engine uses its own approximation of Amazon's CPU power measure: ECU. It uses this measurement of ECU for other providers as well.
What's interesting is the simplicity of the tool. It uses multiple slider bars to set minimum RAM, HDD, and CPU requirements for your cloud server, and the online result table will update accordingly with monthly prices from multiple IaaS cloud providers. You can also adjust required transfer rates and specify the maximum length of a subscription plan you are willing to prepay.
In advanced mode, you can describe a configuration that consists of multiple server groups. The number of servers in each server group is derived from the size of a limiting resource (RAM, HDD, or CPU) that you specify for that group. The comparison engine then finds the best number and type of servers to fulfill this request.
What's even more impressive is the list of cloud providers that it currently has in its comparison matrix, and they appear to be adding new providers all the time. In addition, it can give a breakdown of cloud provider by region: North America, South America, Europe, Asia, and Australia. Not bad for a beta.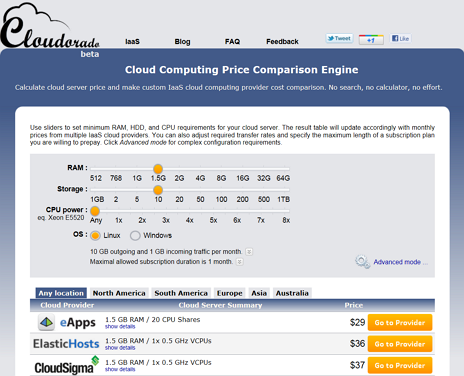 Vendors, analysts, company executives, and bean counters are all asking data center IT administrators to embrace the cloud. But without a reliable means of comparing cloud computing offerings to one another, chaos continues, and for many the cloud remains a tough sell.
With so many factors to consider when making a cloud decision, it's no wonder why cloud computing services companies are being employed to help alleviate much of the complexity in the decision making process.
Are you ready? What tools are you using to help with pricing and decision making when it comes to the cloud and IaaS?
This article, "Cloud cost calculators: Helpful or more cloud hype?," was originally published at InfoWorld.com. Follow the latest developments in virtualization and cloud computing at InfoWorld.com.