Windows 8: Something old, something awkward
Microsoft's old Windows desktop and tablet-friendly Metro UI make strange bedfellows
Page 4 of 6
Several legacy desktop apps work better than they used to. I talked about many of them last week, but one in particular is well worth your attention.
The Windows 8 client contains a fast, if still somewhat buggy, implementation of Hyper-V. In order to run Hyper-V, you need to have a sufficiently recent CPU -- again, any Intel CPU with an "i" at the beginning will do, as will an AMD processor on this list -- and you must be running 64-bit Windows 8.
To get a new VM going:
Right-click the lower-left corner, and choose Programs and Features.
On the left, click Turn Windows Features on or off.
Check the box marked Hyper-V and click OK.
Win8 installs the necessary files. Click to restart your machine.
You'll see a new tile called Hyper-V Manager on your Metro Start screen; click (or press) it.
On the right, click Connect to Server.
Choose Local computer and click OK.
From that point, you have to figure out how to get an operating system into your new VM, probably by booting from an ISO file or physical media. Setting up a new VM is amazingly easy and fast with Hyper-V.
If you lament the passing of the Start menu, you're not alone. There's a simple way to bring back much of the functionality of the Windows 7 Start menu -- although the interface isn't exactly elegant, and the spot you have to hit with your mouse runs only a chevron wide.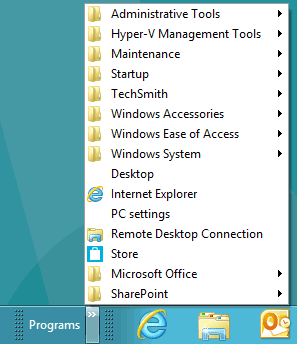 The trick sets up a shortcut on your Taskbar that points to the location of the old Start menu's All Programs folder. Programs designed for earlier versions of Windows put shortcuts inside that folder in order to appear in the All Programs menu. You can go straight to the trove from your legacy desktop Toolbar, and you don't need Windows 8 to do it for you. Full instructions -- and a more elegant downloadable program -- are available on Microsoft MVP Vishal Gupta's AskVG blog.
Covering all of Windows 8
A major challenge for the Windows 8 user is navigating between the old world and the new. Permit me to run through a handful of additional features -- and limitations -- that may not be obvious.
No doubt you've seen the Charms bar -- the pane on the right side, brought out by a swipe from the right edge or by hovering your mouse in the upper- or lower-right corners -- that includes icons marked Search, Share, Start, Devices, and Settings.
The Search charm works just about everywhere. To search for an email message, for example, go into the Mail app and click or tap the Search charm. If you're looking at the Metro Start screen or legacy desktop, and you go into Search, you see a complete list of all of the programs, er, apps on your computer. The apps are grouped using an algorithm that escapes me, but within each group the apps are listed alphabetically -- making it very hard to find an app unless you know its name. Typing in the search box doesn't help much; try typing "w" and you'll see what I mean.
View Comments
Most Read
This weekend's Windows 10 upgrade has users angry, and it's unclear if the ploy will continue
Here's the best of the best for Windows 10. Sometimes good things come in free packages
Speaking at the O'Reilly Fluent conference, Eich also endorsed the Service Workers mobile app...
Resources
Video/Webcast
Sponsored

White Paper

Video/Webcast
Sponsored

White Paper

White Paper
Top Stories
Making the switch to Salesforce's ecosystem can prove lucrative for biz-savvy programmers
A chat with IT consultant and former InfoWorlder Bob Lewis leads to a couple of entertaining...
The top 10 programming languages remain JavaScript, Java, PHP, Python, and more
Secure messaging apps are all the rage, and developers can now develop their own open source Wire...