Page 2 of 2
You can find out more information and download the free VMware I/O Analyzer fling.
The ESX System Analyzer download is a bit beefier, weighing in at 1.6GB. But pound for pound, this fling could prove extremely important in your virtual environment. The ESX System Analyzer was designed to help administrators with their planning process during a migration from ESX to ESXi. It does so by analyzing the ESX hosts in your environment by collecting information on factors that pertain to the migration process, such as:
Hardware compatibility with ESXi (using VMware's HCL)
VMs registered on the ESX host, as well as VMs located on the host's local disk
Modifications to the Service Console, such as RPMs that have been added or removed or files, users, and cronjobs that have been added
The tool also provides summary information for the entire existing environment, showing information like the version of VMware Tools and Virtual Hardware for all VMs and the version of Filesystem for all datastores. With this type of information VMware administrators can determine what tasks need to be done prior to the start of any migration.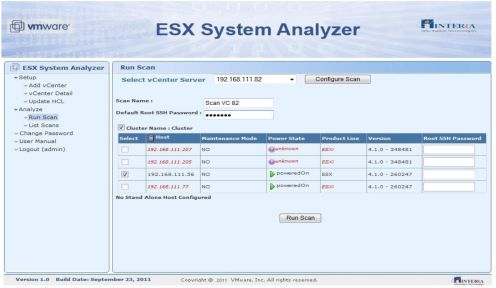 You can find out more information and download the VMware ESX System Analyzer fling.
These are two more flings I would definitely consider clipping on to your VMware tool belt. Or does the fact that these are experimental give you too much pause to operate them in your environment?
This article, "Free VMware tools for virtualization admins are worth a 'fling'," was originally published at InfoWorld.com. Follow the latest developments in virtualization and cloud computing at InfoWorld.com.