Review: 6 AirPrint solutions for iPhones and iPads
The best mobile printing options for large networks, small offices, and personal use
Page 3 of 9
EFI PrintMe Mobile brings AirPrint to networks large or small
EFI promises "any mobile device to any printer," but that's a stretch. Unless you're willing to assign email addresses to your printers and users agree to attach and send instead of printing in the usual way, then EFI's PrintMe Mobile supports only two mobile platforms: iOS and Android. Still, that's one more mobile platform than other solutions support. Note that OS X Lion and Mountain Lion also support AirPrint, so they too will work with PrintMe Mobile. 
PrintMe Mobile's advantages hardly end there. Whereas other mobile printing solutions require mobile devices and printers to be on the same subnet, PrintMe Mobile can make printers available to devices anywhere on the network. PrintMe Mobile is also the only solution reviewed here that integrates with Active Directory, though it is not the only one that allows administrators to require users to authenticate before printing.
In short, PrintMe Mobile gives you a great deal of control over your mobile printing environment. You can set up a central PrintMe Mobile print server, publish any or all of its printers as AirPrint printers, make those printers available to iOS and Android devices on any subnet, and control which users may print to which printers. Best of all, PrintMe Mobile achieves all of this without being difficult to set up or to administer.
AirPrint for better or worse. The magic behind EFI PrintMe Mobile is that it turns any printer installed on PrintMe Mobile's Windows host into an AirPrint-enabled printer. iOS devices (version 4.2 and later) print to these printers natively, while Android devices (version 2.1 or later) can do so through EFI's free PrintMe Mobile app, which mimics AirPrint on iOS.
The good news is that printing from iOS or Android is easy. For instance, click the Share icon in either OS, choose Print (or PrintMe Mobile on Android), and select a printer. There are other methods as well, depending on the app you're using. The bad news is that not all iOS or Android apps support Share or printing in other ways; even when they do, the print options are limited.
For instance, some iOS apps let you choose a page range to print, while others will print the entire document. The remaining options iOS provides are the number of copies to print and whether to print one-sided or duplex. Falling just short of parity with native AirPrint, EFI's PrintMe Mobile app for Android gives you these choices, but not the ability to select pages. If you're going to print, you must print the entire document. (For more on the ins and outs of mobile printing, see "iOS and Android printing gotchas.")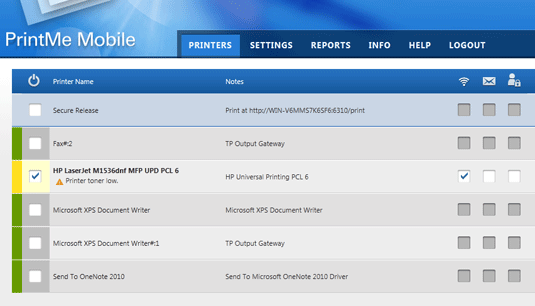 View Comments
Most Read
This weekend's Windows 10 upgrade has users angry, and it's unclear if the ploy will continue
Here's the best of the best for Windows 10. Sometimes good things come in free packages
Speaking at the O'Reilly Fluent conference, Eich also endorsed the Service Workers mobile app...
Resources
Video/Webcast
Sponsored

White Paper

White Paper

White Paper

Video/Webcast
Sponsored
Top Stories
Making the switch to Salesforce's ecosystem can prove lucrative for biz-savvy programmers
A chat with IT consultant and former InfoWorlder Bob Lewis leads to a couple of entertaining...
The top 10 programming languages remain JavaScript, Java, PHP, Python, and more
Secure messaging apps are all the rage, and developers can now develop their own open source Wire...